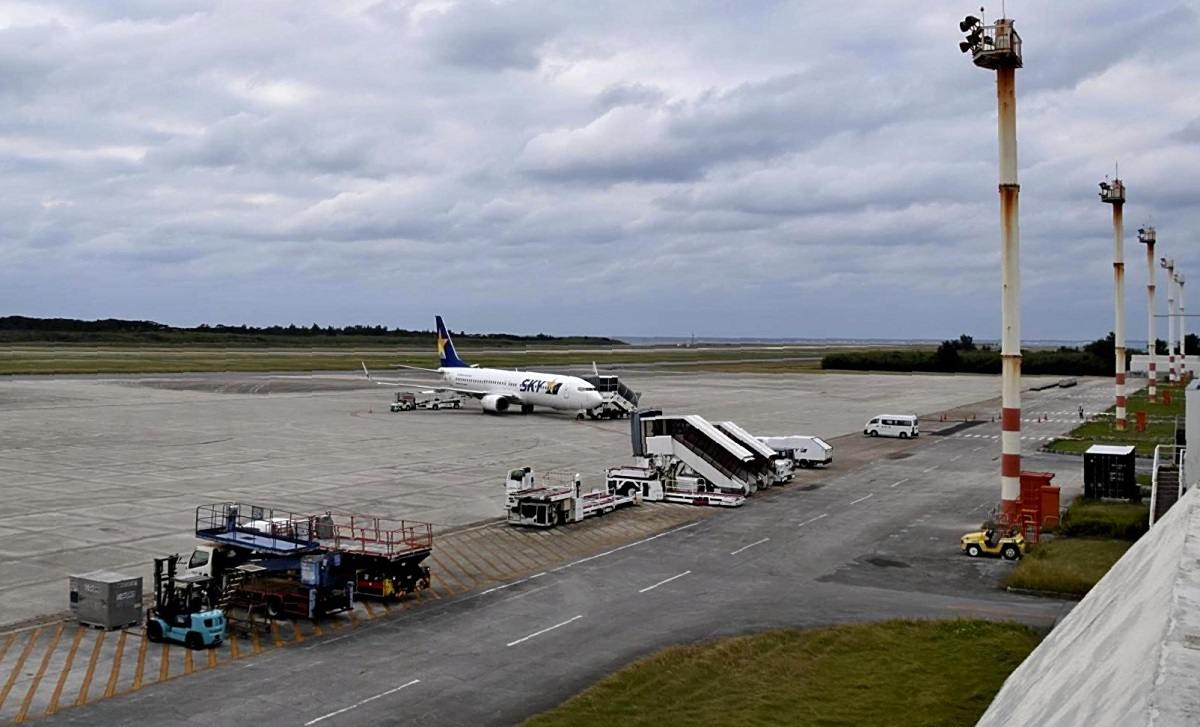 13:49 JST, March 4, 2023
NAHA — On the assumption of an emergency occurring in the Taiwan Strait, the central government, Okinawa Prefecture and several municipal governments will simulate their handling of an evacuation in mid-March for the first time.
Efforts to evacuate residents of Okinawa Prefecture based on the Civil Protection Law are in full swing in anticipation of an armed attack by another country.
For the evacuation of residents from the Sakishima Islands, which are likely to be affected in the event of a contingency involving Taiwan, the prefectural government estimates that a maximum of about 20,000 people could be transported by air and sea each day.
Some experts have suggested that measures are needed to support people's daily lives at evacuation sites.
Including 10,000 tourists
The Cabinet Secretariat and five municipalities in the Sakishima Islands will jointly conduct the simulation drill that is being organized by Okinawa Prefecture.
The evacuation simulation exercise will be conducted under the scenario that as soon as the central government identifies a situation in which an armed attack is expected, the entire prefecture will be considered an evacuation area where there is a threat of attack and evacuation will begin.
About 110,000 residents and 10,000 tourists from Miyakojima and Tarama of the Miyako area, as well as Ishigaki, Taketomi and Yonaguni of the Yaeyama area, are to evacuate to Kyushu as part of the simulation exercise. The two areas are part of the Sakishima Islands, which are located between Taiwan and the main island of Okinawa.
About 1.37 million residents on and around the main island of Okinawa are expected to shelter indoors.
The simulation drill will confirm the evacuation order issued by the prefecture and the transportation flow, including the securing of evacuation routes and the operation of waiting areas on the islands by each municipality.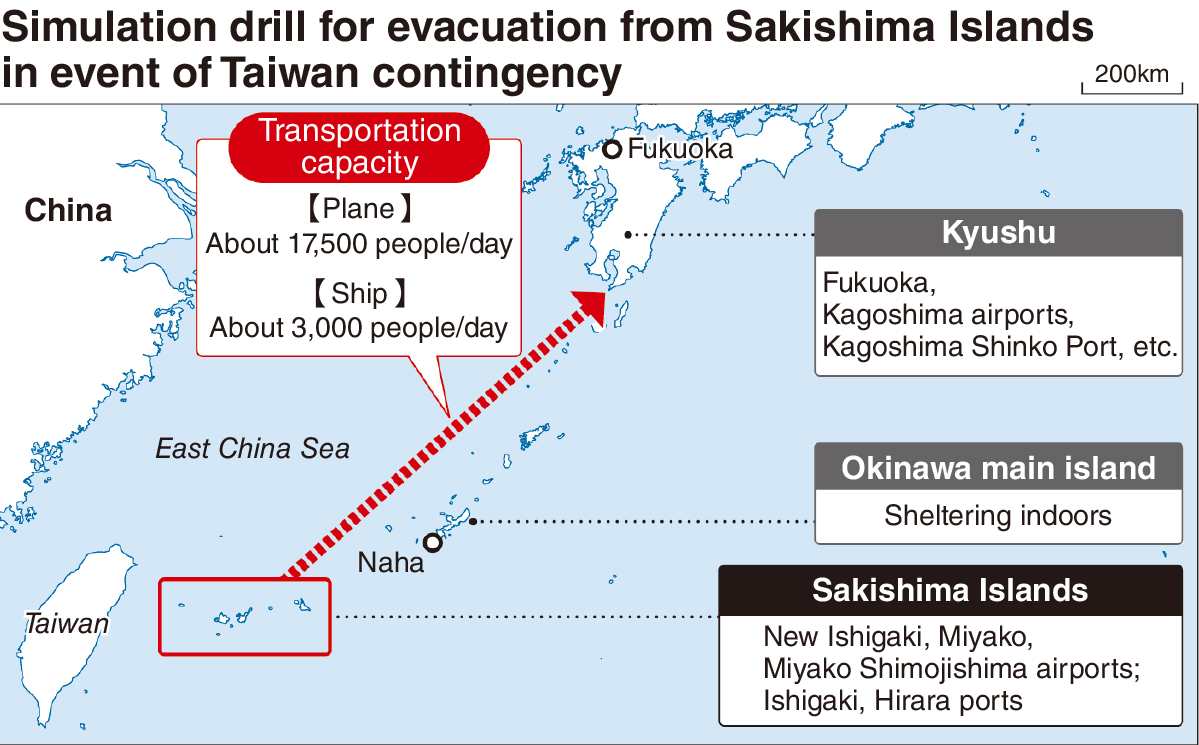 6 days for evacuation
Okinawa Prefecture and the seven prefectures of Kyushu as well as Yamaguchi Prefecture concluded a mutual assistance agreement in 2006 to provide daily necessities, housing and personnel in the event of an armed attack and other emergencies.
For the March drill, Kyushu's seven prefectures will be the evacuation destinations.
However, the civil protection plan formulated by Okinawa Prefecture in accordance with the law does not outline a specific evacuation plan.
After the Russian invasion of Ukraine and other incidents, the prefecture has exchanged opinions for the first time with the operators of airports and port facilities in the Sakishima Islands, private airlines and ferry companies operating in the islands since May.
At the end of 2022, the prefecture made an initial estimate of the maximum daily transport capacity that could be secured during a daytime period.
The estimate assumes that evacuation is spread out among commercial aircraft and ships from Miyako Airport, Miyako Shimojishima Airport, and Hirara Port in Miyakojima; and New Ishigaki Airport, also known as Painushima Ishigaki Airport and Ishigaki Port, in Ishigaki.
People in the surrounding islands will first need to travel to one of the cities by air or sea for evacuation.
It was determined that planes and ships arriving at airports and ports in Kyushu, including Fukuoka Airport and Kagoshima Shinko Port, can carry a total of 20,500 people per day: about 17,500 by plane and 3,000 by ship.
It is expected to take six days to transport people, assuming that transport can be done every day.
Such flights and vessels are only operated on the assumption that safety is ensured in each region, but the estimate does not assume transportation will happen during bad weather or at night.
If a situation becomes imminent, Self-Defense Force transport aircraft and naval vessels deployed to the Sakishima Islands may use airports and ports in various regions. But the estimate does not reflect this possibility.
"These are just the 'basics of the basics,' and I think there are many issues still to be addressed," said Hidenori Ikehara, who is the Okinawa prefectural government's disaster prevention and crisis management section chief.
The prefecture intends to continue to prepare evacuation guidelines based on a variety of assumptions and drills, he said.
Ensuring people's livelihoods
Specifics regarding preparedness for receiving evacuees in each of Kyushu's prefectures have yet to be examined.
However, it has not yet been studied for the coming simulation drill how many evacuees can be received at hotels and public housing in each prefecture and what kind of livelihood support will be provided.
"Since this is a matter of national security, we have no way of moving forward without instructions from the central government," a Fukuoka Prefecture official said.
There are concerns that residents may not follow the evacuation order if they are worried about their lives at the evacuation site.
Last year, the town of Yonaguni, which is 111 kilometers from Taiwan, established a fund to provide travel and living expenses to residents who voluntarily evacuate outside the island before an emergency occurs, because it would be difficult to save their lives if they evacuate after an emergency occurs.
"Residents cannot flee if they have nowhere to live and no income at the evacuation site," said Hironobu Nakabayashi, an associate professor of crisis management at Kokushikan University. "There are many cases in which evacuees who have evacuated long distances and for long periods of time become economically impoverished. Securing a livelihood at the evacuation site must be carefully planned."
Add TheJapanNews to your Google News feed.