Laos: Find French-style architectural curiosities in Thakhaek district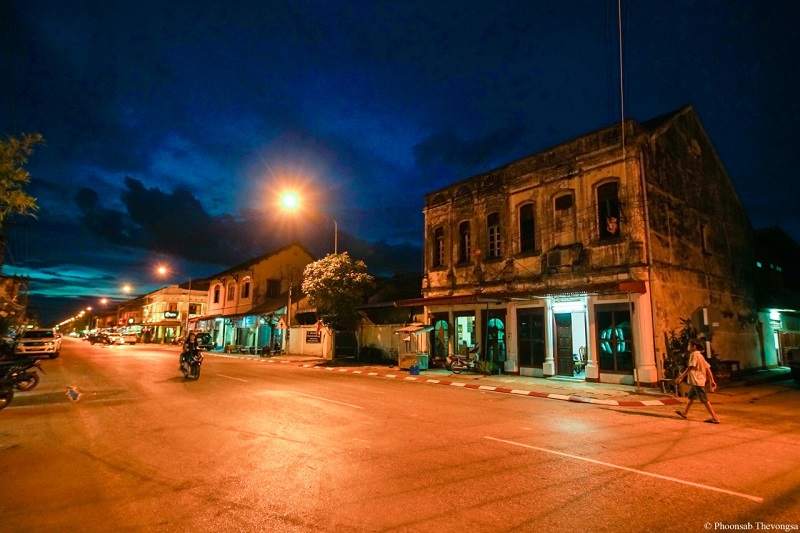 16:19 JST, June 18, 2022
The French were forced out of Indochina in the 1950s but signs of their presence still remain in isolated pockets of the countries they colonized, in the form of old buildings.
In the late 19th century, the French began to colonize the area known as Indochina and by the early 20th century they controlled vast areas of Vietnam, Laos and Cambodia.
In Laos, some distinctive French buildings can be seen today in Thakhaek district — the capital of Khammuan Province, which is located on the banks of the Mekong River. On the other side of the river to the west is Nakhon Phanom Province in Thailand. Much of the architecture in Thakhaek's old town can be traced to French construction in the early 20th century.
The original exteriors were brown, but over the years the colors of many of the houses have changed, and most now appear to be black. Some people in Vientiane claim that the black color is not the result of painting, but has been caused by natural discoloration over time and the fact that these buildings have not been repaired or restored.
"See these old buildings; sometimes they look just like the drawings done by a renowned foreign artist," they say. The name Thakhaek means "guest landing," with the word "khaek" meaning guest while the word "tha" is a reference to the town's earlier function as a boat landing for foreign traders.
The heart of the old town can be found around the fountain square near the river, where many old buildings still remain. During the French colonial period, Thakhaek was an important trading town. As a result of the strong French presence, a lot of French-style buildings are still evident around town, dating from the late 19th and early 20th centuries.
Visitors to this pleasant town can spend a happy few hours strolling around the old quarter, which centers around a broad plaza that stretches away from the river for a couple of blocks. The most interesting buildings can be found within five or six blocks of the plaza in either direction.
Add TheJapanNews to your Google News feed.