Wimbledon 2023: Andy Murray and Roger Federer Will Both Be at Centre Court on Tuesday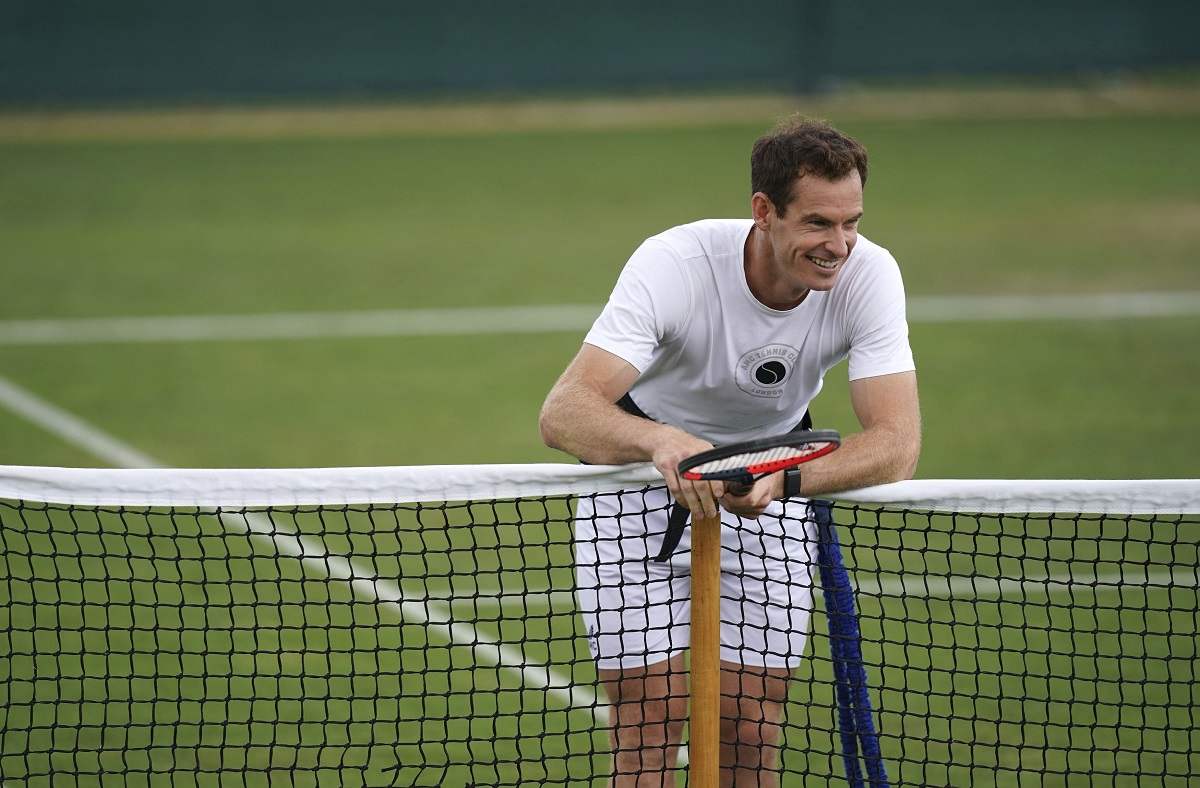 10:59 JST, July 4, 2023
So will Roger Federer.
It's where Murray won his first Olympic gold medal during the 2012 London Games. Where he became, in 2013, the first British man in 77 years to win the title at the All England Club. Where he added another Grand Slam championship three years later.
And it's where he will play British wild-card entry Ryan Peniston in the first round on Day 2 of this year's tournament.
Before that, 2022 women's champion Elena Rybakina will play against American Shelby Rogers.
And before that, Federer will be feted by the All England Club, where he won a men's-record eight of his 20 Grand Slam titles. He announced his retirement last season.
WHEN ARE TUESDAY'S MATCHES?
Play begins on most courts at 11 a.m. local time, which is 6 a.m. EDT. That's when 2020 U.S. Open champion Dominic Thiem faces two-time major finalist Stefanos Tsitsipas at No. 2 Court, with the winner moving on to face either Murray or Peniston. Action at No. 1 Court begins at 1 p.m. local time, which is 8 a.m. EDT, and the first match there is No. 1 Carlos Alcaraz vs. Jeremy Chardy. Centre Court is the last arena to get going, at 1:30 p.m. local time, 8:30 a.m. EDT. That is when Rybakina-Rogers is set to start — preceded by the ceremony honoring Federer. Murray-Peniston follows, meaning it could begin around 3:30 p.m. local time, 10:30 a.m. EDT.
WHAT WERE MONDAY'S KEY RESULTS?
Venus Williams, competing at Wimbledon for the 24th time at age 43, lost. Coco Gauff, still just 19, also lost — she was eliminated by 2020 Australian Open champion Sofia Kenin, whose ranking dropped so far she needed to win three matches in qualifying just to get into the main draw. Novak Djokovic began his bid for a fifth consecutive Wimbledon title and eighth overall — as well his 24th major trophy — with a straight-set victory, but not before a weird rain delay that promoted him to help dry the court held up the proceedings for nearly 1 1/2 hours.
WHAT ELSE HAPPENED AT WIMBLEDON ON DAY 1?
Players from Russia and Belarus returned to competition at Wimbledon after being banned from the tournament a year ago because of the war in Ukraine.
HOW TO WATCH WIMBLEDON ON TV
— In the U.S.: ESPN, Tennis Channel
BETTING GUIDE
Not surprisingly, Djokovic is a heavy favorite for the men's title, listed as a minus-195 money-line pick, ahead of Alcaraz at plus-380, according to FanDuel Sportsbook. No one else is really given much of a chance, so there are big payouts offered on some other top men, such as Jannik Sinner at plus-1,600 or Daniil Medvedev at plus-2,300. Young American Sebastian Korda is next at plus-3,400. No one else is listed at lower than plus-5,000. Iga Swiatek, who never has been past the fourth round at Wimbledon, is listed as the women's favorite at plus-220 — down from plus-290 before her opening win — followed by Rybakina and Aryna Sabalenka at plus-500. Two-time champion Petra Kvitova is at plus-1,200 and 2022 runner-up Ons Jabeur at plus-1,500.
GET CAUGHT UP AT THE ALL ENGLAND CLUB
What you need to know about Wimbledon, the year's third Grand Slam tennis tournament:
— Novak Djokovic is pursuing more history, and his self-belief is a big part of his success
— Iga Swiatek succeeds everywhere else. Can she win Wimbledon?
— Aryna Sabalenka no longer wants to talk about the war in Ukraine
— Women's tennis is working toward equal pay at more tournaments
— Frances Tiafoe is the first African-American man in the Top 10 in nearly 15 years
— Facts and figures about Wimbledon, including a look back at 2022
TEST YOUR TENNIS KNOWLEDGE
Try your hand at the AP's Wimbledon quiz.
THE NUMBER TO KNOW
40 — Number of consecutive victories for Novak Djokovic on Centre Court, where his most recent loss was against Andy Murray in the 2013 final.
THE QUOTE TO KNOW
"I don't think any woman should have to worry about if they're getting paid equal. I'm very happy that no woman again at a Grand Slam has to even concern herself with that. She can just play tennis." — Venus Williams, who lobbied the All England Club ahead of its 2007 decision to pay the same prize money to women as men.
UPCOMING SINGLES SCHEDULE
— Tuesday: First Round (Women and Men)
— Wednesday-Thursday: Second Round (Women and Men)
— Friday-Saturday: Third Round (Women and Men)
— July 9-10: Fourth Round (Women and Men)
— July 11-12: Quarterfinals (Women and Men)
— July 13: Women's Semifinals
— July 14: Men's Semifinals
— July 15: Women's Final
— July 16: Men's Final
Add TheJapanNews to your Google News feed.