Takakeisho Captures 4th Emperor's Cup at Autumn Grand Sumo Tournament (Update 1)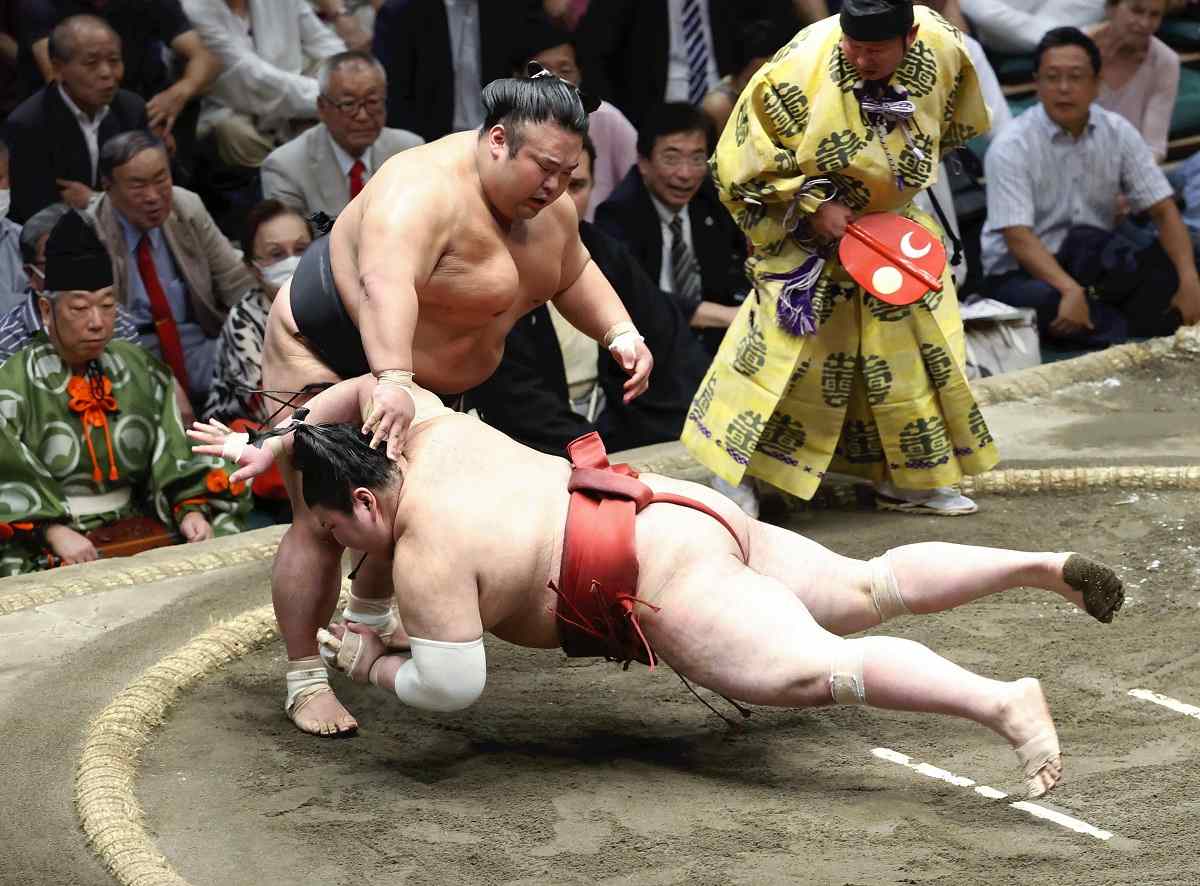 20:20 JST, September 24, 2023
Ozeki Takakeisho won a dramatic playoff on the final day of the Autumn Grand Sumo Tournament at Tokyo's Ryogoku Kokugikan on Sunday for his fourth career Emperor's Cup, defeating upstart No. 15 maegashira Atamifuji.
"I was able to focus and do what I needed to do," the ozeki said in the televised post-tournament interview in the ring.
After Atamifuji lost to No. 2 maegashira Asanoyama and Takakeisho defeated sekiwake Daieisho in their final-day matches, the two were knotted with 11-4 records. The playoff ended quickly, though, as Takakeisho slapped down Atamifuji just after the start.
Takakeisho, who began the tournament in kadoban status, meaning he needed at least a majority eight wins to retain his ozeki rank, said he was determined to come out victorious against the younger wrestler.
"During the playoff, I was thinking, 'There's no way I can lose this match,'" the ozeki said.
Takakeisho had missed the last tournament because of meniscus injuries in both his knees.
"I had a tough time in July," he said. "I thought a lot about what I needed to do to pursue my dream of becoming a yokozuna, and I restarted things, with the support of various people, including my trainer," Takakeisho said.
"I believe that building a strong body to prevent injuries is also one of the qualities of the yokozuna rank. Even though I am small in stature, I want to do my best," the 175-centimeter wrester said.
Atamifuji, a 21-year-old rising star, won the basho's Fighting Spirit Prize. There were no winners for the Outstanding Performance Award and the Technique Prize.
Atamifuji was promoted back to the uppermost makuuchi division for this tournament after winning the title in the juryo division in the previous basho. He tumbled down to the juryo division after the 2022 Kyushu Grand Sumo Tournament, at which he made his debut in the makuuchi division.
Atamifuji put together six consecutive victories at this tournament, and expectations for a possible run at the Emperor's Cup began to grow. He came up short in the end.
Meanwhile, Hoshoryu, who had been promoted to ozeki after winning the previous tournament, defeated No. 11 maegashira Hokuseiho. Hoshoryu, the nephew of former yokozuna Asashoryu, finished 8-7.
Add TheJapanNews to your Google News feed.