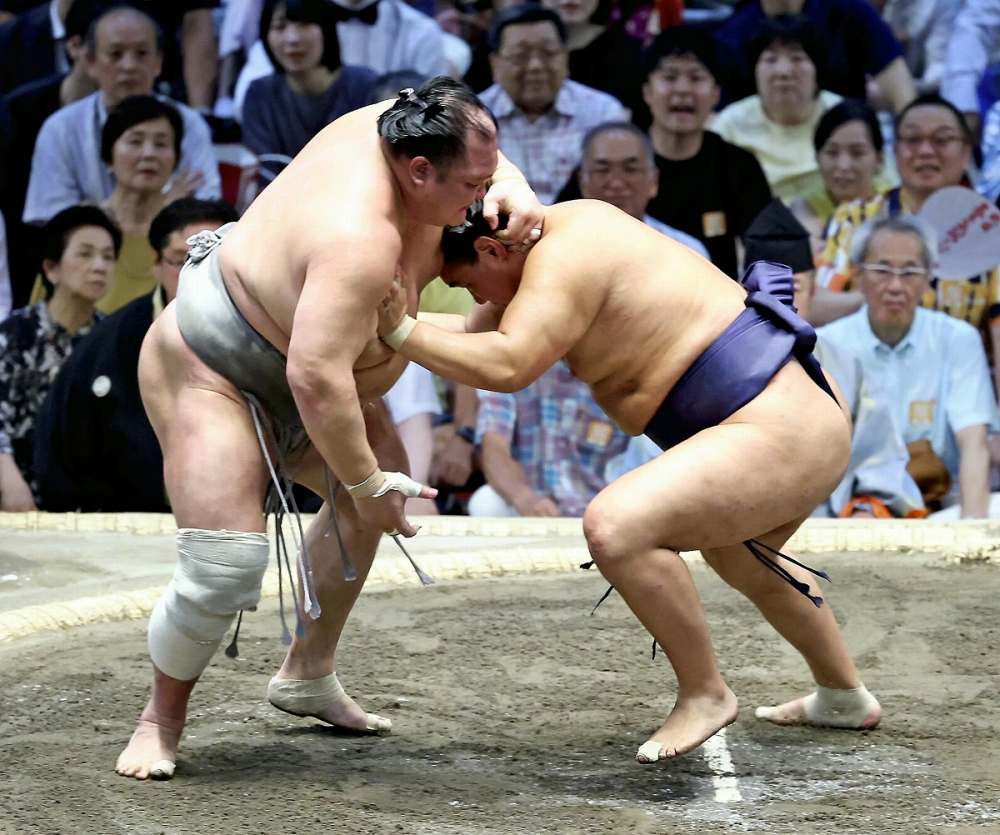 20:18 JST, July 23, 2023
Sekiwake Hoshoryu shrugged off the pressure and got the two wins he needed Sunday to capture his first career title, which in turn all but assured his promotion to ozeki.
Hoshoryu defeated No. 9 maegashira Hokutofuji in a playoff to win the Nagoya Grand Sumo Tournament, a short time after the Mongolian beat teenaged No. 17 maegashira Hakuoho in his final regulation match at Dolphins Arena.
"I'm really happy," the 24-year-old Hoshoryu, the nephew of former yokozuna Asashoryu, said in a post-victory interview. "I was solid throughout [the 15 days]."
Hoshoryu and Hokutofuji finished tied for the top spot with 12-3 records. For Hoshoryu, that gives him 33 wins over his last three tournaments, matching the guidelines of the Japan Sumo Association for promotion to ozeki. Winning the title all but sealed the deal.
In the playoff, both wrestlers fended off the other's attempts for a belt hold before Hoshoryu launched a charge that shuffled Hokutofuji out of the ring. That reversed a loss to Hokutofuji on the 12th day.
"I had come this far, so I had to just do what I had to do," Hoshoryu said. "That was my feeling."
Hokutofuji, who turned 31 on July 15, had assured there would be a playoff — and earned his place in it — by defeating No. 1 maegashira Nishikigi. As Hokutofuji was pushing him back, Nishikigi's feet came out from under him and he put his hands down.
Hoshoryu then secured the other spot in the playoff by beating Hakuoho in what was in essence a playoff itself between wrestlers with 11 wins. Hoshoryu grabbed an overhand belt hold and, as he attempted to twist down Hakuoho, put his hand to the ground to seal his fate.
The 19-year-old Hakuoho, whose hair is not yet long enough to form into a topknot, had stolen the spotlight in the tournament — just his fourth as a pro and first in the upper-most makuuchi division — but fell just short of becoming the first wrestler in 109 years to win the title in his makuuchi debut.
Still, his remarkable performance earned him the Fighting Spirit Prize, which he shared with Hokutofuji, Hoshoryu and three others, as well as the Technique Prize. The Outstanding Performance Award went to Nishikigi, who finished 10-5.
The tournament was also Hakuoho's first with his new ring name, as he had been fighting under his family name Ochiai since making his debut in January. He was allowed to begin in the third-tier makushita division due to his success as an amateur and, after posting a 7-0 record, needed just two tournaments in the juryo division to earn promotion to makuuchi.
For Hokutofuji, coming one win away from a first title marked a remarkable turnaround after posting losing records in his last four tournaments.
Meanwhile, newly promoted ozeki Kirishima finished his first tournament at the second-highest rank with a loss that left him with a 6-7 record that included missing two days due to injury. He will need a winning record at the next tournament to keep his rank.
Add TheJapanNews to your Google News feed.