Terunofuji Marks Ring Return by Clinching Summer Tourney Title with Day to Spare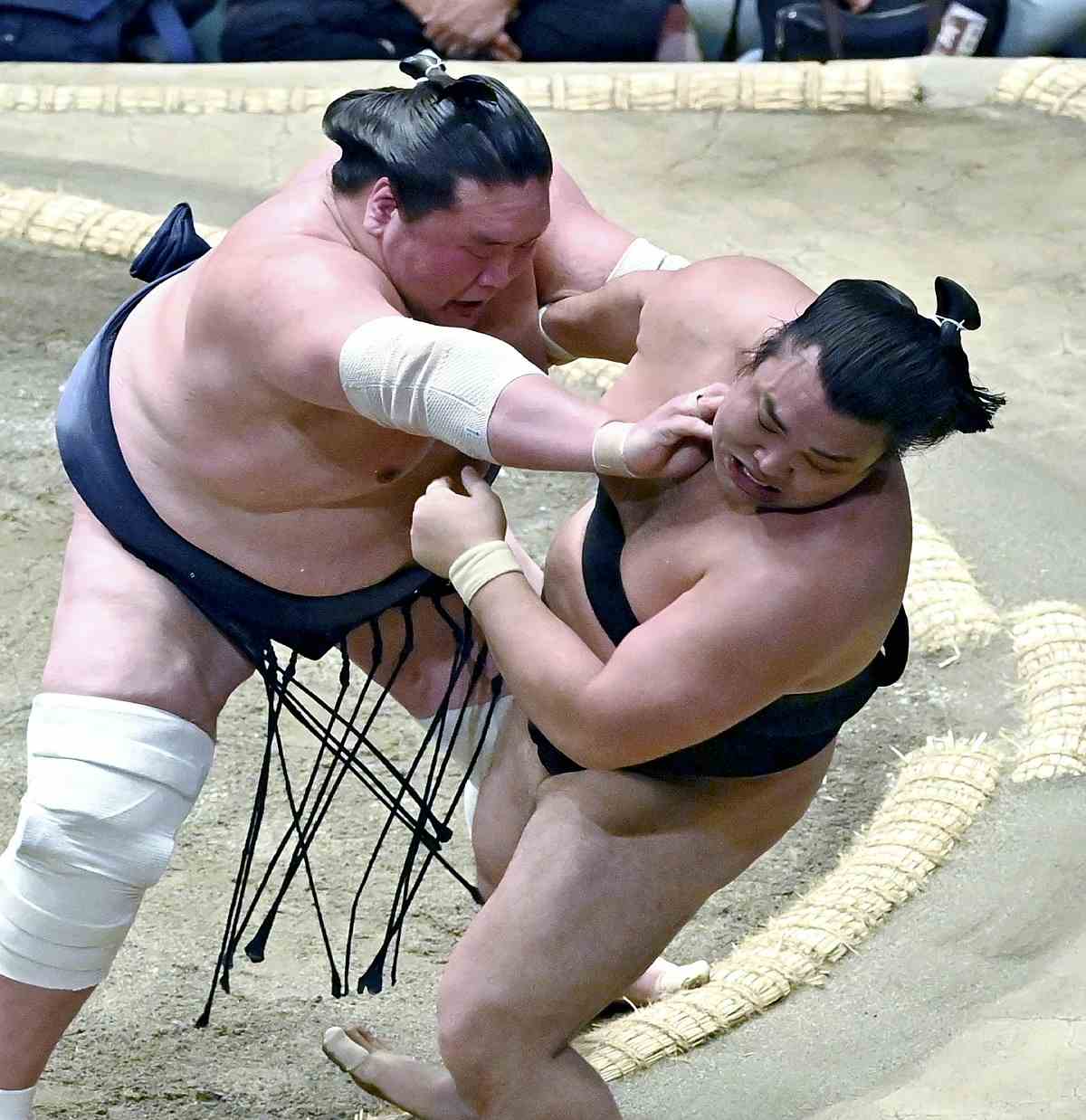 18:09 JST, May 27, 2023
Yokozuna Terunofuji stamped his return to the ring from an extended injury absence by clinching the title of the Summer Grand Sumo Tournament on Saturday in Tokyo, securing his eighth career championship and first in a year, with a day to spare.
Terunofuji defeated sekiwake Kiribayama in the final bout of the day at Ryogoku Kokugikan to improve to 13-1 and assure he will walk off with the Emperor's Cup when the tournament wraps up on Sunday.
The injury-plagued yokozuna had sat out all of the previous three tournaments, after dropping out of the September 2022 tourney on the 10th day. His last title came exactly a year ago in the Summer tournament.
Kiribayama, winner of the previous Spring tournament, fell to 11-3. That, combined with his 23 wins in the two previous tournaments, should already be enough to clinch promotion to ozeki. A win on Sunday would make it a sure thing.
Kiribayama got the advantage on the jump-off against his fellow Mongolian, but Terunofuji dug in and stopped the advance, resulting in a short stalemate. As both maneuvered for position, Terunofuji eventually got outer hands on the belt, pulled up and forced Kiribayama to the edge before sending him over with a stiffarm to the throat for his 10th win in 10 career meetings between the two.
In other action, sekiwake Wakamotoharu withstood a stinging slap attack to the face from lone ozeki Takakeisho before pushing him down to notch his 10th win in his debut at the third-highest rank.
Takakeisho, who notched his all-important eighth win on Friday to assure he would keep his rank for the next tournament, fell to 8-6.
In a battle of former ozeki, No. 14 maegashira Asanoyama threw down komusubi Shodai as he continues to rack up wins on his crusade to storm back up the ranks. Asanoyama improved to 11-3, while Shodai fell to 6-8.
Asanoyama had been slapped with a one-year suspension two years ago for breaking pandemic rules, and with each missed tournament, plunged farther down the ranks, eventually hitting the fourth-tier sandanme division.
He returned to the ring in September 2022, and finally re-entered the uppermost makuuchi division for this tournament.
It was a good day for the two other sekiwake, as Daieisho pushed down No. 6 maegashira Meisei to improve to 9-5, and Hoshoryu twisted down No. 15 maegashira Tsurugisho to pick up his 10th win.
Add TheJapanNews to your Google News feed.