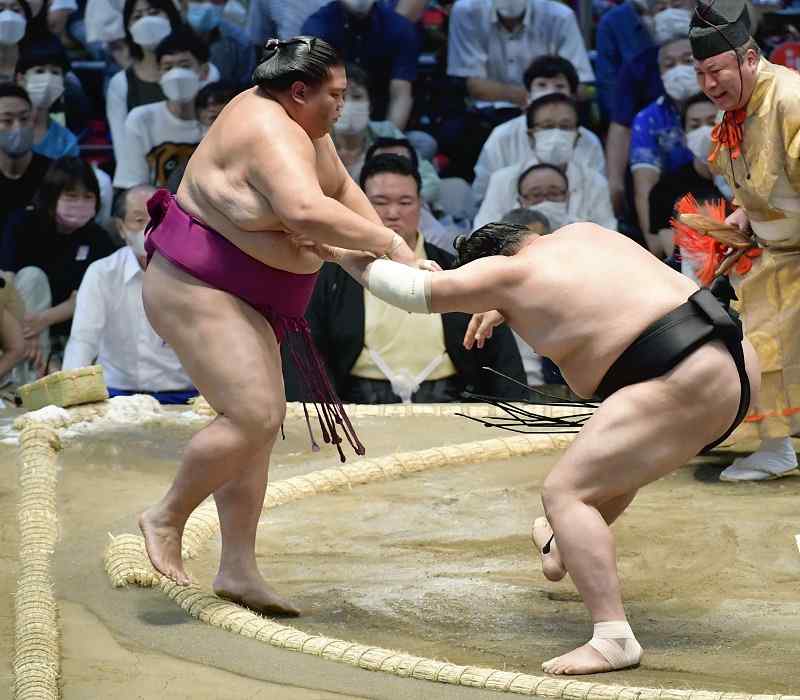 12:39 JST, July 27, 2022
When infected with the coronavirus, there is little else one can do. Ozeki Mitakeumi was forced to withdraw from the Nagoya Grand Sumo Tournament on the seventh day, leaving with a 2-4 record. He was under "kadoban" status, meaning he needed a winning record to retain his prestigious rank, and his performance up to that point seemed to indicate he was on track for a majority of losses.
But because a coronavirus infection is treated as a special case, it appears he will be saved from demotion for the next tournament.
When infections were confirmed at the Dewanoumi stable's lodgings in Inuyama, Aichi Prefecture, all wrestlers belonging to the group had to withdraw from the tournament. Subsequent PCR testing found that Mitakeumi was also infected.
Asked about how the ozeki will be dealt with, Japan Sumo Association director Isegahama (former yokozuna Asahifuji) avoided making a definitive statement, saying only, "We'll decide after the tournament." But it seems unlikely the association will demote the ozeki, who did not clinch a losing record, to sekiwake.
The dismal performances of all three ozeki, including Takakeisho and Shodai, have been eye-opening, to say the least. Mitakeumi earned promotion to ozeki after winning his third career title at the January tournament with a 13-2 record. He notched 11 wins in his ozeki debut in the next tournament in March, but slumped to a 6-9 record in the May tournament, putting him in kadoban status for the Nagoya tournament, where he had a chance to clear his name.
Mitakeumi cited a shoulder injury for his poor performance at the May tournament. Stable master Dewanoumi tried to encourage his wrestler, saying, "I hope he will get back into top shape and be ready for next tournament."
Wrestlers who have withdrawn from a tournament because of a coronavirus infection have largely been able to keep their rank. Even in cases of demotion, it was only by a small margin.
In Mitakeumi's case, it is likely he will remain an ozeki, but it just doesn't sit right with me. The sumo association has a provision that allows an ozeki demoted to sekiwake to regain his rank if he wins 10 matches in the following tournament. So if Mitakeumi can manage to get 10 wins at the next tournament in September, then I suppose it will be fair that he retains his rank.
— Miki is a sumo expert.
Add TheJapanNews to your Google News feed.