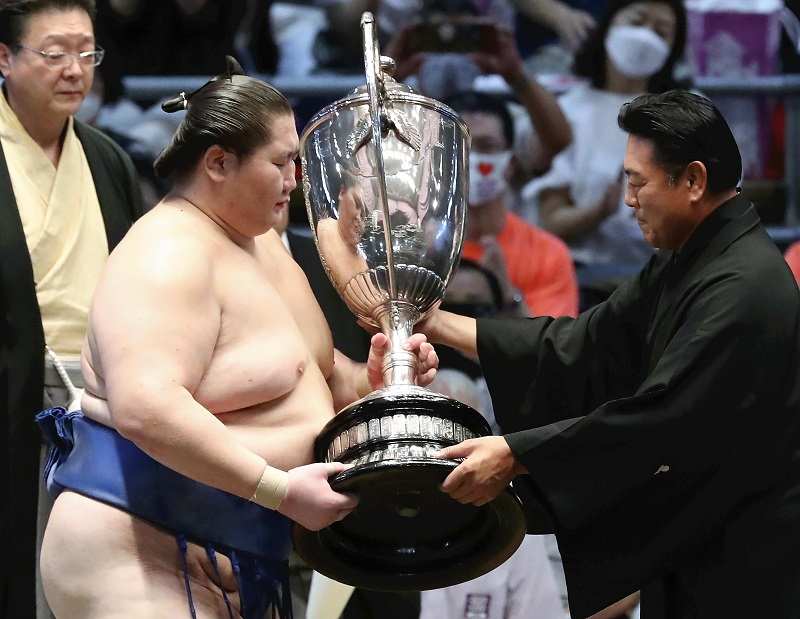 19:05 JST, July 24, 2022
No. 2 maegashira Ichinojo spent 15 days pushing, pulling, slapping and thrusting for all he was worth at the Nagoya Grand Sumo Tournament, but the biggest moment of his career came with him watching the action on a TV monitor at Dolphins Arena on Sunday.
Yokozuna Terunofuji (11-4) lost to ozeki Takakeisho in the basho finale, clinching the first Emperor's Cup for mammoth Mongolian Ichinojo (12-3), who said during an in-ring post-tournament interview that he was getting ready for a championship playoff after he had earlier forced out No. 3 maegashira Ura.
"I'm glad he was able to clinch it for me," quipped the 211-kilogram Minato stable wrestler, who is 29.
"I thought it [a basho championship] would come at some point," said Ichinojo, who upset Terunofuji on Day 5 of the basho.
COVID-19 infections seemed to take out as many wrestlers as Ichinojo, who also picked up his third Outstanding Performance Award. But the maegashira got off to a fast start by winning his first six matches, avoided the virus and even rebounded from a Saturday loss to No. 10 maegashira Meisei.
"Yesterday was yesterday, and I left that in the past," Ichinojo said. "This was the last day, so I regrouped mentally and didn't bring any of that into the ring today."
Ichinojo, who before Sunday was 4-3 all-time against Ura (7-8), said he felt a little bit of pressure to win his bout, but was mainly focused on the task at hand.
"He isn't a guy I've done all that well against, but I was able to wrestle my style of sumo and win," said Ichinojo, who put his strength on display in the match. He secured a left-handed grip on Ura's belt at the jump-off, and walked his opponent near the bales, using the full force of his 192-centimeter frame to lean on the smaller maegashira.
It was shocking end for Terunofuji, who was seeking his eighth Emperor's Cup. He needed to defeat Takakeisho (11-4) to force a playoff, but the yokozuna's foot landed outside the bales during a battle near the edge of the dohyo, and the ozeki brought the curtain down on the basho by knocking off bigger man.
Meanwhile, Shodai collected his 10th victory by taking down sekiwake Wakatakakage (8-7) in a lively penultimate match. The ozeki held off a scrambling attack by the sekiwake, eventually throwing Wakatakakage down after standing his hard-charging opponent up near the bales.
As for the other two tournament honors, No. 17 maegashira Nishikifuji, who finished 10-5, captured his first Fighting Spirit Prize, while no Technique Prize was awarded.
Add TheJapanNews to your Google News feed.