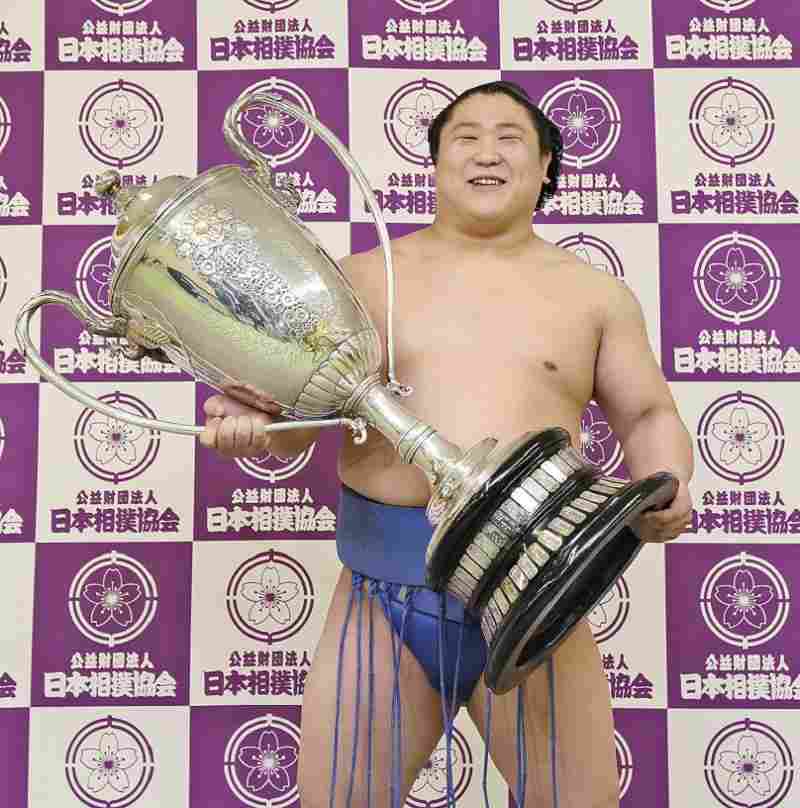 7:00 JST, March 29, 2022
Sumo is a family affair for Wakatakakage, the newly crowned champion of this year's Spring Grand Sumo Tournament — his two elder brothers are also active wrestlers, and his father and grandfather pursued the sport as well.
Wakatakakage's real name is Atsushi Onami. He earned the first Emperor's Cup of his career on Sunday by winning a playoff against No. 7 maegashira Takayasu on the final day of the tournament at Edion Arena Osaka.
It was the first tournament victory by a newly promoted sekiwake in 86 years.
The 27-year-old Wakatakakage, who hails from Fukushima, is listed at 130 kilograms, more than 30 kilograms lighter than the average for wrestlers in the top tier makuuchi division. Nevertheless, he secured his victory with straightforward frontal attacks.
"I think I showed something good to my family, who always support me," Wakatakakage said with a smile during a post-victory interview by the dohyo ring.
His oldest brother Wakatakamoto is in the lower makushita division and his elder brother Wakamotoharu is in the top tier makuuchi division.
Their ring names are based on the tale of three arrows, in which warlord Mori Motonari from the mainly 16th-century warring states period told his three sons that a single arrow can be snapped easily but that three put together are difficult to break. The lesson for his sons — Mori Takamoto, Kikkawa Motoharu and Kobayakawa Takakage — was the importance of helping each other.
Based on this tale, the Onami brothers were each given a ring name with "waka" added to the given name of a son of Mori Motonari. Waka was taken from the ring name of the Onami brothers' grandfather, the former komusubi Wakabayama, and of their father, former makushita wrestler Wakashinobu.
The brothers' ring names were chosen by the former komusubi Oyutaka, who was the stablemaster Arashio when Wakatakakage joined, in the hope that the three brothers would support each other and develop together.
The youngest Wakatakakage could not beat his older brothers for a long time, but after following in their footsteps to become a pro sumo wrestler, he worked hard in a bid to be promoted faster. Wakatakakage ultimately passed his brothers in the banzuke ranking.
"That childhood hierarchy is his driving force," said their father Masashi. "I think he was so frustrated [over continually losing to his brothers].
"They have a special bond," he added.
Wakatakamoto serves as attendant for Wakatakakage. "I'm supporting him so he can focus on his sumo," he said.
Wakamotoharu said, "I'm grateful that our third brother is leading us."
At the time of the Great East Japan Earthquake in 2011, Wakatakakage was in high school. He took refuge at the Arashio stable in Tokyo, which Wakatakamoto had already joined, and spent time with other wrestlers in the stable.
Wakatakakage wants to encourage local people with his and his brothers' sumo.
"There are many areas where reconstruction has not progressed, 11 years after the disaster," he said. "I want to show we're doing our best in the ring."
Add TheJapanNews to your Google News feed.