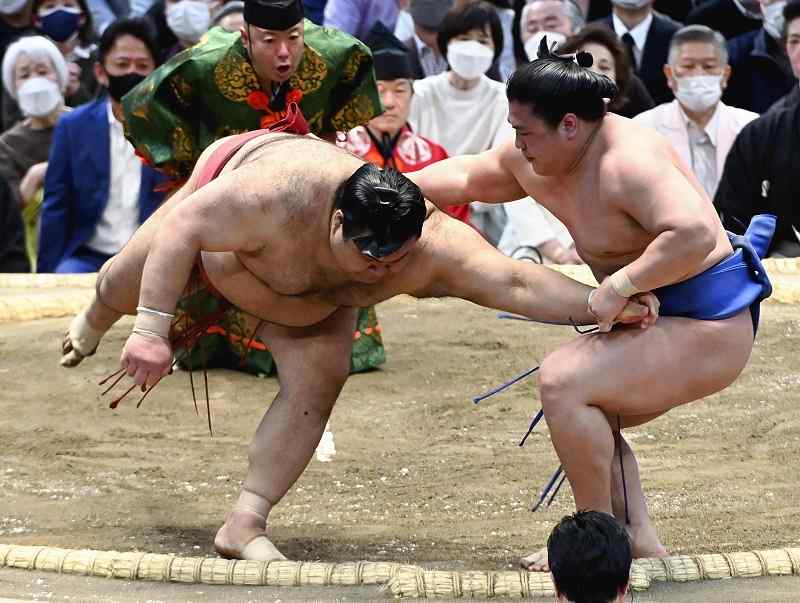 18:55 JST, March 27, 2022
It took a championship playoff, but the last man standing at the Spring Grand Sumo Tournament was sekiwake Wakatakakage.
The 27-year-old from Fukushima Prefecture bounced back from a loss in his last scheduled bout and fought off No. 7 maegashira Takayasu at Edion Arena Osaka on Sunday to capture the first Emperor's Cup of his career.
He's the first newly promoted sekiwake since Futabayama to win a tournament title in his debut at the rank.
Takayasu, 32, was also seeking the first tournament title of his career, but Wakatakakage managed to stave off a final push at the bales, stay inside the bales and on his feet as he tossed the maegashira out of the ring.
Wakatakakage said he was able to execute his normal plan in Osaka, where he won the Technique Prize for the third time.
"I always say this, but it was especially the case this time — attacking from a low position was the kind of sumo that worked for me during this basho," he said in a post-tournament TV interview.
Sekiwake Abi helped set the stage for a playoff by defeating Takayasu, who was awarded his fifth Fighting Spirit Prize. Ozeki Shodai (9-6) then forced Wakatakakage to go head-to-head for the Emperor's Cup by beating the sekiwake in what was supposed to be the last bout of the basho.
Earlier, No. 6 maegashira Kotonowaka, who started the day with an outside chance to be in a playoff, suffered a quick loss to komusubi Hoshoryu (8-7). The maegashira never got a grip on his opponent and tumbled to the surface and out of the race. Kotonowaka, however, still earned his third Fighting Spirit Prize.
In a matchup of ozeki, Mitakeumi sent Takakeisho (8-7) sprawling to the surface of the dohyo right at the jump-off to pick up his 11th victory.
Add TheJapanNews to your Google News feed.