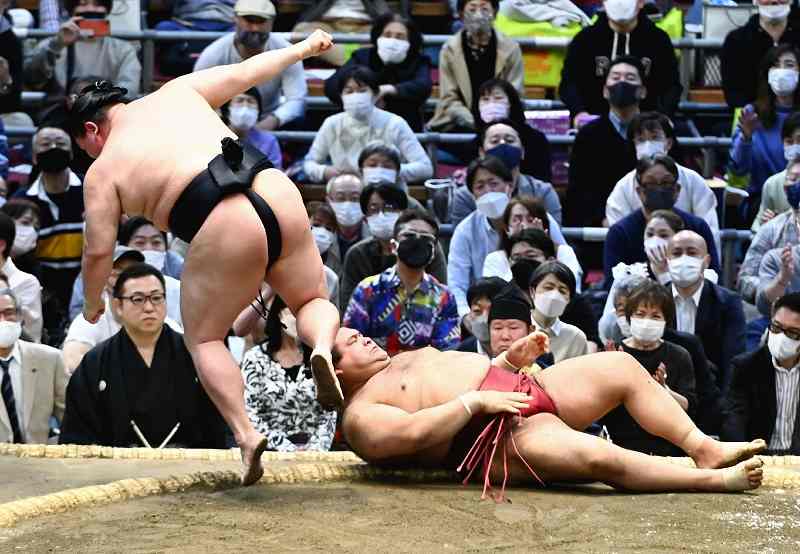 18:56 JST, March 26, 2022
Former ozeki Takayasu's bid for an elusive first title was dealt a setback when he was thrown down by ozeki Shodai on Saturday, while ozeki Mitakeumi saw his attempt for a second straight championship end on the 14th day of the Spring Grand Sumo Tournament in Osaka.
Takayasu, now a No. 7 maegashira, could have clinched the title outright with a victory over Shodai, combined with a loss by sekiwake Wakatakakage in the final bout of the day at Edion Arena.
Instead, the results were the exact opposite, with Takayasu losing and Wakatakakage defeating ozeki Takakeisho to leave the two tied at 12-2 going into the final day — with No. 6 maegashira Kotonowaka still in the chase after defeating Mitakeumi to improve to 11-3.
Shodai had long been out of the title chase, but had much to fight for as the victory was his all-important kachikoshi eighth, assuring he will keep his rank for the next tournament after being in kadoban status for the third time in his career.
Takayasu, who had a 9-15 career record against Shodai including losses in their last three meetings, came out strong and forced the ozeki to the edge. But Shodai deftly twisted and threw the maegashira to the dirt to improve to 8-6 after starting the tournament with four straight losses.
Takayasu, who sat out the entire New Year tournament in January, is a rare example of a wrestler who has reached ozeki without ever having won an Emperor's Cup. He has had four runner-up finishes in his career, most recently in 2018, and was in the title chase at the Spring tournament last year but lost all of his three final matches to finish 10-5.
An Ibaraki Prefecture native born to a Japanese father and Philippines mother, he gained promotion to ozeki after the May 2017 tournament despite not having won a championship. His combined total of 34 wins over the previous three tournaments was deemed sufficient to propel him to the second-highest rank, which he lost after the Kyushu tournament in November 2019.
In other action Saturday, Kotonowaka will also have a chance at a first-ever makuuchi division title after an impressive win over Mitakeumi, who was promoted to ozeki after his triumph at the New Year tournament in January.
Kotonowaka gained a belt hold from the jump-off and quickly shuffled Mitakeumi out of the ring.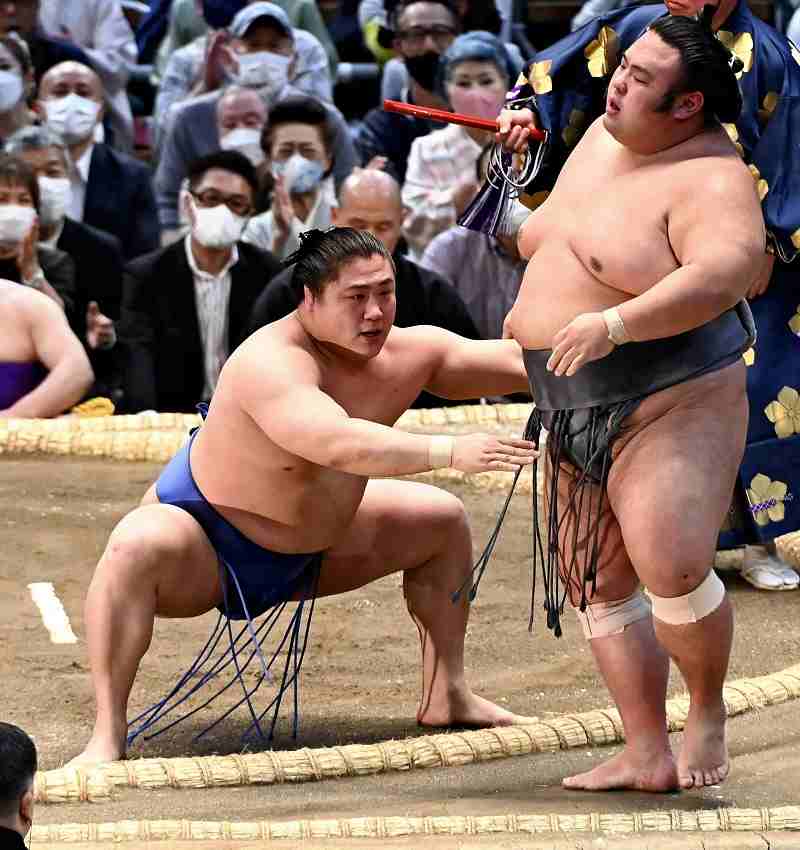 Wakatakakage's victory over Takakeisho was not as one-sided, but was equally impressive. Wakatakakage, who is making his debut as a sekiwake, looked in peril when he was pushed back to the edge, but fought out of the predicament and bulled out Takakeisho, who dropped to 8-6.
Sekiwake Abi will have to win on the final day to keep his rank after he was chased out of the ring by No. 6 maegashira Hokutofuji, leaving him with a 7-7 record.
Mongolian komusubi Hoshoryu, the nephew of former yokozuna Asashoryu, kept alive his hopes of a winning record in his sanyaku debut when he sidestepped No. 4 maegashira Endo and pushed him out to even his record at 7-7.