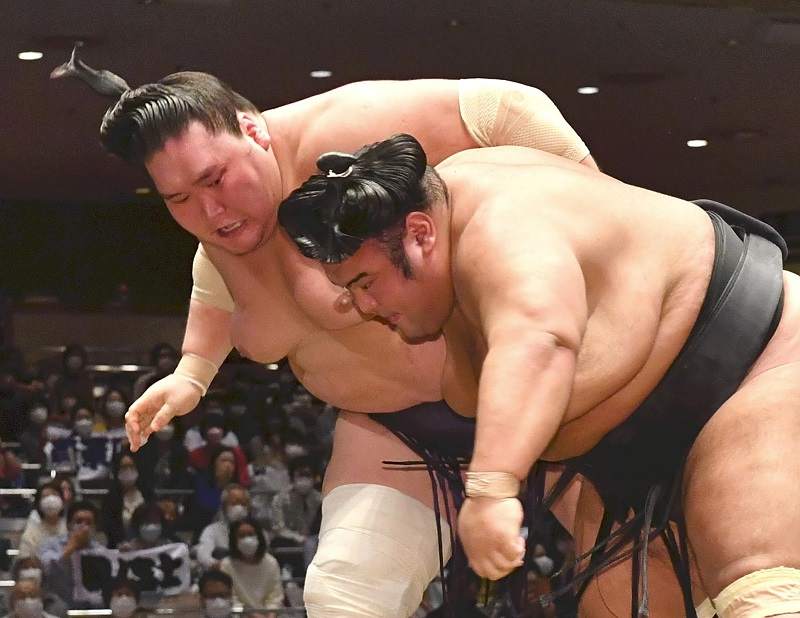 19:22 JST, September 25, 2021
Yokozuna Terunofuji moved into position to capture his fifth career title when he threw down ozeki Takakeisho on Saturday to take a 12-2 record and one-win lead into the final day of the Autumn Grand Sumo Tournament at Tokyo's Ryogoku Kokugikan.
With Takakeisho securing a belt hold, Terunofuji grabbed an overarm belt hold himself, then moved to the side and sent the ozeki spiraling to the dirt with a hip throw on the second attempt. Takekeisho fell to 8-6.
No. 10 maegashira Myogiryu became the lone wrestler standing between Terunofuji and the Emperor's Cup in his yokozuna debut when he shuffled out ozeki Shodai (8-6) to improve to 11-3.
On Sunday, Terunofuji will face ozeki Shodai. He will clinch the title outright with if Myogiryu loses to sekiwake Meisei beforehand, or if both win. A victory by Myogiryu and loss by Terunofuji would set up a championship playoff between the two.
Three maegashira-ranked wrestlers started Saturday's action one win off the lead, but only Myogiryu kept his title hopes alive after both No. 6 Onosho and No. 11 Endo were dealt quick-fire defeats and dropped to 10-4.
Onosho's match ended in the blink of an eye as sekiwake Meisei (7-7) slapped him down right at the jump-off. Earlier, Endo also flopped to defeat, but it took slightly longer against burly komusubi Ichinojo. Endo came out with a strong shove but got overextended, and Ichinojo only had to step back and press down to get his kachikoshi eighth win.
In the only other match involving a sanyaku wrestler — those in the three ranks below yokozuna — No. 8 maegashira Okinoumi used an underarm belt throw to toss down sekiwake Mitakeumi, who dropped to 8-6 to assure he will finish with single-digit wins for the second straight tournament.
Add TheJapanNews to your Google News feed.