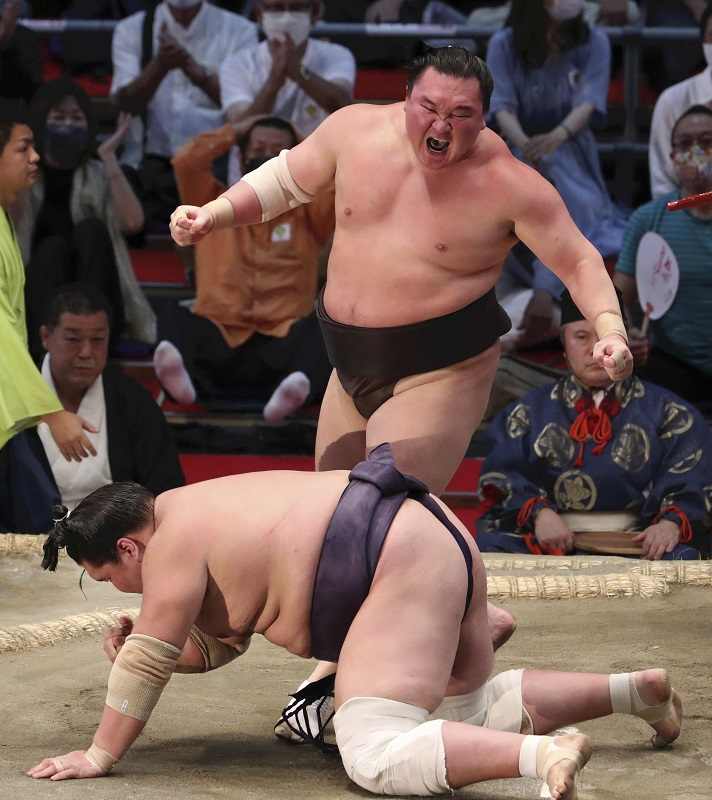 19:43 JST, July 18, 2021
Yokozuna Hakuho triumphed in the first showdown of undefeated final-day wrestlers in nine years, taking down ozeki Terunofuji on Sunday in Nagoya to place a perfect bow atop his record-extending 45th Emperor's Cup.
A fired-up Hakuho even engaged in the rare action of pumping his fists after throwing down his opponent in a matchup of Mongolian-born rivals that seemed to be as much about pride as the Emperor's Cup with all the pre-bout staring down that took place on the 15th day of the Nagoya Grand Sumo Tournament at Dolphins Arena in Nagoya.
The 36-year-old Hakuho, who returned to the ring in Nagoya after having to miss all or portions of the action at the past six tournaments, said he wasn't even sure he'd be able to wrestle again after surgery on his right knee in March.
"I never imagined I'd be able to pull off a perfect run to a championship at this age," Hakuho said in the post-tournament TV interview.
"Physically and mentally, I was up against it in this tournament. But 15 years ago, I was a brand-new yokozuna here in Nagoya, and with all that I have been through, that initial enthusiasm is what got me to this result."
When asked about his motivation to continue to build on his records, the yokozuna kept it simple.
"I have 899 wins as a yokozuna, so I want to get that next victory and reach 900," said Hakuho, who admitted having some moments of uncertainty about being able to continue his career.
"I was sometimes at a loss and wasn't sure I'd ever be able to return to the dohyo, but this is great."
Hakuho came out with a right arm to the face of Terunofuji at the start-off, and the two slapped each other until the yokozuna latched onto the ozeki's belt with both hands.
Hakuho lost his grip, but still managed to grab the ozeki and throw down Terunofuji, who was 4-9 against the yokozuna before the final-day showdown. The yokozuna swung his right fist and followed that with a two-handed celebration in a rarely seen emotional aftermath.
The 14-1 Terunofuji fell short of a third consecutive championship after climbing back to the second-highest rank from the depths of the sport in a headline-grabbing comeback.
The Japan Sumo Association is expected to officially decide on Terunofuji's promotion to yokozuna on Wednesday.
Meanwhile, No. 3 maegashira Tobizaru (4-11) outlasted Tamawashi, denying the No. 10 maegashira his 12th victory with a throw at the edge of the ring.
In a match both wrestlers needed to lock up a kachikoshi eighth victory, ozeki Shodai had little trouble sending sekiwake Takayasu out of the ring in the penultimate bout.
No. 5 maegashira Hoshoryu, a first-time winner of the Technique Prize, defeated No. 3 maegashira Hokutofuji for his 10th win. The Fighting Spirit Prize went to No. 11 maegashira Kotonowaka, his first.
Add TheJapanNews to your Google News feed.