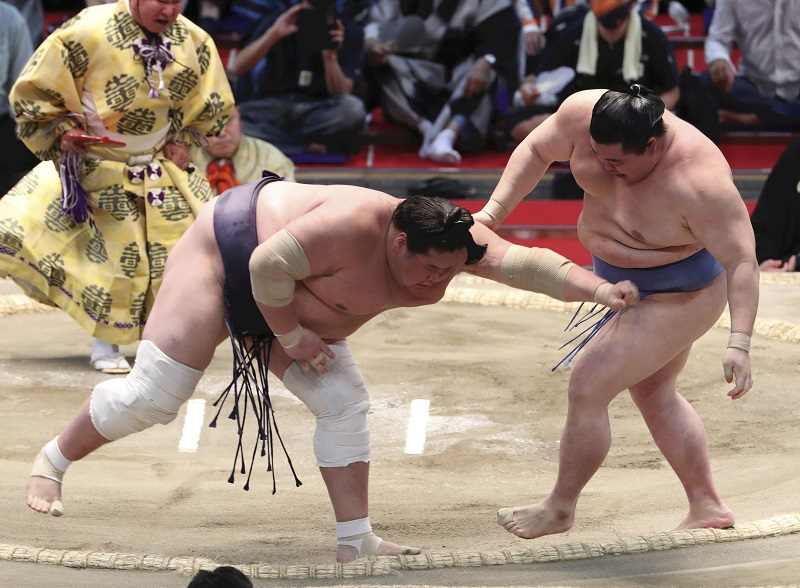 18:56 JST, July 16, 2021
Yokozuna Hakuho and ozeki Terunofuji are pushing to have a perfect ending at Dolphins Arena in Nagoya.
But only one of them can make that come to fruition.
The Nagoya Summer Tournament's two leading men put on strong performances on Friday to remain undefeated at the Nagoya Grand Sumo Tournament.
The 36-year-old Hakuho, back in the ring after missing all or part of the action at the past six basho, made quick work of seven-win sekiwake Takayasu in the final bout of the day.
Takayasu was knocked off balance at the start, and the Mongolian grabbed his opponent's arm and yanked him to the surface of the ring in an instant to end any drama and collect his 13th victory, putting Hakuho in position to add to his record 44 tournament titles.
Ozeki Terunofuji, coming off back-to-back championship runs, survived a scare at the start-off against ozeki Shodai (7-6), but found his bearings for a pushout victory to improve to 13-0.
The ozeki had a misstep at the start that sent him heading to the edge of the ring. Terunofuji, though, managed to stop his momentum and move the action back to the middle of the ring, where he regrouped and moved Shodai near the bales. Once there, Terunofuji still needed an awkward left-handed push from the side to finish off the feisty Shodai and keep his record clean.
The Mongolian-born Terunofuji picked himself up after dropping to the depths of sumo and has earned a promotion back to the ozeki rank in one of the sport's greatest comeback stories. And he is on the radar for a possible promotion to yokozuna the way he is performing in Nagoya.
Meanwhile, No. 2 maegashira Ichinojo (8-5), who weighs 200 kilograms, and No. 5 maegashira Hoshoryu had wrestle twice to settle matters.
In the second bout, Hoshoryu, giving away 69 kilograms, came out strong at the tachiai to get the bigger Ichinojo near the bales, but had to survive a charge forward before finishing off Hoshoryu with an underarm throw for his ninth victory.
Komusbi Meisei ran his record to the verge of a kachikoshi winning total by forcing out No. 6 maegashira Kiribayama (8-5).
Meisei (7-6) avoided running himself out of the ring just after the jump-off and worked Kiribayama to the bales, where it then took a pair of forward thrusts to finish the match.
No. 3 maegashira Hokutofuji wasted little time pushing out No. 2 maegashira Takanosho (6-7) to pick up his kachikoshi eighth win.
Earlier, No. 11 maegashira Kotonowaka earned his 10th victory by beating No. 7 maegashira Chiyoshoma (7-6).
Add TheJapanNews to your Google News feed.