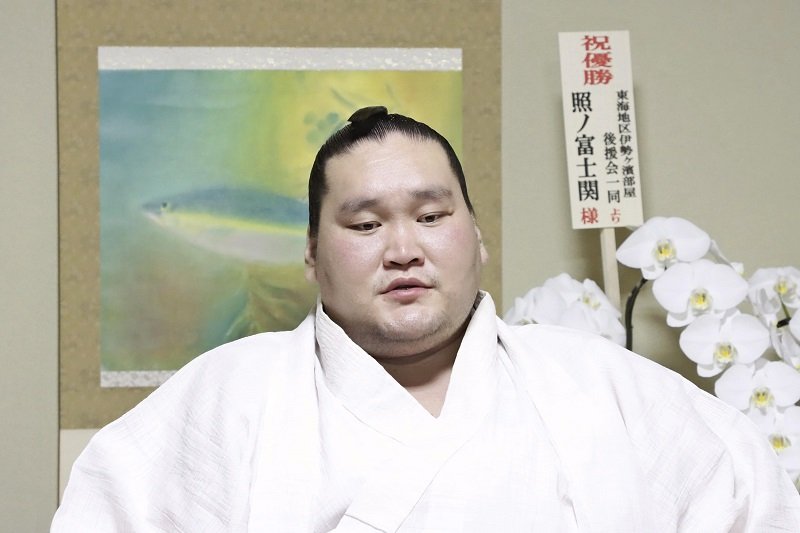 15:59 JST, May 24, 2021
For ozeki Terunofuji, winning a second consecutive tournament title and fourth overall in his career was the payoff for a lot of hard work. It also puts him on track for promotion to the sumo's highest rank.
"I've been working really hard and this was the result," Terunofuji said Monday in an online press conference, the day after winning the Summer Grand Sumo Tournament at Tokyo's Ryogoku Kokugikan.
The victory makes Terunofuji eligible for promotion to yokozuna based on his performance in the next tournament in Nagoya slated to start July 4, according to Isegahama, a senior official in the Japan Sumo Association and Terunofuji's stablemaster.
The Yokozuna Deliberation Council, an advisory panel to the JSA, has set the criteria for recommending a candidate for yokozuna as "winning two consecutive tournaments or an equivalent result."
Isegahama, the former yokozuna Asahifuji, pointed out that Terunofuji has won three of six tournaments since re-entering the upper-most makuuchi division at last year's July tournament. Injuries and illness had caused the Mongolian to drop far down the rankings before making an unprecedented comeback to ozeki.
"He has won consecutive tournaments, so if he can show the similar level of performance in the next tournament, there will be talk [of recommending him for yokozuna]."
Terunofuji certainly knows what is at stake. Asked about the July tournament, he replied, "I will do everything I can over the 15 days."
On Sunday, Terunofuji won for the first time as an ozeki by beating fellow ozeki Takakeisho in a playoff, after a loss to him in their regularly scheduled bout minutes earlier left them both tied at 12-3. It marked the first time Terunofuji won a championship playoff in four attempts.
"He looked relaxed [during the tournament]," Isegahama said. "At first, he went into matches with a sense of ease, but later on he was more animated." As for the playoff, "He had a totally different look," Isegahama added.
Terunofuji's bid for a third straight title can expect a challenge from sekiwake Takayasu, who will be on a mission of his own. He put himself in position to regain the ozeki rank after chalking up 10 wins for a second straight tournament in the sanyaku, the three ranks below yokozuna.
Isegahama said Takayasu could be promoted to ozeki if he collect 13 victories or more and wins the July tournament. That would fulfill the promotion criteria of a combined total of 33 wins over three tournaments in the sanyaku.
Add TheJapanNews to your Google News feed.