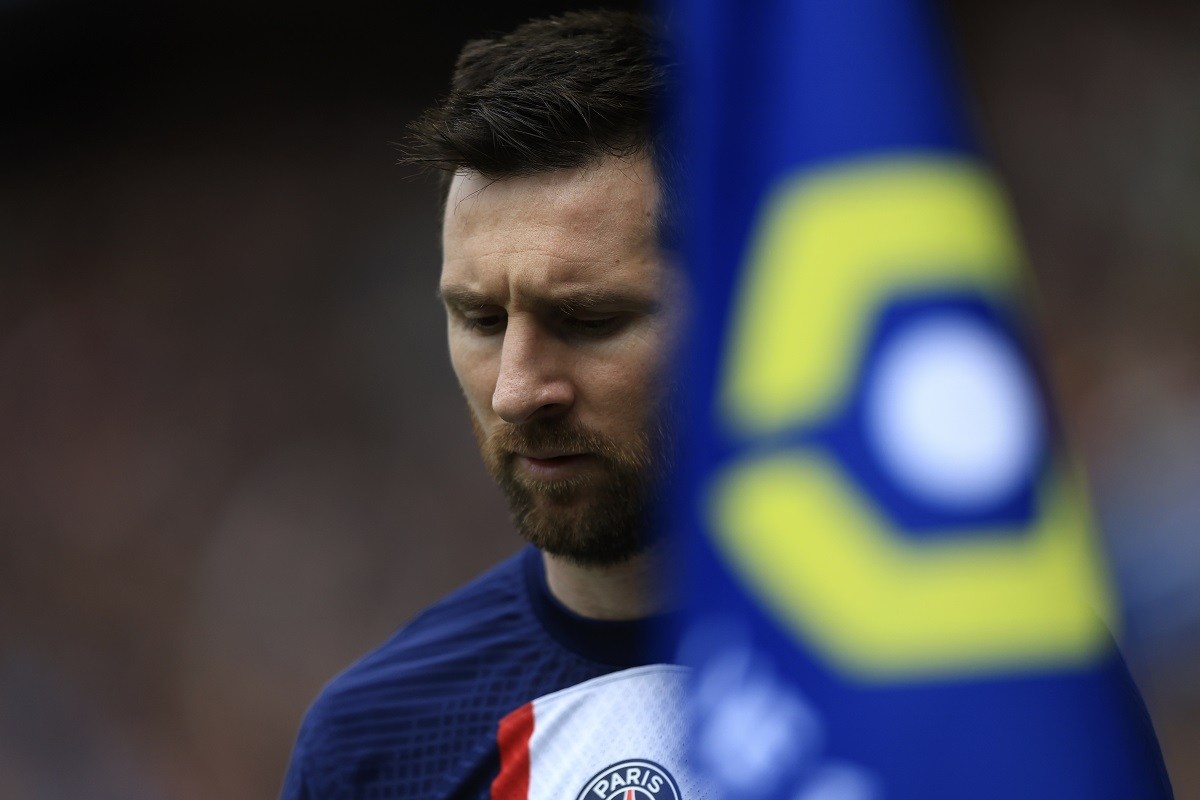 11:08 JST, May 10, 2023
PARIS (AP) — With speculation over Lionel Messi's potential next destination turning into a frenzy his father intervened Tuesday to say no deal has been agreed over a move to Saudi Arabia or return to Barcelona.
Messi's contract with Paris Saint-Germain runs until the end of June, and his father Jorge Messi said nothing will be decided before PSG's season finishes on June 3.
"There are always rumors and many use the name of Lionel to gain notoriety but there's only one truth and we can assure you that there is nothing with anyone," Jorge Messi posted on his Instagram account. "Neither verbal, nor signed, nor agreed, and there won't be anything until the end of the season."
The guessing game escalated Tuesday into where the World Cup winner from Argentina will play next season. Staying at PSG seems the most unlikely outcome, while Inter Miami in Major League Soccer is also chasing the seven-time Ballon d'Or winner.
French media earlier reported that Messi has a verbal deal with an unnamed Saudi club, a move that would put him back into the same league as Cristiano Ronaldo. But one soccer transfer gossip specialist, Fabrizio Romano, was quick to update his 14.6 million followers on Twitter that there will be no decision until after the season.
Jorge Messi validated that.
"There's absolutely no agreement with any club for next season," he wrote on Instagram. "The decision won't be taken prior to Lionel finish(ing) the season with PSG. We will assess the situation at the end of the season."
League leader PSG has four games left and ends the campaign at home to Clermont. Messi has scored 15 league goals so far and tops the charts with 15 assists.
Both Barcelona and Al Hilal clearly want Messi, who turns 36 next month and also wants to keep playing for Argentina. South American qualifying for the 2026 World Cup starts in September, with Argentina at home against Ecuador.
Messi's trip last week to Saudi Arabia — and subsequent suspension by PSG for the unauthorized absence — has re-ignited talk he will play in the Middle Eastern country if he leaves the French capital as expected. One French media report claimed Messi has agreed to a massive deal with an unnamed Saudi club worth at least 500 million euros ($548 million).
PSG declined to comment when asked by The Associated Press if there is an agreement in place for Messi to leave the club.
Messi was linked with a move to Riyadh-based Saudi club Al Hilal last month, the same city where Ronaldo's team, Al Nassr, is located.
Messi played against Ronaldo in January in an exhibition game in Riyadh, with the Qatari-owned PSG facing a combined team from Al Nassr and Al Hilal. Ronaldo's arrival has already boosted Saudi Arabia's soccer profile in the Middle East in a regional rivalry fueled by Qatar hosting last year's World Cup.
Having Messi playing against Ronaldo would do even more for the country as Saudi Arabia prepares to stage the Club World Cup for the first time in December.
Messi returned to training with PSG this week after the club lifted his suspension following the promotional trip to Saudi Arabia. He missed practice last Monday, the day after PSG's 3-1 loss to Lorient. The club announced his suspension last Tuesday.
Messi subsequently apologized to the club and his teammates for traveling without PSG's permission.
Messi joined PSG on a two-year deal after tearfully leaving financially stricken Barcelona against his will in 2021, with an option for an extra year if both parties agreed. His contract runs until the end of June, but talks about extending reportedly broke down, making Messi's exit seem inevitable.
Barcelona coach Xavi Hernandez, who is poised to lead his team to the Spanish league title this season, has openly said he wants his former teammate to come back.
Barcelona is the club closest to the heart of Messi and his family. They moved to Spain in 2001 and Messi scored 672 goals — including an extraordinary 50-goal league season in 2012 — and won four Champions League trophies with Barcelona among a glittering array of silverware.
Barcelona president Joan Laporta is also eager to bring Messi back, but must overcome the club's severe debts and restrictions imposed by the Spanish league.
Barcelona's return to the Champions League could also be affected by an ongoing UEFA investigation into payments of millions of dollars over more than a decade to a company linked to a Spanish refereeing official. No evidence of suspected match-fixing has yet emerged.
Playing in Saudi Arabia would lessen the wear and tear on Messi's body while also offering lower-quality games ahead of World Cup qualifying and the 2024 Copa America in the United States, with Argentina the defending champion.
Add TheJapanNews to your Google News feed.