Australia Edges France on Penalties to Reach Women's World Cup Semifinals. Next Up Is England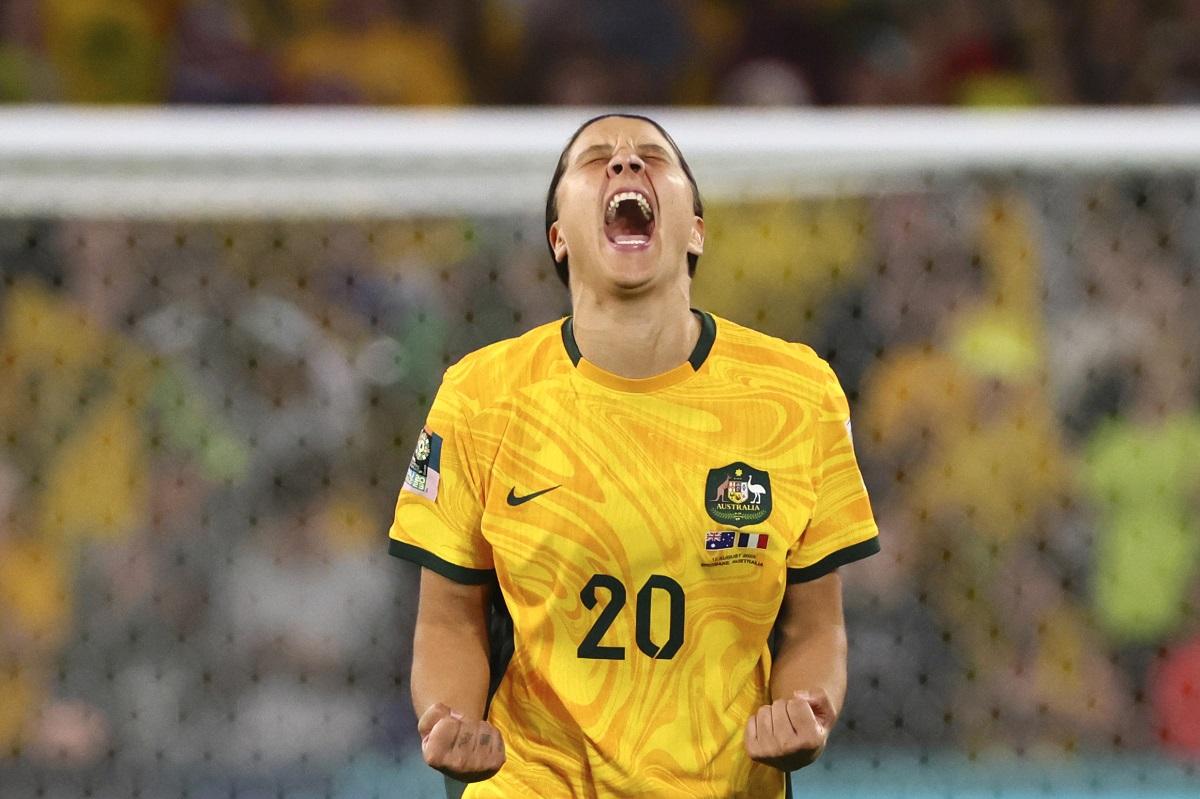 10:28 JST, August 13, 2023
BRISBANE, Australia (AP) — Mackenzie Arnold's impact on Australia's biggest Women's World Cup moment was so immense that it's hardly surprising it took vanquished France coach Herve Renard to describe it best.
"We came up against a Goliath of a goalie. What a game," Renard said.
Australia won a penalty shootout 7-6 against Renard's team after their quarterfinal ended 0-0 in regulation and extra time on Saturday.
Arnold was "the winning factor," the French coach acknowledged, "both in normal time but also in extra time and then during the shootout."
Indeed. Arnold was instrumental in Australia advancing to the semifinals for the first time and ending the so-called curse of the host nation.
Cortnee Vine, playing in her first World Cup and going on late as a substitute, was the 10th in a line of 11 penalty takers picked for Australia. She strode to the spot, aiming to finish off where two of her teammates couldn't, and calmly converted to give the Matildas a famous victory.
The Australians became the only hosts other than the United States to win a quarterfinal in nine Women's World Cups.
The Matildas will play England next Wednesday for a spot in the final after the European champions beat Colombia 2-1.
Arnold kept the Matildas in the game in extra time and made three clutch saves in the shootout — before and after missing with her own attempt that could have sealed the win.
"I will remember this night for the rest of my life," she said. "That is the craziest game I've ever played, considering what was on the line.
"It's going to take a long time to really realize what has happened and what I've done and what the team has done. I'm just super proud to be Australian right now."
The quarterfinal match transfixed Australia. Fans at other stadiums, in other sports, watched live broadcasts on giant screens. The evening news was delayed by the host broadcaster so everyone Down Under had a chance to watch the game on free-to-air TV. The Australians had another capacity crowd of almost 50,000 in Brisbane, after crowds exceeding 75,000 for two wins in Sydney.
Renard said his lineup did well considering it was a squad of 23 against 26 million rivals: "I would like to take the opportunity to congratulate them, congratulate them for the performance that they pulled off today against an entire nation. There were a couple of things that could have gone the other way.
"From the day we got to Australia and right until the very bitter end … we have no regrets," he said.
Australia had lost all three of its previous quarterfinals at Women's World Cups and went into the knockout game under intense pressure knowing that six of the previous hosts were eliminated at the quarterfinal stage, including France in 2019. Australia is co-hosting the tournament with New Zealand.
The French were playing in the quarterfinals for the fourth consecutive time but its only win remains its first, beating England on penalties in 2011.
Both teams had chances to win it in regulation, and star striker Sam Kerr's first meaningful appearance of the tournament triggered a surge in tempo from the Australians when she went on in the 55th minute, but ultimately no goals.
The French team celebrated momentarily in extra time when it appeared Australian defender Alanna Kennedy's misdirected header from a corner kick had resulted in an own goal. But referee Maria Carvajal immediately disallowed it, ruling that France captain Wendie Renard had pulled the jersey of Australian forward Caitlin Foord.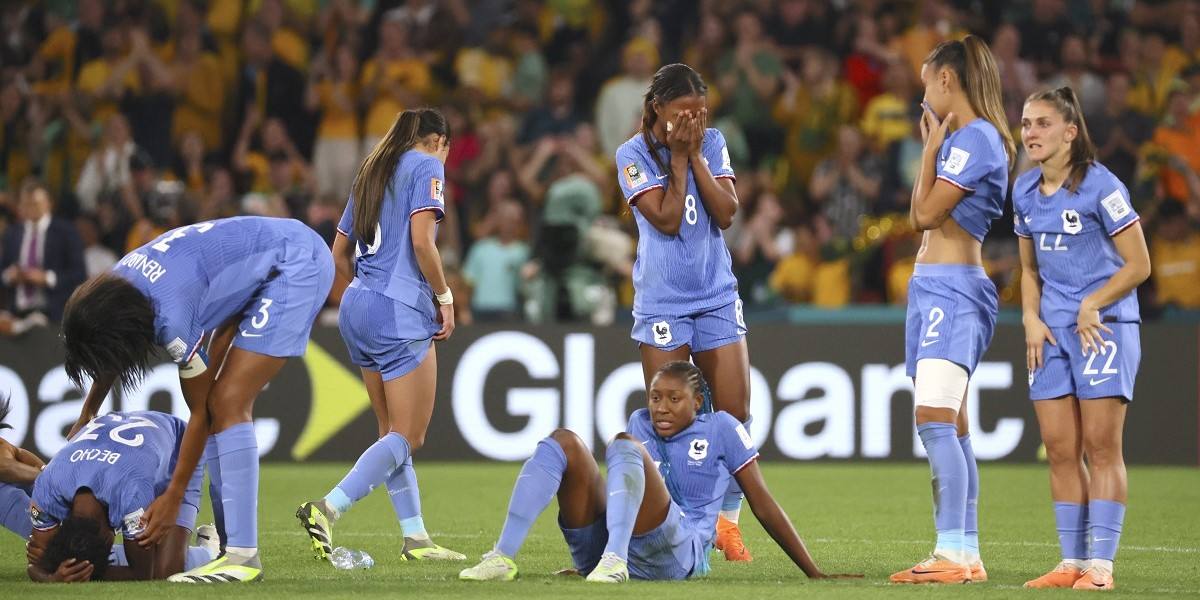 It would have been a contentious goal, regardless, with France awarded the corner despite the ball appearing to go out off Vicki Becho in the 10th minute of extra time.
Becho was in the thick of the late action, firing a shot early in the second period of extra time that Arnold pushed over her right post. The Australian keeper also blocked shots from Grace Geyoro and veteran striker Eugenie Le Sommer late to take the game to a shootout.
A tension-filled shootout started with Arnold blocking the first shot diving to her right from Selma Bacha.
Foord took Australia's first shot, calmly slotting it past Solene Durand, who went on deep in extra time to replace France's starting goalkeeper Pauline Peyraud-Magnin
Steph Catley missed with Australia's second shot and captain Renard stepped up and converted despite a chorus of booing from the crowd to give France a 2-1 lead.
Kerr made it 2-2 and Le Sommer fired a shot low inside the right post to give France a 3-2 lead.
Mary Fowler, who had Australia's best chance in regulation blocked by defender Elisa De Almeida desperately covering the line in the 41st minute, equalized without hesitation in the shootout. And Arnold, after making another save, lined up for her own shot in an attempt to win it for the hosts. She missed and went straight back to keeping duties.
At 6-6, Kenza Dali had two chances for France, both stopped by Arnold. The first went to VAR and Dali was given another shot. The retaken penalty was well saved by Arnold, who celebrated wildly near the goalposts — after checking with the referee.
Clare Hunt missed a chance to win it for Australia, with Durand getting a hand to her shot down the middle.
But after the 19-year-old Becho's curling right-foot shot hit the left post, Vine stepped up to make it third time lucky for Australia.
The French had three times more shots on goal in the first half, with nine against Australia's three, and Maelle Lakrar and Le Sommer forced two saves from Arnold.
"We've shown that we thrive under pressure over and over again in this tournament and I think I have some unhealthy addiction to do-or-die games," Australia coach Tony Gustavsson said. "To be able to do that tonight with this team has been amazing, and I can't wait to get more moments like this."
---
---
Add TheJapanNews to your Google News feed.