Popp's First-Half Double Powers Germany to a 6-0 Rout of Morocco at the Women's World Cup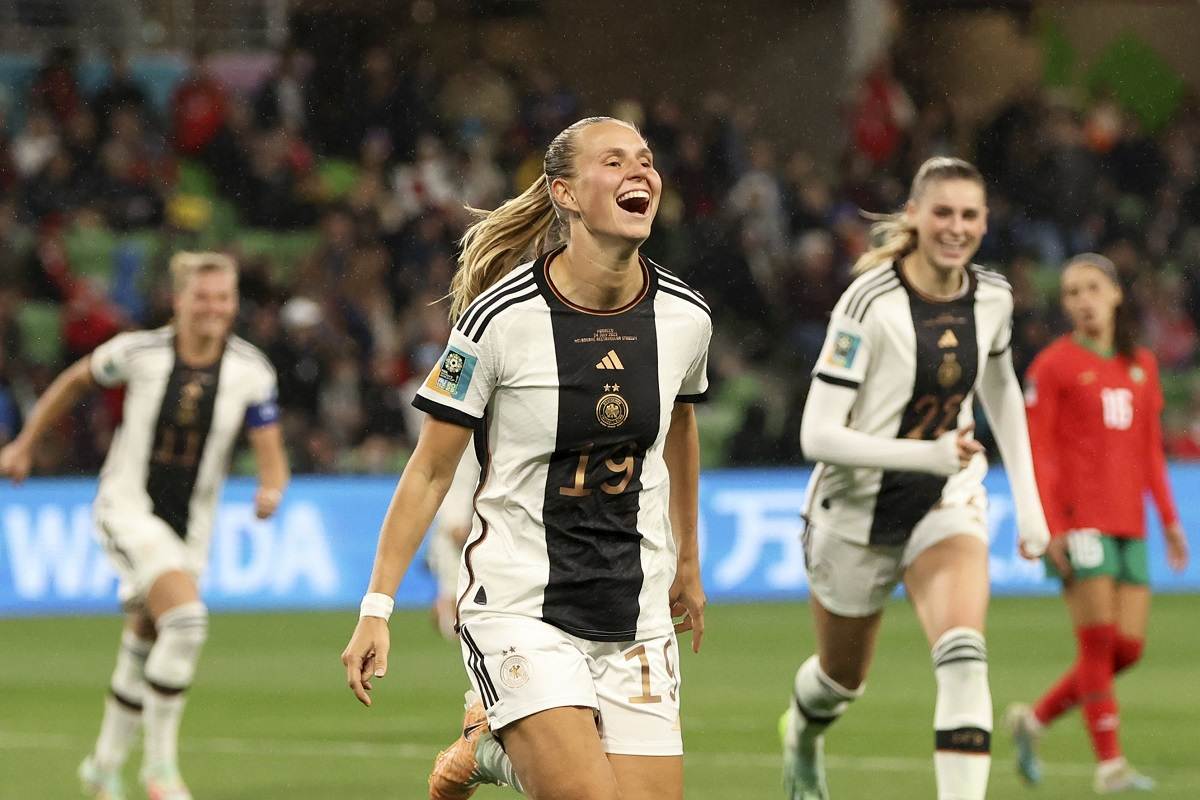 10:08 JST, July 25, 2023
Melbourne, Australia (AP) — Alexandra Popp scored twice in the first half and Germany added four more in the second in a 6-0 rout of a Morocco team on its debut at the Women's World Cup on Monday.
The margin of victory is the largest of the tournament so far as the two-time champions dominated throughout against Morocco, the first Arab and North African country to qualify for the tournament
Popp scored her 63rd and 64th international goals, moving to third on Germany's all-time list. The Wolfsburg forward quickly made her mark on the tournament after missing out on the final of the 2022 European Championship against England because of injury.
The second half featured two Morocco own-goals sandwiched between goals from Klara Bühl and Lea Schüller.
KEY MOMENTS
In the 11th minute, Popp scored with a header off a cross from Kathrin Hendrich. She doubled her tally with another header in the 39th off Klara Bühl's corner kick.
Bühl scored the third goal with a right-foot strike just 23 seconds into the second half. For the fourth goal in the 54th, Svenja Huth served a ball in off a rebound from a corner. The ball then bounced off Morocco defender Hanane Aït El Haj for an own goal.
Another own goal by Yasmin Mrabet followed before Lea Schüller rounded out the scoring for Germany in the 90th minute.
WHY IT MATTERS
After losing to Zambia and Brazil in recent friendlies, Germany announced itself as a contender to win the tournament with the comfortable victory. The 2003 and 2007 World Cup winners have advanced to at least the quarterfinals in each of its eight previous World Cup appearances. Germany is on top of Group H, with Colombia and South Korea set to play their opening match on Tuesday.
The lopsided loss adds pressure to the remaining group-stage matches for the Moroccans, who need to improve on this performance in order to keep alive any hopes of advancing to the tournament's knockout stage.
IN THEIR OWN WORDS
"I haven't set myself a goal on how many goals I'll score. I want to reach the finals and to win the finals. Apart from that, I'm just happy. I hadn't scored really well before (in the World Cup), but these two goals were a boost." – Alexandra Popp, Germany captain.
"We have to go again, there's another two games. We have the spirit, we have the fight and we'll regroup and go again against South Korea." – Rosella Ayane, Morocco player.
WHAT'S NEXT
Germany will travel to Sydney for its next game against Colombia, who advanced to the round of 16 in its last World Cup appearance. Morocco will play South Korea at Adelaide's Hindmarsh Stadium. Both games are scheduled for Sunday.
---
---
Add TheJapanNews to your Google News feed.