Brazilian Players at the Women's World Cup Urge Fans back home to Skip Work to Watch their Matches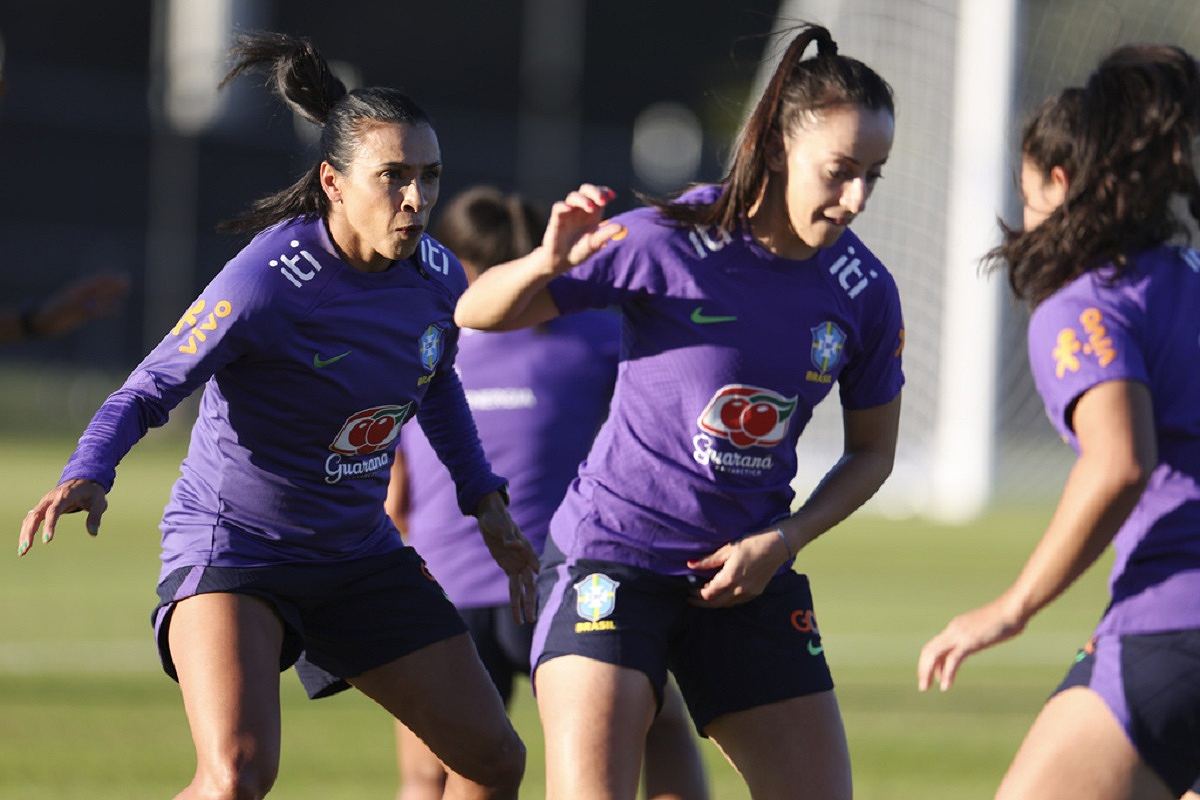 14:58 JST, July 22, 2023
BRISBANE, Australia (AP) — Brazil's players urged their fans back in South America to stay home from work and watch them begin their Women's World Cup campaign against Panama.
The fact that their fans even have that option marks a step forward in the players' ongoing fight for equality with their male counterparts.
Brazil president Luiz Inácio Lula da Silva recently announced that civil servants could arrive at work up to two hours after the final whistle of Brazil's games in the the tournament. He encouraged private businesses to do the same.
The Brazil-Panama match starts at 8:30 p.m. Monday in Adelaide, Australia. There is a roughly 12-hour time difference between the countries.
"I hope people really follow (the games) and don't use it just to skip work," Brazilian defender Antonia said from the team's camp in Brisbane. "I hope people really follow us."
Taking time off work to watch important soccer matches is nothing new for fans of Brazil's men's team, but this is a first for the women's national team
"It's an important step for women's football," Antonia said. "I believe that it is a little behind, but it happened and we have to value that."
While it's a step toward equality, it brings added pressure. The team is aiming for its first World Cup title to prove themselves to their country and the world as a top team in women's soccer.
"It's already a very big movement," midfielder Angelina said of the team's support in Brazil, "and the expectation is only increasing."
Brazil has competed in every Women's World Cup with their best result in 2007 finishing runners-up to Germany. They have won two silver medals at the Olympics, in 2004 and in 2008. Marta, one of the world's most well-known and accomplished players, will be playing in her last World Cup. Marta holds the record for most World Cup goals scored by men or women with 17 and the most international goals scored for Brazil with 115.
In March, Lula endorsed Brazil's bid to host the 2027 Women's World Cup alongside Brazil's sports minister, Ana Moser, and the president of the Brazil's soccer confederation, Ednaldo Rodrigues.
"It will motivate the construction of a political conscience of the Brazilian people so they understand women's effective participation in every field they can and want to take a part of," Lula said at the time.
Moser will be visiting Australia and New Zealand during the World Cup, cheering on the team but also strengthening Brazil's 2027 bid. Brazil is competing against South Africa, as well as two combined bids — from Germany, the Netherlands and Belgium, and from the United States and Mexico.
Brazil's players recognize that they're playing for a brighter future for women's soccer in their country at this World Cup.
"Taking this first step," Antonia said. "I believe it is very important and that it continues to evolve, that it continues like this and that people really wake up and start to follow women's football from now on."
---
---
Add TheJapanNews to your Google News feed.