Women's World Cup Brings a Surge of Soccer Interest in Co-Host Australia Well before Kick Off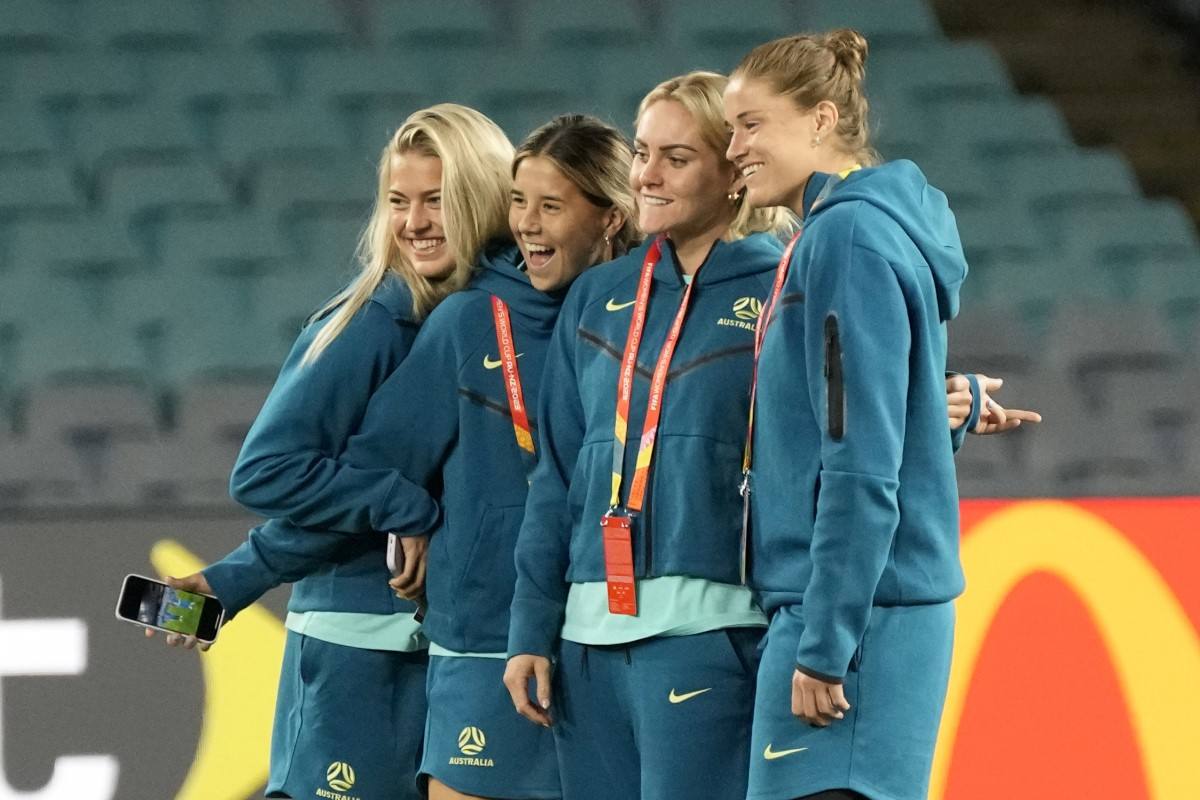 10:57 JST, July 20, 2023
BRISBANE, Australia (AP) — Like other 2023 Women's World Cup teams, Canada held a public training session ahead of its opening match. Players from Melbourne-based Heidelberg United FC watched the Olympic champions practice on their field, preparing for Friday's game against Nigeria.
"These girls play on this pitch," Helen Tyrikos, general manager of Heidelberg United FC, said of the spectators. "So to see the Canadian national women's team play on here – 'Oh, my God. How huge is that?'"
Australia's role as co-host of this World Cup could impact the growth of soccer in a country where Australian rules football, rugby league and cricket dominate the professional sports landscape.
"We know in Australia that there's a correlation between our national teams and participation," said Football Australia chief executive officer James Johnson, who predicts a 20% rise in youth soccer participation after the this edition of the World Cup.
Local clubs already have seen a rise in interest, generated by World Cup excitement.
"The inquiries in the last couple of weeks, it's just been outstanding," said Tyrikos, Heidelberg's first female GM. "Interest in joining to play football has definitely increased, I don't even need to say anecdotally. That is definitely happening."
Jodie Camden, who is on the North West Sydney Football board of directors, attended France's public training session in Sydney last weekend.
She said because of Australia's ties with Britain since European settlement, "netball tended to be the sport of choice for women and girls."
That has been changing, particularly with the increasing profile of Australia's national women's team, the Matildas.
"Our sport, football, is now the No. 1 choice for women and girls," Camden said.
Some are concerned there might not be enough venues in parts of Australia to handle the expected increase.
"That's going to be the challenge," said Jasmine Hirst, a volunteer coordinator with the Darebin Falcons Women's Sports Club. "We just need more and more government investment in girls sport and soccer facilities because it's just a huge participation sport."
Australia's World Cup players, including defender Alanna Kennedy, have interacted with children throughout the tournament buildup, taking photos and signing autographs. Kennedy embraces the opportunity to impact the sport's future in her country.
"The next generation having players to aspire to be like, and role models to look up to, is something that we as players didn't necessarily have when we were younger," said Kennedy, 28. "So I think it's an amazing time for our sport and the next generation."
Clare Hunt, a 24-year-old defender, made her national-team debut earlier this year for the Matildas.
"I think if I was a child or a kid watching a home World Cup, that would be the coolest thing on the planet," Hunt said. "I think they have an amazing opportunity to look at some amazing athletes and see women in sport, and powerful women in sport, and be motivated and inspired by that."
Sam Kerr's success for Australia and for Chelsea is helping the cause. And Kerr is acutely aware of the platform that co-hosting the World Cup with New Zealand will give the game here.
"This will be talked about, hopefully, decades to come. You can see the impact it's already had on grassroots and young girls coming to our games and boys too," Kerr said Wednesday, on the eve of Australia's opening match against Ireland in Sydney. "And hopefully with the success of the tournament, it gets bigger and better. And we saw what's happened in England with the Euros. So hopefully we can replicate that."
So many young Australian soccer players are traveling to watch the Matildas play in the World Cup that one local club was forced to change its practice schedule.
"I think out of our entire club team, two kids aren't going to the Australia versus Ireland game," Gerrard Ivins, a coach at the Central Coast Mariners said. "We have training on that night normally, but everyone's going to the game. Like, 'it's just training. Scrap training, and let's go to the game.'"
Five cities across Australia – Adelaide, Brisbane, Melbourne, Perth and Sydney – will host World Cup group matches over the next two weeks. Watching the Matildas and other top national teams play, Ivins said, will inspire Australian girls.
"Playing at this level of women's soccer is not an out-of-reach dream anymore," Ivins said. "It's something that actually I think is very real and tangible."
---
---
Add TheJapanNews to your Google News feed.