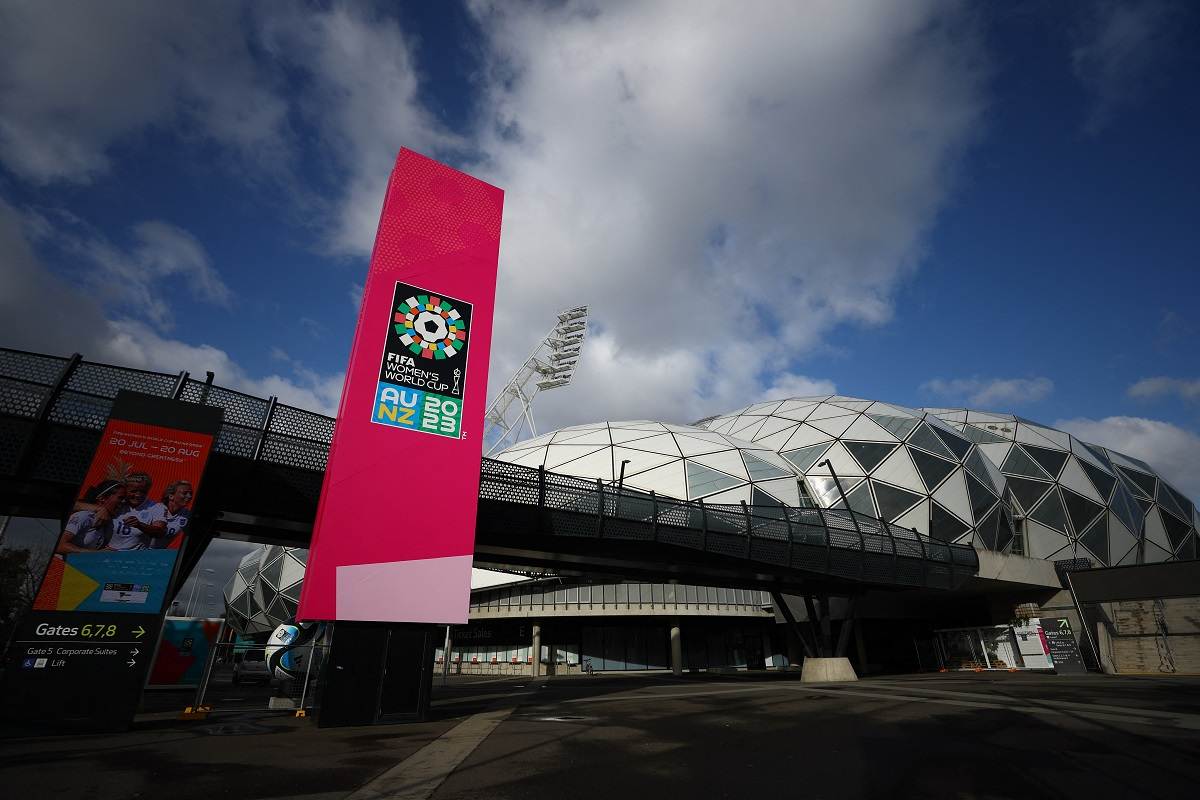 11:13 JST, July 19, 2023
The ninth FIFA Women's World Cup takes place in Australia and New Zealand from July 20 to Aug. 20. These are the host cities and venues for the tournament (Indigenous and Maori names used by tournament organisers in parenthesis):
SYDNEY (GADIGAL)
Australia's first city is home to more than five million people and boasts world class beaches as well as the iconic bridge and Opera House facing each other across the harbour.
Stadium Australia (70,000 capacity)
Built for the 2000 Olympics with an original capacity of more than 100,000, Stadium Australia will host Australia's opening game against Ireland and matches in each of the knockout rounds, including the final.
Sydney Football Stadium (42,000)
Completely rebuilt and re-opened last year, the SFS is a state-of-the-art stadium to the south of the harbour and the home ground for A-League club Sydney FC as well as two rugby teams. Will stage five group matches and a round of 16 tie.
AUCKLAND (TAMAKI MAKAURAU)
New Zealand's largest city was built around two harbours and is sometimes known as the 'City of Sails'. Auckland has long been a magnet for migrants from Pacific islands and boasts the largest ethnic Polynesian population in the world.
Eden Park (50,000)
The spiritual home of New Zealand rugby, Eden Park has hosted three World Cup finals in that sport. Will stage six group matches as well as a round of 16 tie, quarter-final and semi-final.
MELBOURNE (NAARM)
Australia's sports and cultural capital, Melbourne has a similar population to Sydney, its great rival for pre-eminence in the country.
Melbourne Rectangular Stadium (30,000)
Part of the complex of facilities that also includes the Melbourne Cricket Ground and the home of the Australian Open tennis, the stadium is the home ground for Melbourne Victory and Melbourne Heart A-League clubs. Will host four group matches and two round of 16 ties.
WELLINGTON (TE WHANGANUI-A-TARA)
New Zealand's capital is built around a harbour in the south of the country's North Island. The world's windiest city, Wellington has gained a reputation for culture and its cafe scene.
Wellington Regional Stadium (35,000)
'The Cake Tin' is in the centre of the city and the home to the Wellington Phoenix A-League club as well as a rugby team. Will host seven group matches plus a round of 16 tie and a quarter-final.
DUNEDIN (OTEPOTI)
New Zealand's southernmost city, Dunedin was founded by Scottish migrants and named after the Gaelic for Edinburgh. Students at Otago University and Polytechnic make up a large proportion of the population of some 130,000.
Dunedin Stadium (30,000)
Fortunately given the sometimes wild local weather, 'The Glasshouse' is an entirely enclosed stadium that also hosts rugby and pop concerts. Will stage six group matches.
BRISBANE (MEAANJIN)
At the heart of Australia's fastest growing region, Brisbane is built on the banks of the river of the same name and will host the 2032 Olympics.
Lang Park (52,500)
The home of Queensland rugby league, Lang Park has hosted two World Cup finals in that sport and is renowned for its atmosphere when full. Home to the Brisbane Roar A-League team, it will host five group matches, a round of 16 tie, a quarter-final and the third-fourth playoff.
HAMILTON
An inland city nestled on the banks of the Waikato River, Hamilton is the heart of a large and populous agricultural region. Two of New Zealand's three women prime ministers, Helen Clark and Jacinda Ardern, were born in Hamilton.
Waikato Stadium (25,800)
A multi-purpose facility mainly used for rugby, Waikato Stadium hosted matches at the 2011 Rugby World Cup. Local fans are famous for ringing cow bells. Will host five group matches.
ADELAIDE
Adelaide is coastal city and capital of the state of South Australia which lies close to the famous Barossa valley wine producing region.
Hindmarsh Stadium (16,500)
A boutique stadium in the city's suburbs and home of A-League club Adelaide United. Will host four group matches and a round of 16 match.
PERTH
The capital of the state of Western Australia is a coastal city with fine beaches and plentiful sunshine. One of the most isolated large cities in the world, Perth is home to more than two million people.
Perth Oval (20,500)
The home of Perth Glory and two rugby teams, the ground was originally a venue for Australian Rules matches but reconfigured as a rectangular stadium in 2004. Will host five group matches.
Add TheJapanNews to your Google News feed.