Fukushima-born Forward Endo Ready for Nadeshiko Run at World Cup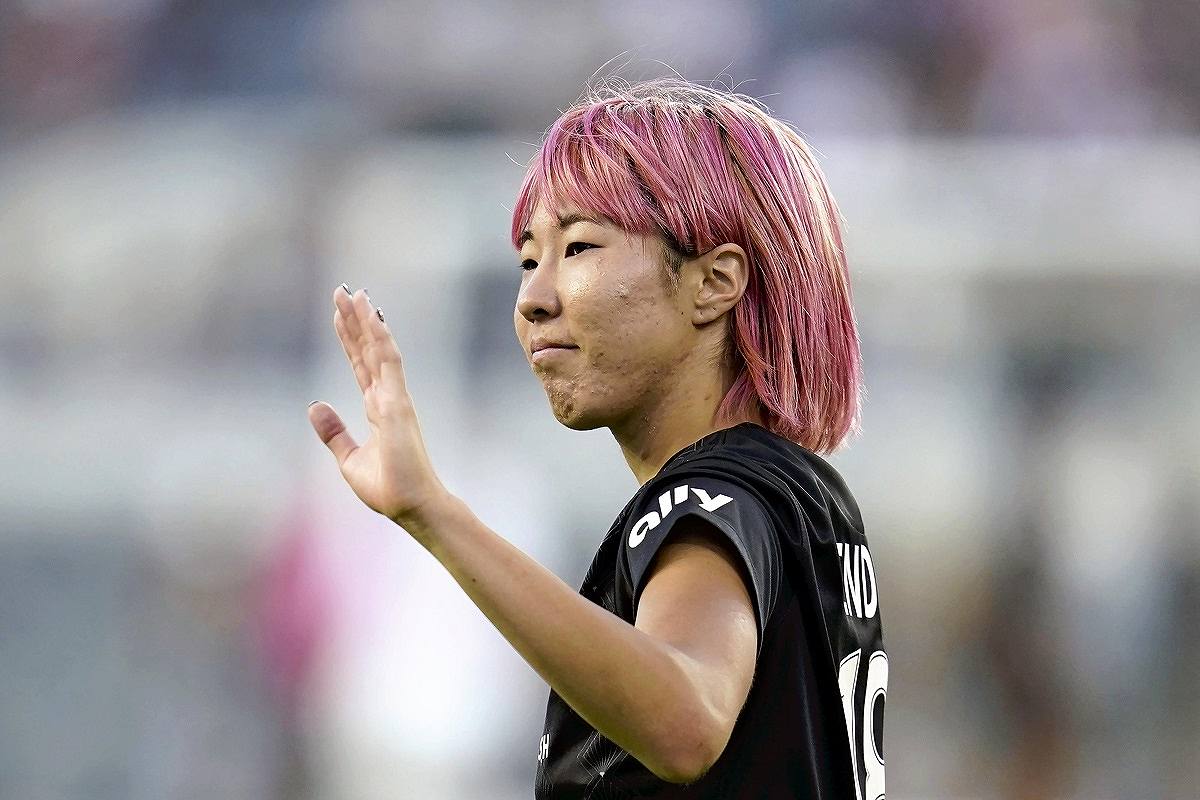 16:15 JST, July 11, 2023
TOKYO (AFP-Jiji) — Jun Endo wasn't allowed to play soccer outside after the 2011 Fukushima nuclear disaster because of radiation fears, so she honed her dribbling skills in a cramped indoor hall instead.
Japan's Women's World Cup triumph that year inspired her to keep going and now the forward is carrying her country's hopes into this month's tournament in Australia and New Zealand.
"I couldn't play soccer because of the effects of the disaster, but just when I was thinking of quitting, Japan won the World Cup," the 23-year-old said.
"I watched that and I strongly felt that I wanted to be standing in that position one day too."
Endo grew up about 100 kilometers from the Fukushima No. 1 nuclear plant and was 10 years old when the deadly tsunami overwhelmed its cooling systems, triggering a meltdown.
About 165,000 locals fled their nearby homes, either voluntarily or under evacuation orders, in the worst nuclear catastrophe since Chernobyl.
Endo's family lived outside the evacuation zone and stayed put, but radiation regulations at her school meant outdoor play was strictly limited for months after the disaster.
Endo had to share the same small indoor hall with the other children, but she said it had "a good impact" on her control of a soccer.
"I liked dribbling before then but I began to like it even more during that time," she said. "My technique developed a lot and in terms of what came out of it, it was really good."
Endo said it was difficult to deal with the loss of freedom and she thought about giving up the sport.
Rare visits to other parts of Japan to play games brought relief but also pain — she and her teammates faced discrimination from opposing players, who treated them like they were radioactive.
"People would say nasty things to us when we were away on football tours," she said. "Then there were people who didn't want to eat or buy things that were grown in Fukushima and had the name Fukushima on them."
A moment of respite came when Japan upset the odds to win the World Cup in Germany that summer, beating the United States in the final to become national heroes.
Endo recalls getting up in the middle of the night to watch the match with her parents and three siblings, describing it as "a turning point" in her life.
"I had felt the fun going out of soccer, so to see players doing what I wanted to do — winning the World Cup — it had a really positive impact on me," she said. "It gave me strength."
Endo now plays club soccer for Angel City FC in the United States, having left Japan's domestic league at the end of 2021.
She has become a key figure for her country, after appearing in three of its four games at the 2019 World Cup as the squad's youngest player.
Japan has fallen behind the world's leading sides since winning the World Cup and did not progress past the last 16 in France four years ago.
It has been drawn in Group C alongside Spain, Zambia and Costa Rica for this year's tournament.
Add TheJapanNews to your Google News feed.