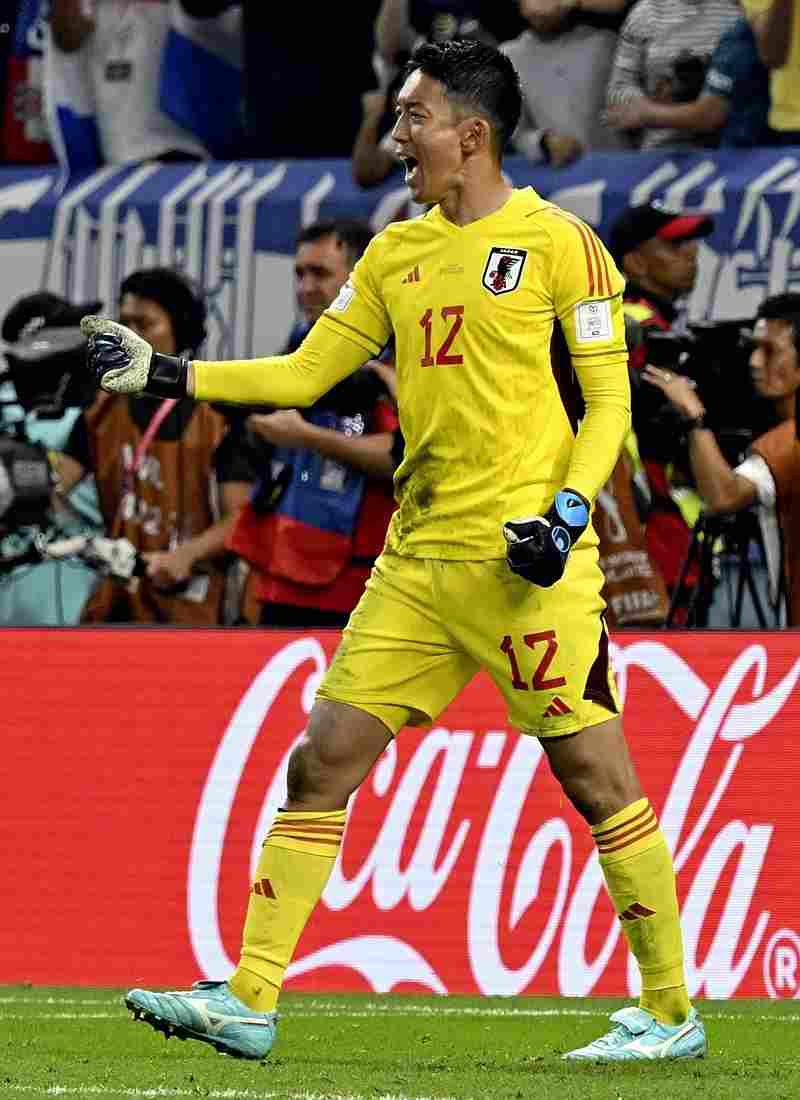 2:00 JST, December 7, 2022
AL WAKRAH, Qatar — The match was still young when Japan keeper Shuichi Gonda had to stop a point-blank shot. In the second half, he dove to get a hand on a sizzling shot off the foot of Luka Modric, a former winner of the Ballon d'Or as the world's best player.
Quite a performance for someone who had once seriously considered retiring.
The 33-year-old Gonda, who played a key role in helping Japan advance out of the group stage, saw a World Cup experience — that a few years ago would have been unforeseeable — end when Japan lost in a penalty shootout to Croatia in their round-of-16 match on Monday.
Back in the summer of 2015, Gonda and a friend Kim Kyung Duk were dining with their families in a Tokyo restaurant when he dropped a bombshell: "I'm worn out from playing soccer," he said. "I think I might quit."
"What are you talking about?" a surprised Kim responded.
"I'm thinking about someday opening a yakiniku restaurant," Gonda said. "I want you to train me." At the time, Kim himself was the manager of a grilled-meat restaurant.
The exchange had come shortly after Gonda's club at the time, FC Tokyo, had announced that he was suffering from overtraining syndrome, which occurs when an athlete does not adequately recover after repetitive intense training, and can include fatigue, declining performance, as well as poor physical and mental health.
Gonda had been a player on his way up. He had been member of the Japan team that made the semifinals at the 2012 London Olympics, and made the national team roster for the 2014 World Cup in Brazil.
While continuing to appear in FC Tokyo matches, Gonda was also kept busy with his national team duties. But he was a sub, and there were games in which he was the lone keeper left off the match roster.
Gonda is the type who never wants to show weakness. Kim, who knows this, worried about Gonda's state of mind, and advised him, "Few people can become professional [athletes]. Why don't you think it over a little more?"
That year, Gonda was unable to make it back into J.League J1 matches. Over the next few years, he would move around to several clubs, including an Austrian third-division team. He did not make the national team for the 2018 World Cup in Russia. There were times when he could not play and although he accepted his situation, he also felt frustrated.
He regained his determination to get back on the national team and in the ensuing years, reestablished himself as a starter in the J.League and abroad. That effort earned him a place on the team to Qatar.
At a press conference after the announcement of his selection, Gonda described his previous illness as "a mental injury."
"I went through many things and received support from many people in many places," he said. "That is what got me here."
Gonda was named man-of-the-match after making a number of spectacular saves in the stunning victory over Germany in Japan's opening group match on Nov. 23. He was equally effective in the equally shocking win over Spain a week later.
"A player who was in the spotlight at a young age and then suffered a setback is blooming again," Kim said. "It was a World Cup that seems to epitomize his path as an athlete."
Japan came up short of its goal of making the quarterfinals for the first time. Still, Gonda said after Monday game, "There's no question that I am moving forward. I will continue to do so with confidence."
The defensive wizard who reemerged by taking a close look at himself should continue to shine.
Add TheJapanNews to your Google News feed.