Samurai Blue supporters juggle study, jobs, match-viewing in Qatar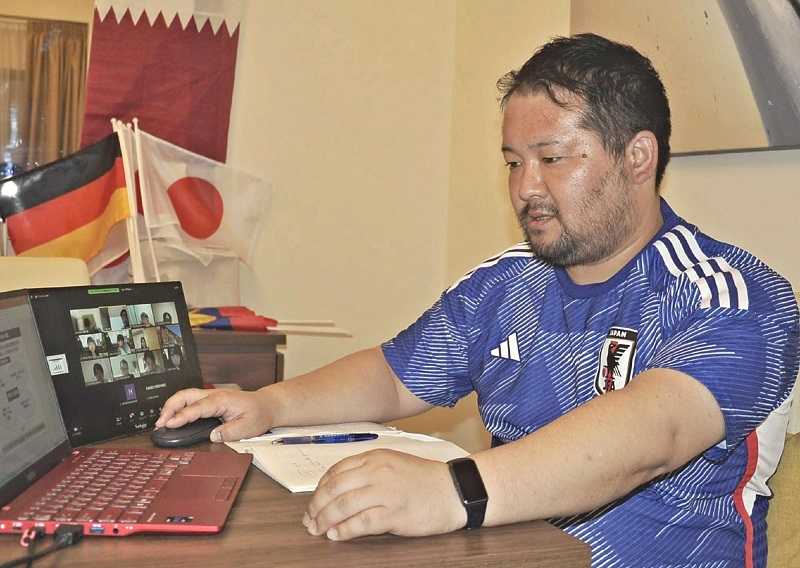 15:05 JST, December 3, 2022
DOHA — Samurai Blue supporters who flew to Qatar to cheer on Japan in the 2022 FIFA World Cup are finding novel ways to balance match-viewing and other elements of their lives, such as working and studying online — all while battling high local prices, and equally high temperatures.
On Monday evening, the day after Costa Rica beat Japan 1-0, Takanori Yoshikura ran through a presentation with associates in Japan, online from Doha.
"I, too, have a fight I can't afford to lose," he said. Yoshikura is a graduate student studying for an MBA at Rikkyo University's graduate school while working an office job at a public interest incorporated association in Japan.
Before flying to Qatar, Yoshikura successfully navigated the qualifying rounds of a business-ideas contest. The final round is scheduled for Sunday. Prior to practicing his presentation, Yoshikura attended two 100-minute online classes, and in the evening, watched the Portugal-Uruguay game.
Due to the coronavirus pandemic, online classes and teleworking have become widespread in Japan. Yoshikura also has a friend who attends classes and works from Doha. There is a six-hour time difference between the Qatar and Japan, and even though some of his classes start at 3 a.m., Qatar time, Yoshikura is happy with the situation.
"I was able to choose between face-to-face or online classes, which made it possible for me to attend games," the 36-year-old said. "This way, I can study and watch matches, too."
Eye-watering prices
High prices — compounded by the weak yen — have strained Japanese soccer fans' budgets, with hamburgers and ramen noodles costing between ¥2,000 and ¥3,000, and a 500-milliliter beer coming in somewhere between ¥2,000 and ¥2,500.
A group of four Samurai Blue supporters from Japan said they have to be flexible regarding foodstuffs.
"We buy cheap deli goods and bread at shops patronized by migrant workers or cook foods we brought from Japan for breakfast and dinner, then visit hotels for lunch and beer," said Atsuhiko Toyoda, a company employee, from Taito Ward, Tokyo.
Qatar is an Islamic country, and drinking is limited to some hotels and spectator areas where World Cup games are shown on big screens, and where alcohol beverages are expensive.
"We set a budget so we could splash out on celebratory drinks," said Toyoda, 55. "The taste [of alcohol] after Japan's victory against Germany was awesome!"
Jun Kubota, 68, a long-time Samurai Blue fan who has to date attended 17 World Cup matches, both for men and women, said, "This is the first time I've ever brought my own somen and udon noodles."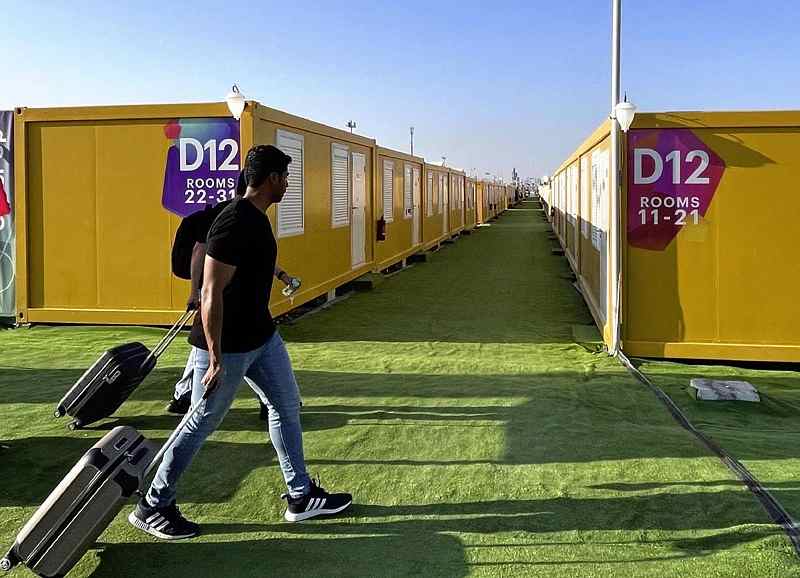 'Fan villages'
To compensate for its lack of lodgings, Qatar created a number of "fan-villages" using shipping containers as hotel-like housing.
Shigeki Obayashi, from Suita, Osaka Prefecture, has been staying with a friend in an 8,000-room fan village near the international airport since Nov. 22.
"There are leaks, and the daytime heat is unbearable," the company employee lamented. "It's awful."
Obayashi , 58, said he opted to stay at a fan village — where a one-night stay costs about ¥30,000 — because hotel prices soared to over ¥100,000 per night.
After arriving, Obayashi was ushered to a double bedroom-style container that differed from the twin room he had booked. He was able to switch to a different container, but the floor floods whenever he uses the shower or toilet. There is no sheet-change service, and the refrigerator has been placed in a location where the electrical cord does not reach the power outlet.
During the day, the outside of the sun-ravaged container heats up, causing the internal temperature to soar. Obayashi said it gets so hot he has to visit air-conditioned commercial facilities to cool down.
"It's beyond imagination," Obayashi said.
Add TheJapanNews to your Google News feed.