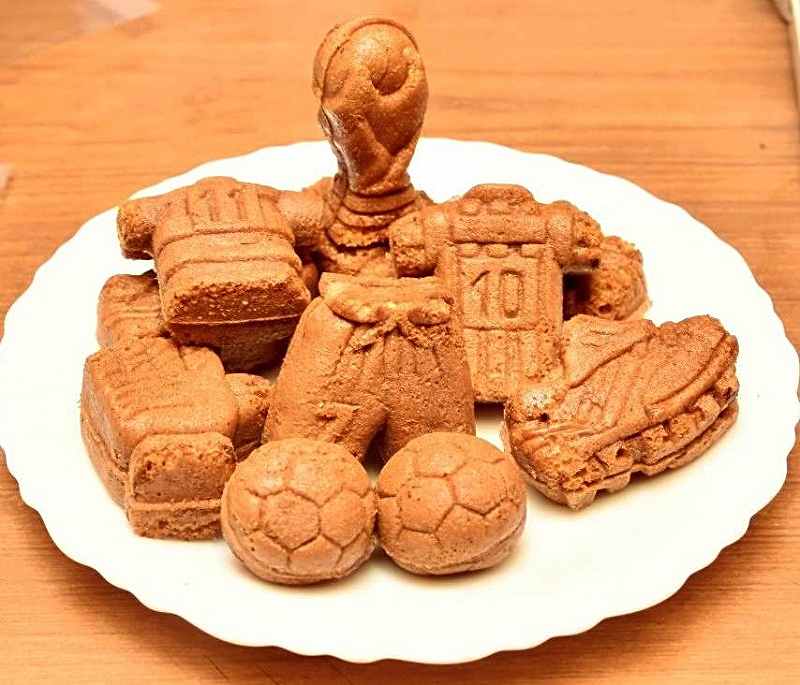 14:59 JST, December 1, 2022
Japan will play Spain at 4 a.m. Friday in the final Group E match at the FIFA World Cup in Qatar. If they win, they will advance to the knockout round for a second consecutive tournament. If they lose, they will be eliminated.
In conjunction with the World Cup, a confectionery shop in Kobe will revive the "Football Castella" baked goods that first went on sale 20 years ago during the 2002 World Cup, jointly hosted by South Korea and Japan. The only catch: They will be available for three days only, on Dec. 3, 10, and 17.
The bite-size sponge cakes, shaped like soccer balls and trophies, were invented by Toshio Hasegawa, 86, who ran Kieido, a confectionery shop near the stadium where the 2002 World Cup was held. The simplicity of their flavor made them a hit with soccer fans, but Hasegawa closed the shop in 2019 due to his age, thus ending sales of the confections.
An enthusiast who researches the history of sweets in Kobe consulted a ricer cracker shop he was familiar with, Teyaki Sembei Otani, to see if the soccer confections could be revived to help liven up the Qatar World Cup. The shop's owner, Yoshihiro Otani, 74, readily agreed to the project. Having obtained the baking molds from Kieido, he is attempting to recreate the flavor.
A package of 13 will go for ¥400, tax included, at the Otani shop. Sales will start on the day after Japan's match against Spain on Friday to advance to the knockout round. "I want to believe that Japan will win and drive even more excitement," Otani said.
Add TheJapanNews to your Google News feed.