Japan forward Takuma Asano 'envisioned victory for 4 years' before Cup winner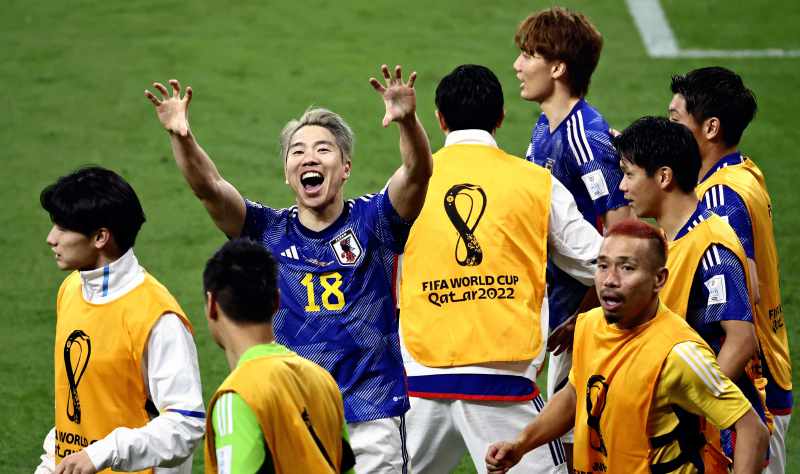 18:54 JST, November 24, 2022
DOHA — After the disappointment of not playing in the last World Cup, Takuma Asano scored the winning goal against powerhouse Germany in Group E action Wednesday, securing a huge victory for Japan at the 2022 tournament in Qatar.
With the score at 1-1, Asano deftly controlled a long ball from a free kick late in the game and used his strength to evade the clutches of a nearby German defender before blasting the ball over the head of goalkeeper Manuel Neuer into the roof of the net.
"Everyone may call it a miracle, but I've been envisioning something like this for four years, without missing a single day," Asano said.
The wily winger helped Japan qualify for the previous tournament in Russia in 2018, but did not get a chance to play. He traveled with the squad as a backup player and returned home early after helping out in a few training sessions.
"I hope my future self will be able to think someday: 'Without that time, I would not be what I am. That time led to the present,'" Asano wrote on his social media account at the time.
He said he's been obsessing over the World Cup so much that he was concerned about himself.
Following stints in Germany, then Serbia, then back to Germany again, he has worked on improving his abilities step by step, remembering how close he had come to the tournament.
Asano's passion for the national team seems to have ignited a powerful force within him — a devotion to the team and an egotistical drive to score.
"The starter is not the hero. The hero is the one who makes the team win," Asano has said. "I like to be put on the pitch when the score is tied."
It is a statement typical of a goalscorer, but Asano also dedicates himself to defense, energetically covering ground around the pitch.
Asano injured a ligament in his right knee in mid-September. Some people outside the team had recommended other players to replace him in the squad, claiming Asano would not recover in time, but he battled through his rehabilitation.
The way the players surrounded him to celebrate the goal was a reflection of the type of player Asano has become.
"I've been preparing just for this victory," he said. "I think it was preordained. Or perhaps it was a miracle."
Add TheJapanNews to your Google News feed.