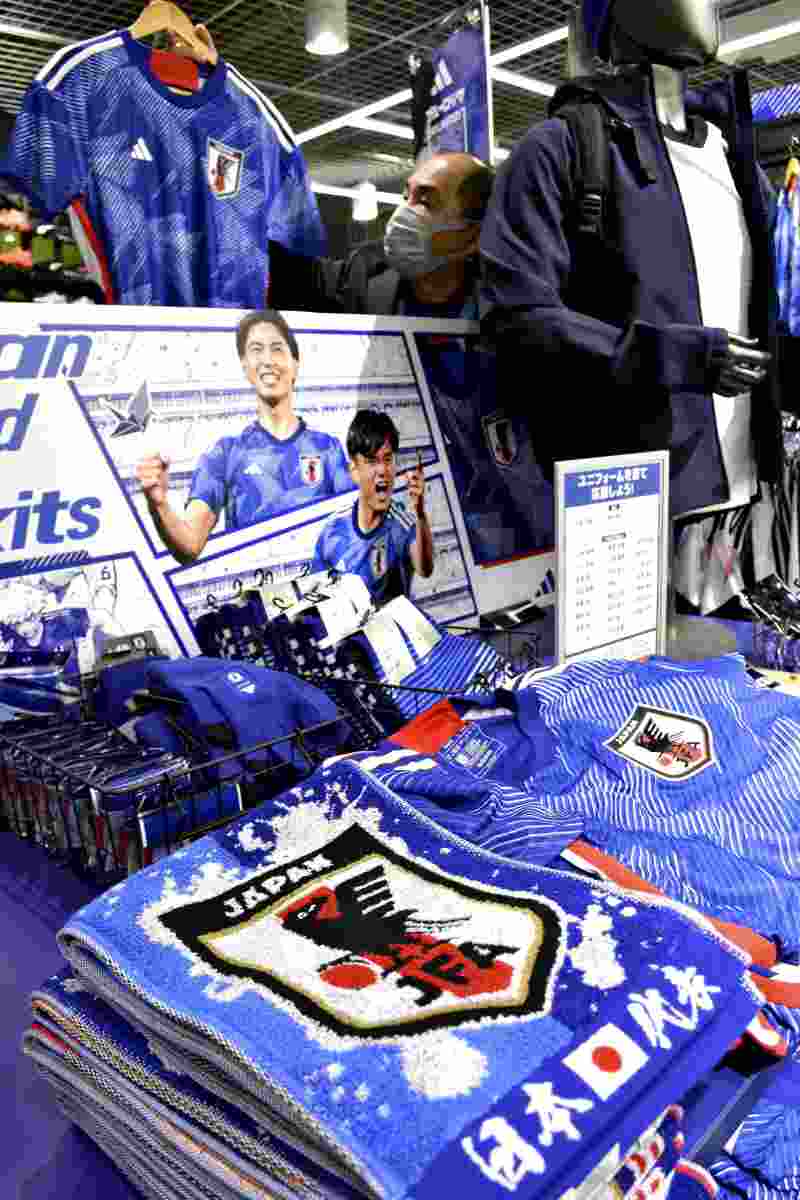 15:31 JST, November 23, 2022
Samurai Blue soccer uniforms were flying off shelves ahead of Japan's first World Cup match against Germany in Qatar on Wednesday, as various industries look to capitalize on the football fever sweeping across the nation.
The time difference between Japan and Qatar means some World Cup games will be screened in the early hours of the morning, so the food industry has bolstered home delivery services in anticipation of a spike in demand.
"Wearing the national team uniform lifts my mood. I plan to watch games at home with my friends," said a 19-year-old university student who bought a replica uniform at sports retailer Alpen Co.'s flagship store in Shinjuku Ward, Tokyo.
Over the past week, the store has seen a fourfold increase in sales of World Cup merchandise, including uniforms, towels and socks.
"Many tourists visiting Japan from China, Taiwan, Thailand and other Asian countries buy the Japan uniform as a souvenir, too," an Alpen official said.
According to Adidas Japan K.K., Samurai Blue's official uniform supplier, there has been an about sixfold increase in online sales of World Cup jerseys this year, and sales at directly-managed stores are about 2.6 times higher compared to the previous tournament.
Many Japanese soccer fans might recall that Qatar was the location of an Asian qualifier in 1993 that brought an end to Japan's quest to qualify for the 1994 World Cup, a match that is referred to as the "Agony of Doha."
An Adidas spokesperson said the "bitter memory" might also be prompting fans to buy uniforms.
According to Dai-ichi Life Research Institute Inc. chief economist Toshihiro Nagahama, when Japan advanced to the last 16 at the previous tournament in Russia in 2018, there was a ¥21.5 billion boost to the Japanese economy, taking into account ripple effects such as sales of food and drink.
Beer consumption increased on the days of Japan's games, and shipments the day after matches increased by about 20% compared to normal levels, according to official Japan partner Kirin Holdings Co.
"Beer demand will increase whenever Japan plays this year, too," a Kirin spokesperson said.
A spokesperson from the pub chain Hub Co. said, "Japan's wins and losses greatly affect our sales. We want Japan to win as many games as possible."
However, people have been going out less at night amid the coronavirus pandemic. In a survey conducted by restaurant information provider Gurunavi Inc. on 1,000 people in their 20s through 60s, 96% of respondents said they planned to watch the World Cup at home.
With food delivery orders expected to increase, McDonald's Company (Japan), Ltd. and Pizza Hut Japan Ltd. said they have boosted staff numbers to cater to at-home audiences during the tournament.
Meanwhile, the spike in demand for home appliances that is usually triggered by World Cup tournaments has been noticeably absent this year because many consumers replaced TV sets and other items in the early days of the pandemic when people were spending more time at home, while others updated their gear to watch the Tokyo Olympics.
TV and recorder sales at major manufacturers from Nov. 14-20 were around 85% of the same period a year earlier, according to market research firm BCN Inc.
"The World Cup has not yet triggered demand for electrical appliances," a BCN analyst said.
Dai-ichi Life Research Institute's Nagahama said: "Overall spending has got off to a quiet start. For things to pick up, Japan will have to win games, and keep winning."
Add TheJapanNews to your Google News feed.