Cart Crash at World Championships Leaves Jamaica's Hudson with Blurry Vision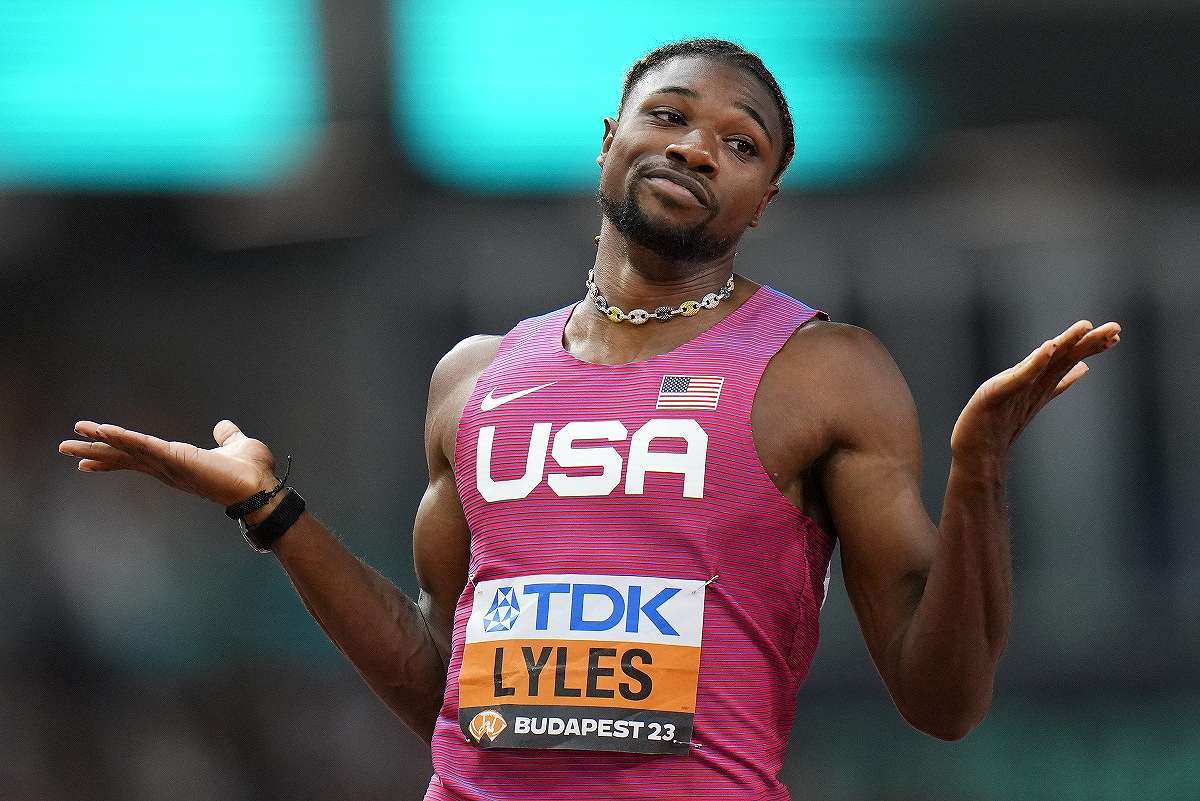 11:29 JST, August 25, 2023
BUDAPEST, Hungary (AP) — A collision involving a cart carrying 200-meter runners to their semifinal race at world championships Thursday sent glass shards flying into the right eye of Jamaican sprinter Andrew Hudson, forcing him to race with blurred vision.
The 26-year-old, racing in his first world championships, said doctors had flushed some of the glass out after the accident. He said he couldn't see out of his right eye but he decided to race nonetheless.
He finished fifth, but track officials decided to advance him into Friday's final, which will include nine sprinters, not the usual eight, with American Noah Lyles favored.
"I did the best I could do," Hudson said after finishing in 20.38 seconds. "I was sitting in the middle of the room for like 20 minutes, trying to have a decision if I was going to compete or not. I worked hard to be here. And even under circumstances, everybody has hurdles in life. If I can run I'm going to try my best. So I tried."
Lyles and others were in the cart with Hudson, as it transported the sprinters from their warmups to a waiting room near the track for what was supposed to be the first of the evening's three semifinal races.
An aerial video taken outside the stadium shows the cart cruising down a sidewalk when another cart coming from a path to the left hits the athletes' cart, sending a volunteer in the first cart tumbling out. The video then shifts to inside the athlete cart where Hudson is pressing his fingers against his right eye.
World Athletics said the sprinter was examined by doctors and cleared to compete. It said the volunteer was "also fine." A spokesman from Budapest's local organizing committee said it is "investigating the incident and reviewing the transport procedures."
The race got pushed back about a half hour — run last in the series of three semifinals instead of first. Hudson was still shaken as he wound his way out of the post-race interviews and back toward the medical tent.
"It was scary," he said. "It's my eyesight. That's more important. I'm not going to run track forever, but it just happens."
Lyles won the semifinal in the night's fastest time, 19.76 seconds, giving him a chance to defend his 200-meter title and add it to the 100 he won earlier this week.
"Survived a crash and still got the fastest time going into the final," Lyles posted on Instagram. "Thank you God for watching over me."
The scare outside the track overshadowed most of the news inside it on Day 6 of the championships.
That led with a victory for 400-meter hurdler Femke Bol — a feel-good comeback after her fall at the end of the 4×400 mixed relay on opening night cost the Netherlands a medal.
The 23-year-old Bol, whose first love is the hurdles, has been running times that would have broken records and won Olympics when she was a kid. But she has been running in the era of Sydney McLaughlin-Levrone, who has left everyone in the dust while setting world records four times over the last 26 months.
McLaughlin-Levrone took this year off from hurdles, leaving Bol as the world's best, and she did not disappoint. She finished in 51.70 seconds to beat second-place finisher Shamier Little of the U.S. by 1.1.
"I love this sport, I love this race and I love to race it on the biggest stage," said Bol, who now has gold to go with last year's silver and a bronze at the Tokyo Olympics. "This is what we always strive for, to be at my best at the tournament."
In hammer throw, Canada's Camryn Rogers defeated two Americans — Janee Kassanavoid and 2019 world champion DeAnna Price.
In the 100 hurdles, Jamaica's Danielle Williams beat Olympic champion Jasmine Camacho-Quinn by .01 to add another gold to one she captured back in 2015. Keni Harrison of the U.S. took bronze, while defending champion and world-record holder Tobi Amusan finished sixth.
Antonio Watson won the 400 meters in 44.22 seconds to make it two gold medals for Jamaica and five overall for the night, including silver and bronze in the men's long jump and a bronze for Rushell Clayton, who finished behind Bol and Little.
Quite an evening for the island, even if the athlete generating the most buzz did it sitting in a golf cart during what should have been the most routine part of the day.
"It was a big fright," said Tarsis Orogot, who finished third and was also in the cart. "We're not paying attention. We were all just locked in, and then out of nowhere, someone shoved into us there."
"It throws everybody off," said fourth-place finisher Brendon Rodney.
It's not the first time something that had nothing to do with racing has made more news than the racing itself. In 2015, Usain Bolt was celebrating his 200-meter title at worlds in Beijing when he got upended by a photographer riding a scooter on the edge of the track. Bolt popped up and laughed it off.
Thursday's accident came before anyone in this group had even set foot on the track. It's still to be seen how serious the damage is.
"I don't know what happened. It's a blur, literally," Hudson said. "The race was a blur. My eyesight is a blur. I'm going to go make sure my eyesight is OK."
Add TheJapanNews to your Google News feed.