Japanese Canadian Spence Eyes NHL Shot after Picking Skates over Spikes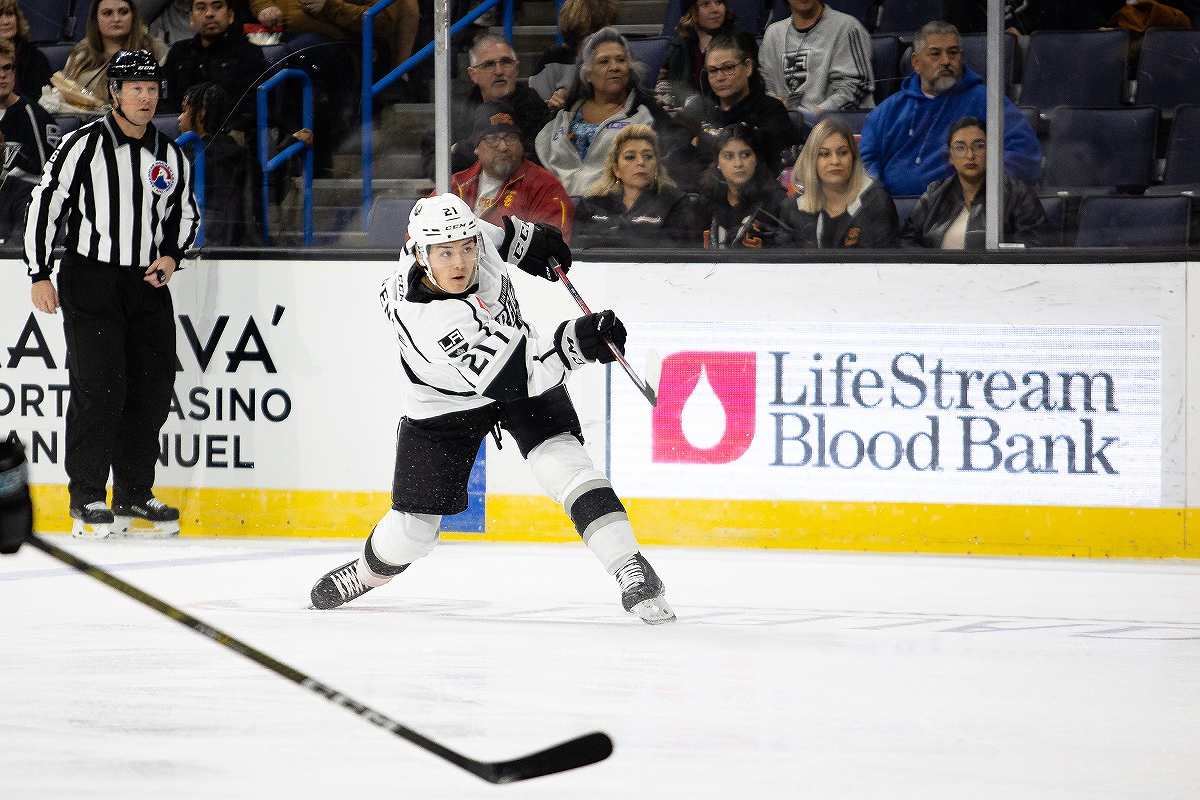 18:04 JST, February 10, 2023
Japanese Canadian Jordan Spence could've been a shortstop in Japan. Instead, he opted for a long stay on international ice.
Spence, who was born in Australia to a Canadian father and a Japanese mother, took a circuitous route to becoming a professional in North American hockey in the Los Angeles Kings organization.
The defenseman and his family moved to Osaka when he was a baby and he spent much of his childhood there playing baseball and hockey.
But he chose the ice over the diamond and said his family packed up and jetted off to Prince Edward Island, Canada, when he was 13 to give him the best opportunity to make the sport his career.
His reception in Canada: "They would always ask, 'Is there hockey in Japan?' because they have no clue if there's even ice or anything," Spence told The Japan News in a Jan. 28 telephone interview.
"I get that question all the time. And things like, 'How'd you get into the sport?'" said Spence, a defenseman with the Ontario Reign, the Kings' American Hockey League affiliate.
His journey to being a fourth-round pick by the Kings in the 2019 draft hinged on a serious sit-down with his father Adam and mother Kyoko for a life-determining call: spikes or skates.
"I really had to commit to one sport if I wanted to pursue it and see what I can do and how I can work to have this be my job in the future," the Hanshin Tigers fan said. "And it was a difficult decision because I was playing the two sports at the same time and I was fairly good at the two sports."
Spence, who left Japan's top youth level to skate among highly developed peers in Canada, eventually began to move up in the ranks and performed well in junior hockey. He said his main adjustment was to the physicality of the play in North America, and the need to become a more elusive player who was able to "make the right plays." He realized in his mid-teens that he had successfully made that transition.
Now, at 178 centimeters and 82 kilograms, the 2022 AHL All-Rookie team selection has excelled at both the adjustment to physical play and avoiding excessive contact with opponents.
And his talent, along with injuries across the board among Kings defensemen last season, earned him his first call-up to Los Angeles last season.
He played 24 games with the Kings in the 2021-22 season and even saw some playoff action. But because the organization is overflowing with right-shot defensemen, it's a challenge to stand out in the crowd.
"Last year was my first year as a pro, and it was a great experience just because I was trying to be an impact player as an AHL Ontario Reign, and for me to come have the experience to play in the NHL for the last 20 games, it was good for me to bring that into this season with what I should do to be a regular NHL player," he said.
"Obviously, there's some things that I still have to improve on in all areas of the ice. For me, I'm an offensive defenseman, but this year, I'm just trying to really focus on the defensive side of the game because that's really important when you get up in the NHL," said the 21-year-old, who turns 22 on Feb. 24.
Spence might be an undersized player, but he brings king-sized confidence to the ice.
"I don't have to be flashy, I just have to be in the right place — just doing the right thing in the defensive zone."
When asked what can set him apart? "It's my hockey IQ," he fired back. "I know what I can do in the offensive zone."
Spence, who has zero points in three appearances with the Kings and a trio of goals to go with 29 assists in 38 games (through Thursday Japan time) this season with Ontario, has a scoring mentality because he was a forward who transitioned to defense as he aged.
Amid limited access to watching NHL games in Japan, most of Spence's childhood heroes were forwards. But among the list of the players he admired in his youth is veteran Kings defensive standout Drew Doughty, whom he said he saw win Stanley Cups with Los Angeles in 2012 and 2014.
"It was actually pretty cool when I got drafted to L.A. because I did watch him play," said Spence, who was less than cool when he scored his first NHL career goal last year on March 26 against the expansion Seattle Kraken.
Spence fired a shot from the right point that weaved its way through net-front traffic and into the net.
"To be honest, I had no clue that I scored there just because I thought someone tipped it in front of the net," Spence admitted. "Right when the guys came up to me, I pretty much blacked out. Obviously, I'm going to remember that moment for the rest of my life."
Spence himself might well be remembered in part because he is one of a handful of players with NHL experience who have a Japanese background. But the first Japanese-born national to make it to the league is former Kings goalie Yutaka Fukufuji, who is still an active player in Japan.
Even with Fukufuji as a role model, Spence knows he can also be a posterized figure whom young players nationwide put up on their walls, particularly with Smile Japan — the nickname for the women's national hockey team — making the country's first run to an Olympic quarterfinal last year at the Beijing Games. It all contributes to drumming up excitement for the sport here.
"I think Japan is growing a lot, especially in hockey," Spence said. "If they put their passion and everything toward hockey, if they really thrive to become a professional hockey player … I hope people realize Japanese people can play in the National Hockey League if they really want to."
Add TheJapanNews to your Google News feed.