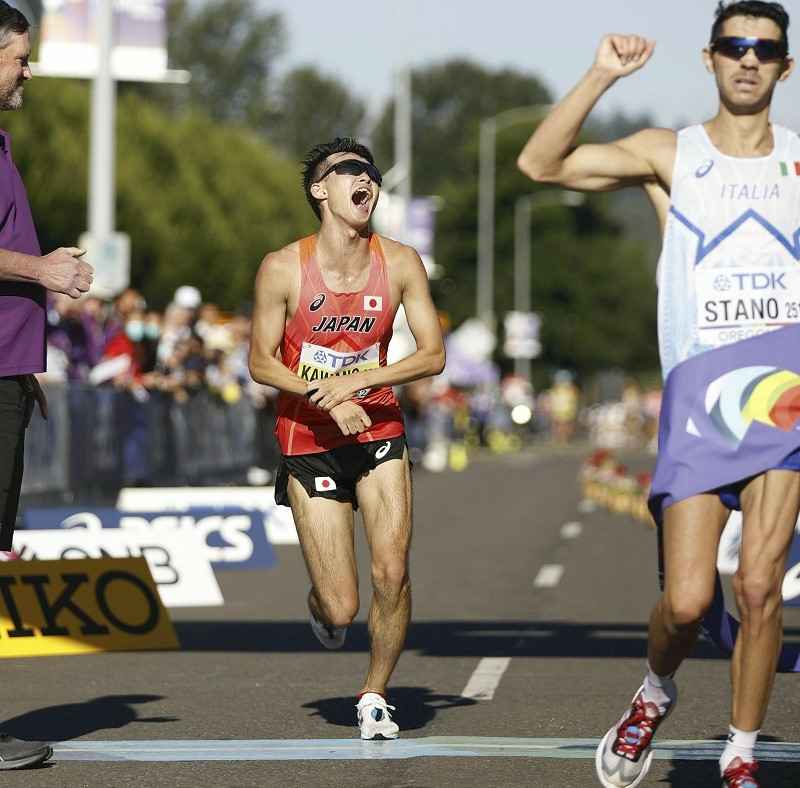 15:55 JST, July 25, 2022
EUGENE, Ore. — For the last two kilometers of what had evolved into a two-man duel, Japan's Masatora Kawano never let Italy's Massimo Stano pull away, staying firmly on his heels and matching him stride for stride. But he never managed to pass him, either.
In the end, Kawano came up one-second short and had to settle for the silver medal in the inaugural men's 35-kilometer race walk on the final day of the World Athletics Championships on Sunday in Eugene, Ore.
Kawano clocked 2 hours 23 minutes 15 seconds to finish one tick behind the Stano, the 20-kilometer gold medalist at last year's Tokyo Olympics.
Kawano, who collapsed to the ground after passing the finish line, did not hide his disappointment, punching the pavement with his fist. A sympathetic Stano came over and helped Kawano to his feet, and the two hugged each other in a sign of mutual respect. Kawano was smiling as he held up a Japanese flag for the photographers.
Kawano's silver was the third medal won by Japan in the race walks — the nation went 1-2 in the men's 20-kilometer race — and was the fourth overall.
"I'm really happy," said Kawano, who vowed to be ready for a rematch with the Italian. "Stano was a little better than I was. But I'm not going rest on the laurels of winning a silver. I'll be prepared for next year's world championships [in Budapest] and the 2024 Paris Olympics."
The 35-kilometer race replaced the 50-kilometer on the program this year. Kawano had finished sixth in the 50-K at the Tokyo Olympics, which was competed in the scorching heat of Sapporo. He had collapsed at one point and vomited, but he never gave up and went on to finish the race.
He said the physical and mental toll from the race stayed with him for a while. "I had internal organ fatigue, I had muscle fatigue," Kawano recalled. "There was a time that I was not able to train like I wanted to." He also suffered from a serious case of anemia in January.
"It took time for him to recover mentally and physically," said Toyo University coach Mizuho Sakai, who remained as Kawano's coach after he joined the Asahi Kasei corporate team.
To prepare for the shorter 35-kilometer distance, Kawano focused more on building speed with relatively short-distance workouts, at one point not doing any long-distance walks. He also put an effort into maintaining good nutrition, cooking all of his own meals to overcome his anemia.
Add TheJapanNews to your Google News feed.