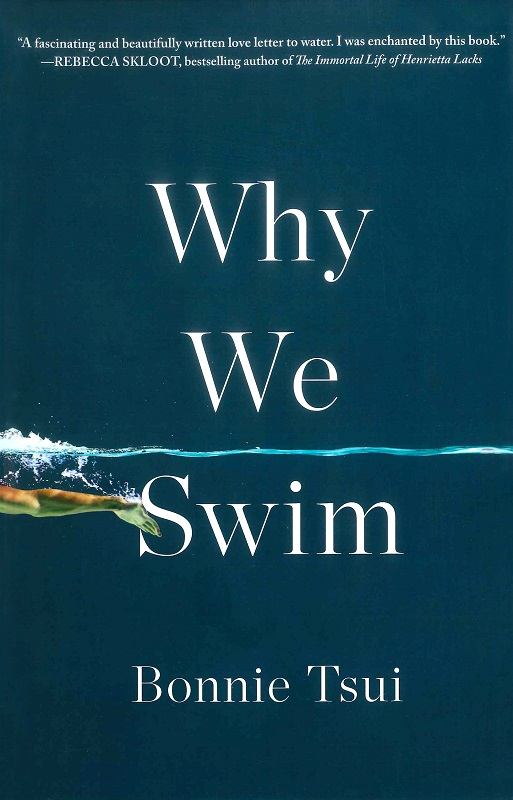 11:38 JST, May 22, 2021
Did you know there is an Olympic event during which many of the competitors don't breathe? According to "Why We Swim," by swimmer and writer Bonnie Tsui, it's the 50-meter freestyle, one very fast length of a very long pool. "It's a race where first and fourth are separated by mere hundredths of a second."
Since that's the difference between a gold medal and no medal, who has time to indulge in luxuries like breathing?
Probably not American swimmer Dana Torres, who has held world records in the event and won Olympic medals over a career spanning the Los Angeles Games in 1984 and the Beijing Games in 2008.
Torres is one of many impressive swimmers whom Tsui interviewed and writes about in her book, which combines essay and reportage. Tsui is an avid swimmer herself (she and her husband swam across a lake at their wedding), but she's not as competitive as Torres. "Thinking about racing makes me feel queasy," she writes.
Most of the people she writes about are otherwise ordinary mortals who have made swimming an important part of their lives. Sometimes their lives have literally depended on it, as in the case of an Icelandic fisherman who made an epic swim for survival after a shipwreck.
Another amazing survivor is Kim Chambers, for whom a high-heeled shoe "led to a nasty fall down the stairs outside her San Francisco apartment." It took her two years to regain the ability to walk. But her recovery included swimming in the cold waters of San Francisco Bay — and she eventually became one of a tiny number of people to complete the "Oceans Seven," a set of long-distance swimming challenges that includes the English Channel, the Strait of Gibraltar and the Tsugaru Strait between Hokkaido and Honshu.
Tsui devotes many pages to Chambers, and also to Jay Taylor, who gave impromptu swimming lessons at the opulent pool of Saddam Hussein's former palace in Baghdad after the Iraq War. Over the course of two years, he taught more than 200 people from many countries, mostly U.N. personnel. "A few of the Muslim women had never worn swimsuits in public. They told Jay that they'd never had the chance to do any sport except bowling."
"Coach Jay" so greatly improved the lives of his swimming students that one of them is quoted giving him a tribute that may get readers a bit choked up. (If you're embarrassed to be caught reacting that way, just say you got some chlorine in your eye.)
Near the end of the book, Tsui dives into the history of Japanese swimming, starting with Nihon-eiho, a set of traditional techniques described as an aquatic martial art. When Japan's first international swimming competition was held in Yokohama in 1898, there were only three races, and the home team won two. (Britain won the other.)
Yoshiyuki Tsuruta became Japan's first Olympic gold-medal swimmer at the Amsterdam Games in 1928, winning the 200-meter breaststroke. There were many more gold medals for Japanese swimmers at the 1932 Los Angeles Olympics, including another gold for Tsuruta in the 200-meter breaststroke.
"He was vocal about the influence of the classical Japanese swimming martial arts on breaststroke as we know it; he described it as a 'speeded-up form' of hira-oyogi, a stroke … for swimming in the open sea over long distances."
Hira-oyogi is also the Japanese word for breaststroke today. It's written with kanji that mean "flat swimming."
"With Tsuruta, the Japanese began a reign of dominance in breaststroke that has lasted for nearly a century and produced an extensive cast of Olympic medalists."
For non-Olympians, swimming can be a relaxing, meditative activity. As one of Tsui's interviewees says, "The water is the last place where people cannot text, call, or find me."
With your head under water, your mind is free to drift. "Why We Swim" is full of things to think about.
— By Tom Baker / Japan News Staff Writer
Add TheJapanNews to your Google News feed.