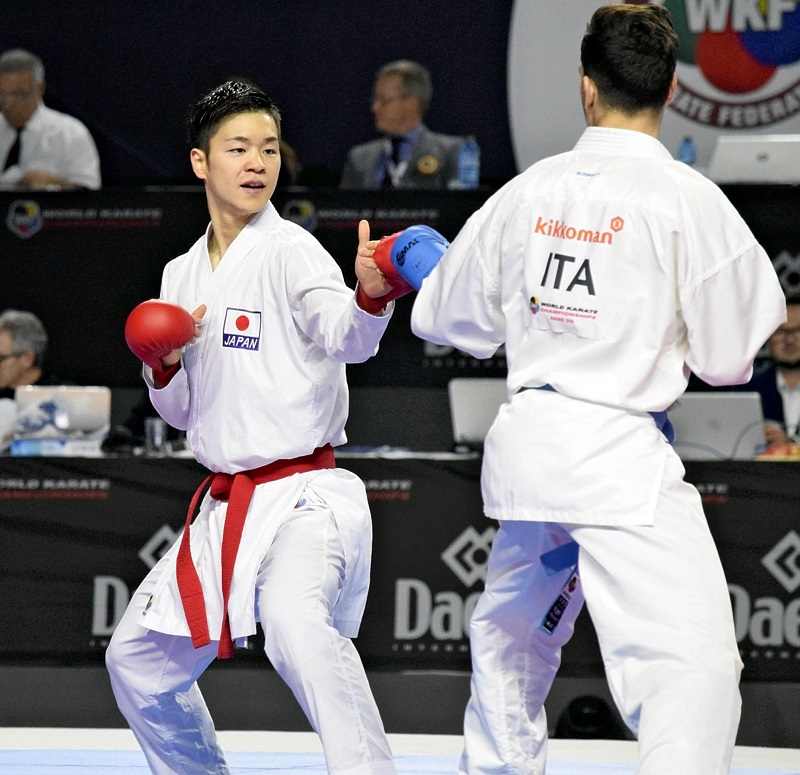 12:54 JST, April 25, 2021
With the countdown to the July 23 opening of the Tokyo Olympics at three months, the qualification process continues as organizers consider measures to deal with a pandemic with no end in sight. In this series, we explore the evolving situation as this major event approaches.
"Before I knew it, the year had passed, but I plan to give everything I've got," a determined Naoto Sago said as he prepares for an international karate tournament in Portugal later this month with a place on Japan's Olympic team on the line.
The 28-year-old Sago, who competes in the men's 67-kilogram division, spent the past year on an emotional roller coaster because of the novel coronavirus.
First, the World Karate Federation canceled the final world Olympic qualifying tournament set for March 2020 due to the pandemic, and decided that the final 40 Olympic places would be based on the latest rankings. Sago, a silver medalist at the 2018 world championships, made the cut.
However, not long after that the Olympics were postponed for a year, and the federation changed its mind and decided it would go ahead with a qualifying tournament after all.
Sago lost his automatic place. He can now be overtaken by compatriot Hiroto Shinohara in the rankings, depending on how they do in the qualifying tournament.
"To be honest, it was disappointing," he said.
Over the last year, tournament after tournament was cancelled. To maintain his fighting edge, Sago has been training with students at his alma mater, Teikyo University. As his journey approaches a decisive end, it is not without anxiety.
He said his main concern is: "Will my PCR test at the airport have no problem and come up negative?" While he has been particularly careful to avoid infection, a positive test would keep him from being able to leave the country, meaning all of his efforts will have gone to waste.
According to a Japanese Olympic Committee (JOC) survey conducted last summer on top athletes specially designated for support, about 70% said their training was restricted by curbs on travel and contact, the closure of training venues, and other factors related to the pandemic.
Events serving as domestic Olympic qualifiers have resumed, and swimming and gymnastics were among sports that held their competitions this month. But while the squads in team sports are announced from time to time, the surge in COVID-19 cases has led to fresh postponements in swimming, cycling and other sports, which has delayed selection in some cases.
When the decision was made to postpone the Olympics in March last year, Japan had filled about 100 Olympic spots. This figure now stands at 180 or more, but is still only about one-third of the total. Many Olympic hopefuls remain at the mercy of the pandemic.
Swimming star Rikako Ikee earned one of the spots on the Olympic squad, securing a place on the relays after winning four gold medals at the national championships in early April. It capped an eventful year for the 20-year-old, who had gone through a battle with leukemia before returning to the pool just before the Olympics were postponed on March 17 last year.
Having won out with an unimaginable effort, this Olympics will be different from five years ago, when Ikee simply wanted to face the best in the world at the Rio de Janeiro Games.
"I want to give courage to people going through hard times and spread the power of sports," Ikee said of her new "mission."
Add TheJapanNews to your Google News feed.