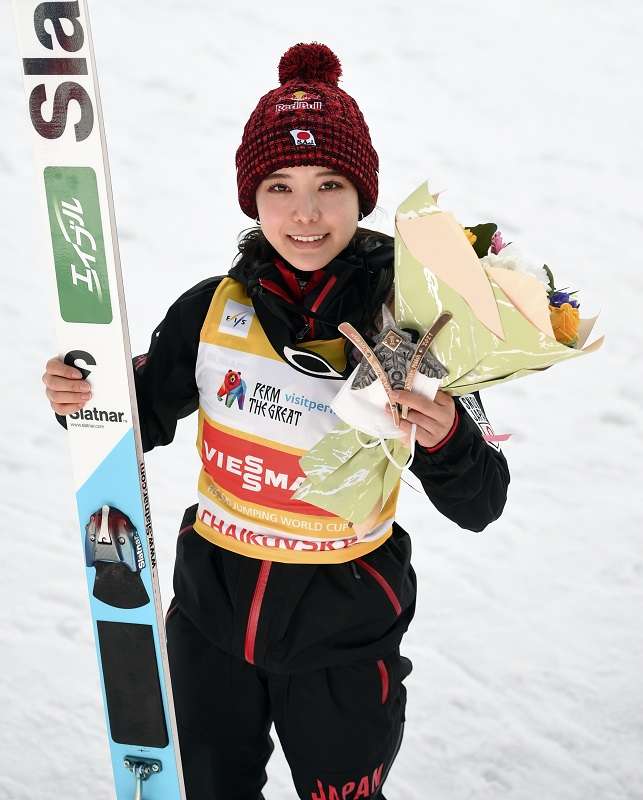 14:49 JST, March 27, 2021
Sara Takanashi became the all-time leader in career ski jumping World Cup podium finishes with 109 when the Japanese finished second on Friday at a meet in Chaikovsky, Russia.
Takanashi entered the 12th meet of the season sharing the record with Finnish great Janne Ahonen, who had made 108 podiums on the men's circuit.
Takanashi jumped 94.50 meters on both of her attempts to compile 234.8 points and finish second behind Austrian Marita Kramer, who won with 258.1 points. Japanese compatriot Nozomi Maruyama placed a career-best fourth.
Takanashi also moved into the lead in the overall World Cup standings heading into the final individual meet of the season on Sunday.
It was in January 2012 that Takanashi made the podium for the first time, when she finished second in Hinterzarten, Germany. She has needed just 157 meets to finish among the top three 109 times.
In Friday's meet, Takanashi sat in second place after the first round of jumps. With a tight-lipped show of determination on her face, she put everything into her second attempt and sailed to the 94.50-meter mark.
After landing, she gave the air a small punch with her fist, a rare gesture on her part and likely a sign of sure contentment with her effort.
Throughout this World Cup season, the 10th of her career and a prelude for next year's Beijing Winter Olympics, Takanashi has emphasized she was focused solely working on her jumping form.
The result has been nine trips to the podium in 12 events, including three victories, that allowed her to eventually overtake the record.
At the time she tied Ahonen, Takanashi commented, "I felt like I was climbing a mountain, looking down all the time, and before I knew it, I was at the top."
No doubt, she's now looking around for a higher mountain to climb.
Add TheJapanNews to your Google News feed.