Veteran Wheelchair Tennis Player Kunieda calmly Waits out Paralympic Delay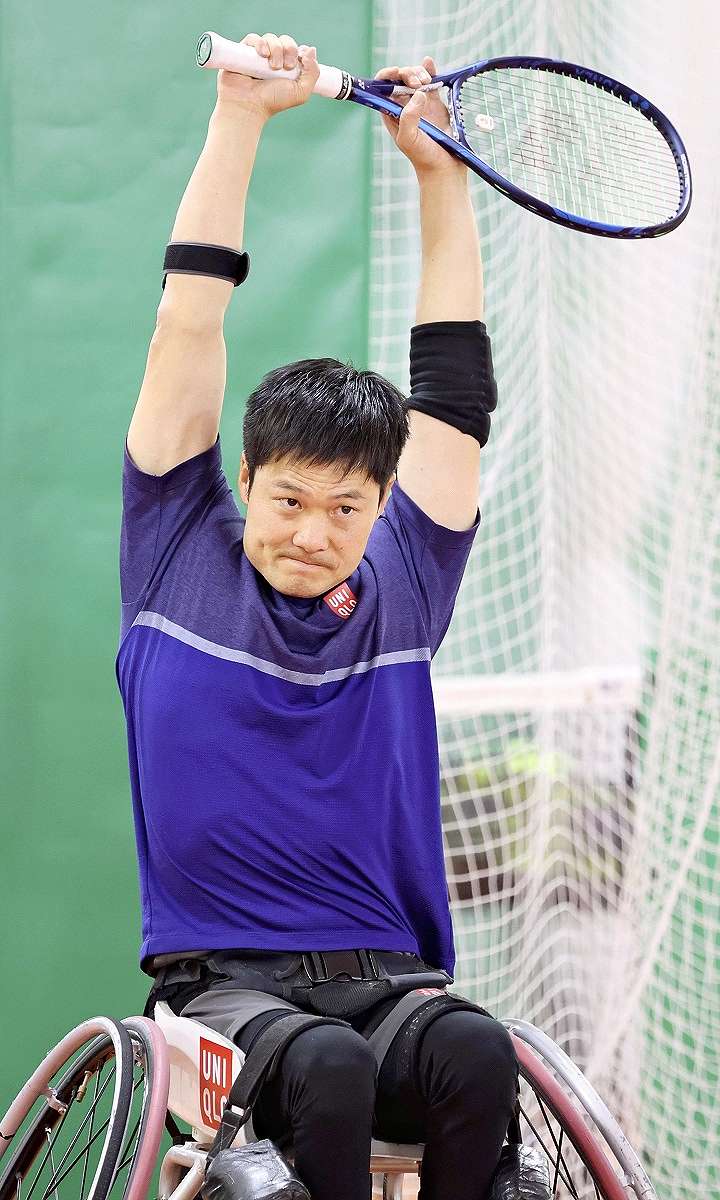 20:59 JST, January 5, 2021
For Shingo Kunieda, 2020 could hardly have gotten off to a better start. The men's wheelchair tennis star won the Australian Open for the first time in two years and 10th time overall in January. His improved backhand was clicking and he was able to match the powerful shots of his global rivals.
"I worked on it taking into account [the time left] until the Tokyo Paralympics," Kuneida said. "I felt I was reaching perfection."
But as with the rest of the sports world, the pandemic derailed his plans. The Tokyo Paralympics were postponed, and tour tournaments were successively cancelled. The tennis club where Kunieda practices temporarily closed.
Although there was a period in which he could not practice to his satisfaction, he said he did not feel a sense of impatience.
"Even though there was no way of knowing when tournaments would be held again, there was no use fretting over it," Kunieda said. "I decided to just follow my instincts."
At the U.S. Open in September, which was held under strict coronavirus protocols, Kunieda took home his first singles title in five years with a victory a grueling final that lasted 2 hours 54 minutes.
"Continuing from the Australian Open, I was able to play at a level that I was satisfied with," Kuneida said. "If the Tokyo Paralympics had been held as scheduled, I'd have had a great chance to win the gold medal. My mood was, 'Well that's a waste,' but I've changed that to, 'I'll just have to do it again.'"
Upon returning to Japan from New York, Kunieda met with the Tokyo Olympics and Paralympics Organizing Committee to report on the coronavirus countermeasures taken at the U.S. Open and his thoughts on the issue.
Kunieda takes a cool-headed approach as he observed the environment at the New York tournament. "I understand the idea that players want the Games to be held, but we can't [make decisions] based on emotions alone.
"Under what conditions can events be held? I wanted to give feedback on what I experienced at a tournament where [athletes and officials] from all over the world gathered in one place," Kunieda recalled.
Kunieda contracted a spinal cord tumor when he was 9 that left him paralyzed from the waist down, and he started playing wheelchair tennis at 11. He won gold medals in the wheelchair doubles at the 2004 Athens Paralympics, then in singles at the 2008 Beijing and 2012 London games. He added a doubles bronze at the 2016 Rio Paralympics.
With his 37th birthday approaching in February, he remains confident in his abilities. "I don't feel that my level of physical strength has fallen," said Kunieda, who turned pro in 2009. "At the moment, I think my abilities are on the rise."
Looking ahead, Kuneida has decided that instead of working on some part of his game in preparation for the Tokyo Paralympics, it is better to "focus on the next tournament and figure out what issues need to be addressed and how to overcome them."
As Japan's top player with 24 Grand Slam singles titles to his credit, Kunieda has been able to focus on steadily improving himself, without a sense of urgency or getting too worked up.
Add TheJapanNews to your Google News feed.