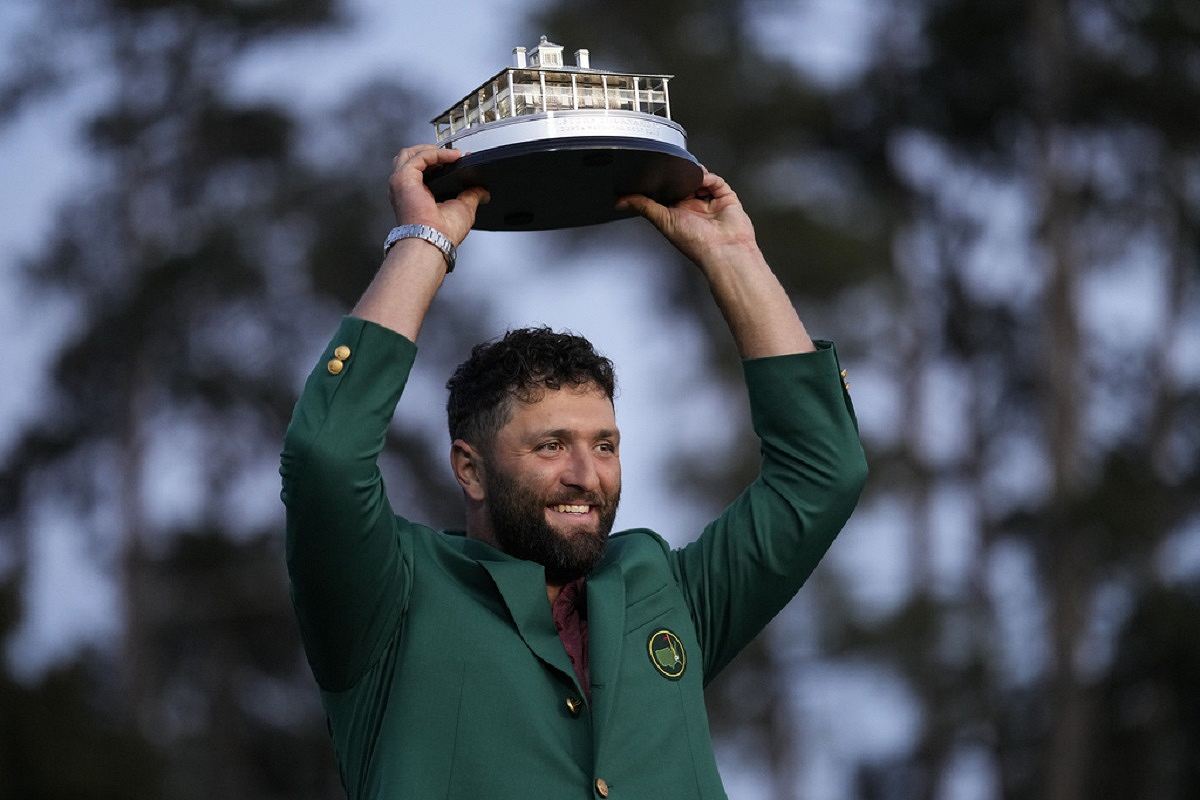 10:30 JST, April 10, 2023
AUGUSTA, Ga. (AP) — Jon Rahm turned the longest day into his sweetest victory, starting Sunday with a four-shot deficit in the morning chill and finishing in fading sunlight as the fourth Spaniard to become a Masters champion.
Rahm closed with a 3-under 69 to pull away from mistake-prone Brooks Koepka. He won by four shots over Koepka and 52-year-old Phil Mickelson, who matched the low score of the tournament with a 65. He is the oldest runner-up in Masters history.
It was Mickelson who declared Rahm would be among golf's biggest stars even before the Spaniard turned pro in 2016. Rahm now has a green jacket to go along with his U.S. Open title he won in 2021 at Torrey Pines.
"It was obvious to me at a very young age that he was one of the best players in the world even while he was in college," Mickelson said. "To see him on this stage is not surprising for anybody."
Rahm made up two shots on Koepka over the final 12 holes of the rain-delayed third round and started the final round two shots behind. He seized on Koepka's collapse and then surged so far ahead that Mickelson's amazing closing round — the best final round ever at Augusta National for the three-time Masters champion — was never going to be enough.
Nothing was more satisfying than an uphill climb to the 18th green to claim the green jacket on a day when Spanish stars aligned. Sunday is the birthdate of his idol, the late Seve Ballesteros, and this is the 40-year anniversary of Ballesteros winning his second Masters title.
Rahm embraced his wife and two children, and as he walked toward the scoring room, there was two-time Masters champion José María Olazábal in his green jacket for the strongest hug of all and a few words that included Ballesteros.
"He said he hopes it's the first of many more," Rahm said in Butler Cabin. "We both mentioned something about Seve, and if he had given us 10 more seconds, I think we would have both ended up crying."
Sergio Garcia was the low amateur in 1999 when Olazábal won his second green jacket, and then Garcia won in 2017, the year Rahm made his Masters debut.
Not to be overlooked was just registering to play this week. Caddies are assigned numbers on their white coveralls in numerical order for when their players check in. Rahm's caddie, Adam Hayes, had No. 49 — 4/9, the birthday of Ballesteros.
Stars aligned, and Rahm played some world-class golf. And to think he began the tournament with a four-putt double bogey on the opening hole.
Rahm won for the fourth time this year — just as Scottie Scheffler did a year ago when he won the Masters — and reclaimed the No. 1 world ranking from Scheffler.
This Masters had a little bit of everything — hot and humid at the start, a cold front with wind that toppled three trees on Friday, putting surfaces saturated from rain on Saturday and a marathon finish Sunday as Rahm and Koepka went 30 holes.
Koepka helped to pave the way with one miscue after another, losing the lead for the first time since Thursday afternoon when he chipped 20 feet past the hole from behind the par-3 sixth and made his second bogey. There would be more to come.
"Just some days you have it, some days you don't, and today wasn't one of those," Koepka said. "But I feel good, and I expect to be there the other three (majors)."
Koepka went 22 consecutive holes Sunday without a birdie — from the par-5 eighth hole in the morning of the third round until the par-5 13th in final round. By then, he was three shots behind and Rahm all but sealed it with his next shot.
He hit a low cut around a tree from right of the 14th fairway and it caught a slope just right on the 14th green and fed down to 3 feet for a birdie. When Koepka three-putted for bogey, it was a matter of finishing.
Rahm hooked his tee shot into the trees on the final hole and didn't reach the fairway. No matter. He played up the fairway, hit wedge to 3 feet and tapped in for the victory.
The leaderboard was littered with major champions and a tinge of Saudi-funded LIV Golf. Mickelson and Koepka both are part of the rival circuit. Former Masters champion Patrick Reed, another player who defected to LIV, closed with a 68 and tied for fourth with Jordan Spieth (66) and Russell Henley.
Tiger Woods wasn't around for the finish. He withdrew Sunday morning before the third round resumed, saying plantar fasciitis in his foot was aggravating him. Woods also withdrew after three rounds of the PGA Championship last year in similarly cold, windy conditions at Southern Hills in Tulsa, Oklahoma.
Mickelson barely contends over 54 holes in the 48-man LIV Golf league. And then he played like the six-time major champion who two years ago became the oldest major champion at age 50 when he won the PGA Championship.
He stuffed his tee shot on the par-3 sixth, birdied the seventh and then finished in style. His approach to the 17th came within inches of going in for an eagle, and he pumped his first when his 12-foot birdie putt on the 18th dropped for a 65.
It matched his lowest score ever at Augusta National — he shot 65 in the opening round in the 1996 Masters and was at his Sunday best.
"Unfortunately it wasn't enough, but it was really a lot of fun for me to play at this level again, and it's encouraging for me going forward the rest of the year," Mickelson said.
Rahm called it an incredible day, especially with his father coming over from Spain. He concluded his remarks at the trophy presentation on the 18th green by saying, "Happy Easter. And rest in peace, Seve."
He then made the sign of the cross, kissed his finger and pointed to the blue sky.
Add TheJapanNews to your Google News feed.