Basketball World Cup 2023: How to Watch, Who's Playing, Who's Favored and More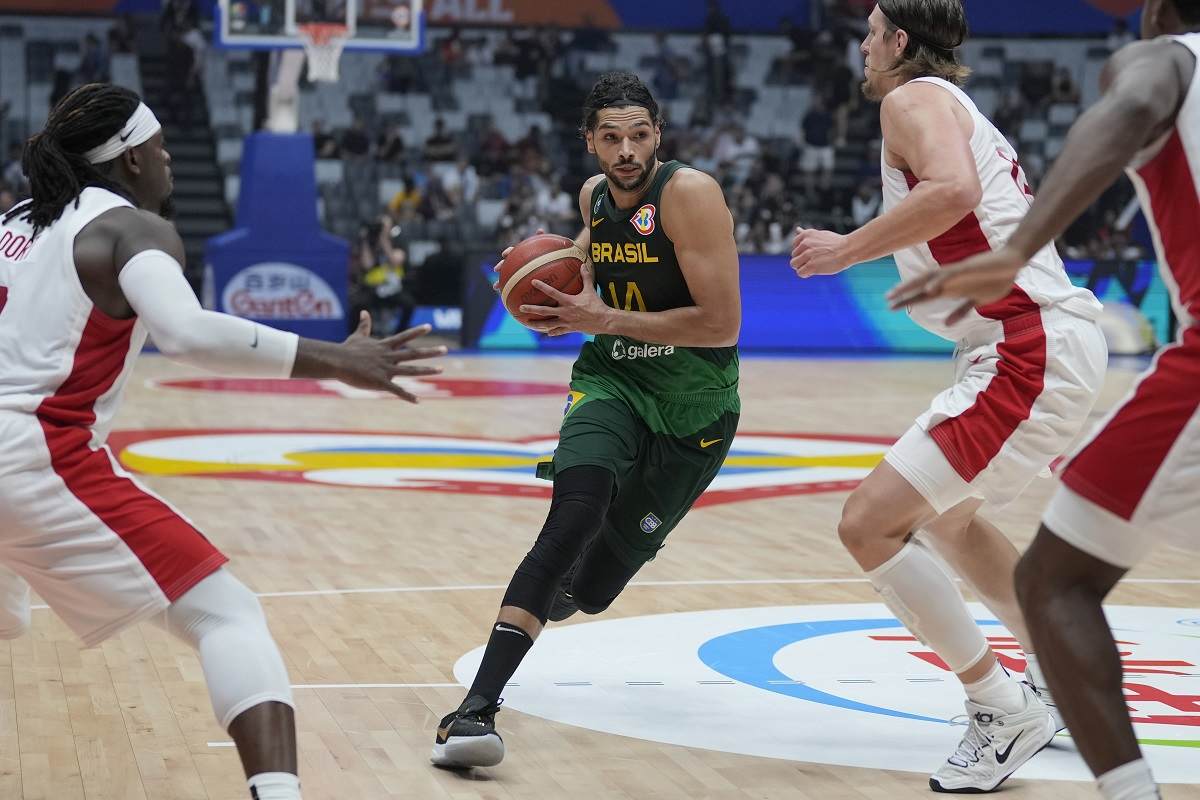 12:15 JST, September 3, 2023
A wild Sunday awaits at the Basketball World Cup, where the second round is assured of a drama-filled ending.
There will be eight games — two among teams that are already headed to the quarterfinals, two more among teams that know their tournaments are ending on Sunday no matter what and four contests that will be win-or-go-home matchups.
Italy vs. Puerto Rico, Dominican Republic vs. Serbia, Brazil vs. Latvia and defending champion Spain vs. Canada. The winners of those four games will join Slovenia, Germany, Lithuania and the U.S. in the quarterfinals. The losers of those four games will be flying home.
And not only will Sunday's games fill out the World Cup quarterfinal field, those results will also help determine which four teams from the Americas and Europe — two nations from each — will leave the World Cup with automatic berths for next summer's Paris Olympics.
SCHEDULE
The Sunday schedule:
Group I (at Manila): Italy vs. Puerto Rico, Dominican Republic vs. Serbia. Winners to the quarterfinals, losers eliminated.
Group J (at Manila): Greece vs. Montenegro, U.S. vs. Lithuania. Greece and Montenegro are playing their finales, the U.S. and Lithuania both have clinched quarterfinal spots.
Group K (at Okinawa): Australia vs. Georgia, Germany vs. Slovenia. Australia and Georgia will not be moving on, Germany and Slovenia will play quarterfinal games in Manila on Wednesday.
Group L (at Jakarta): Brazil vs. Latvia, Spain vs. Canada. The winners move on. The losers do not.
HOW TO WATCH THE BASKETBALL WORLD CUP
— In the U.S.: The next U.S. game is Sunday and will be on ESPN2, against Lithuania. Game time is 8:40 a.m. Eastern.
— There are streaming options for other games.
BETTING GUIDE
The U.S. entered Saturday in the same spot, as the overwhelming favorite to win the World Cup, according to FanDuel Sportsbook. The Americans' odds were listed at minus-150 (meaning a $150 wager on the Americans would return $250 total, if they won). Canada remained the second choice in the betting at plus-480 (a $100 wager would return $480), followed by two teams that rocketed up the list of favorites — Germany (plus-650) and Slovenia (plus-1,000).
Serbia is plus-1,800, followed by Spain (plus-2,700), Italy (plus-4,000) and Latvia (plus-4,200).
Every other team still in the running for medals entered Saturday with odds of 70-1 or greater. Puerto Rico is the long shots — with 400-1 odds.
WHAT TO KNOW
What you need to know about the Basketball World Cup, and the U.S. road to getting here:
— Anthony Edwards talks the talk, and more than backs it up for the U.S.
— US rallies past Montenegro to open play in Round 2
— Early U.S. wins: U.S. runs past Jordan to finish perfect in opening group play, U.S. beats Greece in second game, U.S. tops New Zealand in opening game
— The Americans are using lots of depth to their advantage
— For Erik Spoelstra, this trip to Manila is very much like a homecoming
UP NEXT
There are no games on Monday, as the entire tournament shifts to Manila for the final week. Teams that advanced to the quarterfinals and have been playing in Okinawa and Jakarta will use Monday as a travel and rest day.
The U.S. and Lithuania will play quarterfinal games Tuesday against either Italy, Puerto Rico, Dominican Republic or Serbia.
Slovenia and Germany will play quarterfinal games Wednesday. against either Canada, Spain, Brazil or Latvia.
Quarterfinal-round losers will play Thursday. Semfinals are Friday. Games to decide fifth and seventh place are Saturday and the gold- and bronze-medal games are Sunday, Sept. 10.
STAT OF THE DAY
Spain's 11-game World Cup winning streak ended Friday with its loss to Latvia. That means Germany now has the longest active World Cup winning streak — seven games. The Germans started 0-2 at the 2019 World Cup, won their final three games there and are 4-0 in this tournament. Lithuania and the U.S. are tied for the second-longest current World Cup winning streak, five games apiece.
QUOTE OF THE DAY
"It's been tough on all of us, the players, the coaching staff, everyone involved. Needless to say, the results have not been what we wanted, but we're proud of our effort." — Philippines assistant coach Tim Cone, on social media before one of the three World Cup host nations played its final game Saturday.
---
---
Add TheJapanNews to your Google News feed.