Basketball World Cup 2023: 16-year-old Khaman Maluach Become One of the Youngest to Ever Play in the Basketball World Cup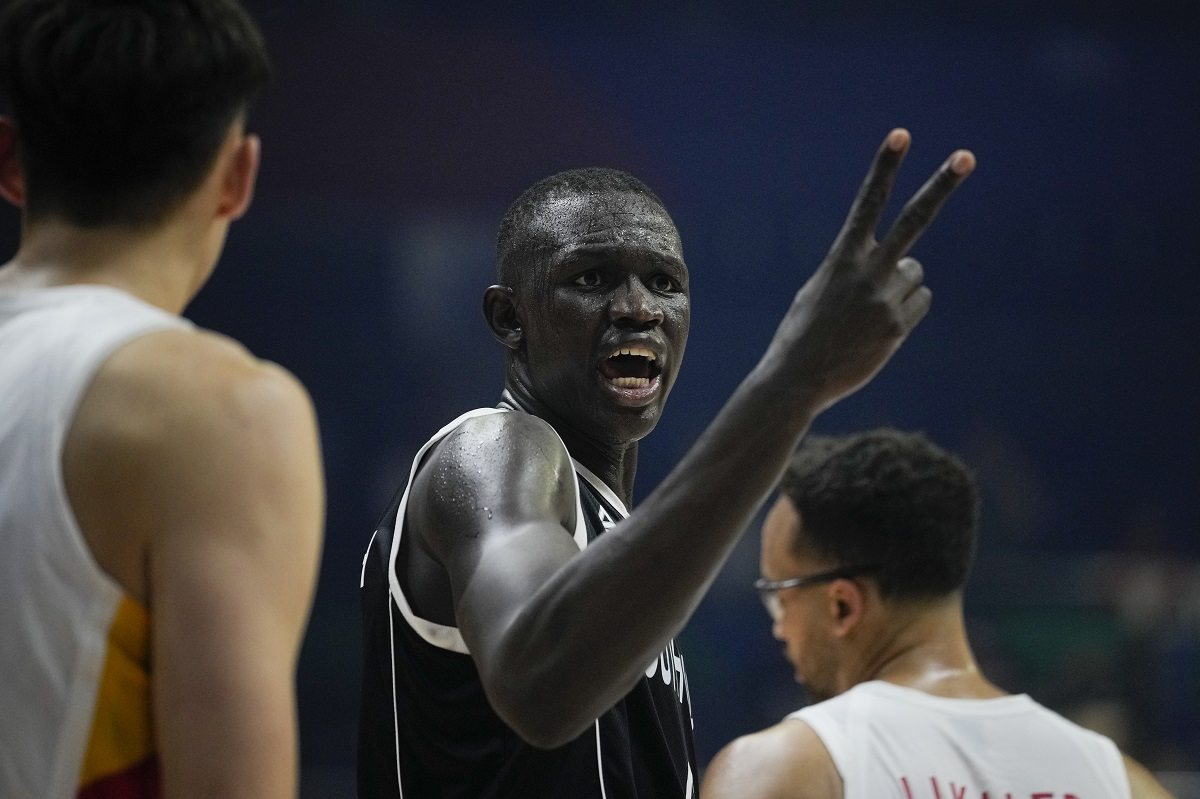 10:52 JST, August 29, 2023
It was the Luka Doncic show again at the World Cup.
After scoring 37 points in Slovenia's opening-game victory against Venezuela, he came through with 34 on Monday in an 88-67 win over Georgia. He also had 10 rebounds and six assists for Slovenia, which is on the cusp of making the second round.
Defending champion Spain and the United States each advanced to the second round with victories. Spain defeated Brazil 96-78, and the Americans beat Greece 109-81. The U.S. finished a lowly seventh at this tournament in China four years ago.
South Sudan's 16-year-old Khaman Maluach scored one point and played 16 minutes in his team's 89-69 victory over China to become one of the youngest to ever play in the Basketball World Cup.
The 7-foot-1 Maluach, who is widely considered a 2025 NBA draft prospect, turns 17 next month. The only players younger than Maluach in World Cup history are Ivory Coast's Georges Lath (16 years, 3 months in 1986) and China's Gao Ailun (16 years, 9 months in 2010).
Underdogs South Sudan and Cape Verde picked up wins Monday to stay in contention for the second round. New Zealand and Ivory Coast also stayed alive.
Five teams already had advanced to the second round: Latvia, Canada, Germany, Montenegro and Lithuania. They are now joined by Spain and the U.S. in the round of 16. Tokyo Olympic silver medalist France was knocked out on Sunday.
GROUP B — SOUTH SUDAN 89, CHINA 69
At Manila, Philippines, Chicago Bulls guard Carlik Jones scored 21 points as South Sudan beat China to record its first World Cup victory ever. Kuany Kuany added 16 points for South Sudan (1-1), which had the edge throughout and shot 15 of 30 from 3-point range.
After a scoreless debut in the first game, Minnesota Timberwolves sixth man Kyle Anderson had 22 points for China (0-2), which lost its opener to Serbia 105-63.
South Sudan plays Serbia on Wednesday in its final group game and China faces Puerto Rico.
GROUP F — CAPE VERDE 81, VENEZUELA 75
At Okinawa, Japan, Betinho Gomes scored 22 and Will Tavares added 20 to lead Cape Verde (1-1) over Venezuela (0-2). Ivan Almeida tacked on 18.
Cape Verde is the lowest ranked team in the tournament according to FIBA rankings, but it doesn't look like it.
Venezuela led at the half, 46-33, but was held to only 29 points in the last two quarters. David Cubillan led Venezuela with 15 points and Jhornan Zamora added 14.
Cape Verde faces Slovenia on Wednesday and Georgia plays Venezuela.
GROUP C — NEW ZEALAND 95, JORDAN 87 OT
At Manila, Izayah Le'afa scored 23 points and Shea Ili added 15 as New Zealand (1-1) kept alive its hopes of reaching the second round. Jordan (0-2) faces a game Wednesday against the United States.
Rondae Hollis Jefferson hit a 3-pointer with 10 seconds to go and then made his free throw after being fouled to send the game into overtime at 85-85. Jordan was outscored 10-2 in OT.
Former NBA player Hollis Jefferson led Jordan with 39 points and had nine rebounds. Freddy Ibrahim added 22.
New Zealand plays Greece on Wednesday for a place in the final 16.
GROUP G — IVORY COAST 71, IRAN 69
In Jakarta, Indonesia, Solo Diabate made three late free throws as Ivory Coast edged Iran. With Iran leading 69-68, Diabate drove to the lane and drew a foul with six seconds left. He had an additional free throw after Iran coach Hakan Demir received a technical foul.
Nisre Zouzoua scored 17 points for Ivory Coast (1-1), who lost playmaker Bazoumana Kone to an ankle injury early in the third quarter.
Behnam Yakhchali led Iran (0-2) with 19 points but missed a 3-pointer at the buzzer. Former NBA center Hamed Haddadi had 9 points and 8 rebounds before fouling out late.
Ivory Coast plays Brazil on Wednesday in its final group game and Iran meets Spain.
GROUP C — UNITED STATES 109, GREECE 81
At Manila, Austin Reaves scored 15 points with five rebounds and six assists, and Jalen Brunson and Anthony Edwards each scored 13 as the Americans (2-0) reached the second round. The Americans advanced courtesy of their win coupled with New Zealand's victory over Jordan. Georgios Papagiannis had 17 points for the Greece (1-1).
GROUP F — SLOVENIA 88, GEORGIA 67
At Okinawa, it was the Luka Doncic show again. He scored 34 points and added 10 rebounds and six assists for Slovenia (2-0). In the opening win two day ago against Venezuela, the Dallas Mavericks star poured in 37 points.
Klemen Prepelic added 15 for the winners, who are on the cusp of making the second round.
Alexander Mamukelashvili led Georgia (1-1) with 21 points. Kakhaber Jintcharadze added 12.
Slovenia faces Cape Verde on Wednesday and Georgia plays Venezuela.
GROUP B — SERBIA 94, PUERTO RICO 77
At Manila, Atlanta Hawks player Bogdan Bogdanovic scored 17 points as Serbia, which led by 30 at the half, did enough to beat Puerto Rico.
Nikola Jovic of the Miami Heat scored 11 of his 17 points in the first quarter to ignite Serbia (2-0).
Puerto Rico (1-1) reduced the margin to 10 points in the fourth quarter before Serbia steadied itself.
Isaiah Pineiro scored 14 points for Puerto Rico, which shot 15 of 38 from 3-point range but just 27 of 74 overall.
Serbia faces South Sudan on Wednesday and Puerto Rico goes against China.
GROUP G — SPAIN 96, BRAZIL 78
At Jakarta, former NBA player Willy Hernangómez scored 14 points and Juan Nunez and Santi Aldama of the Memphis Grizzlies each had 13 as Spain (2-0) — the defending champion — advanced to the second round. The 19-year-old Nunez had seven rebounds and five assists.
Spain moved through with the win coupled with Ivory Coast's victory over Iran.
Former NBA player Bruno Caboclo had 15 points and 11 rebounds for Brazil (1-1).
Spain was 10 of 24 from 3-point range, and Brazil hit only 9 of 33.
---
---
Add TheJapanNews to your Google News feed.