Basketball World Cup 2023: How to Watch, Who's Playing, Who's Favored and More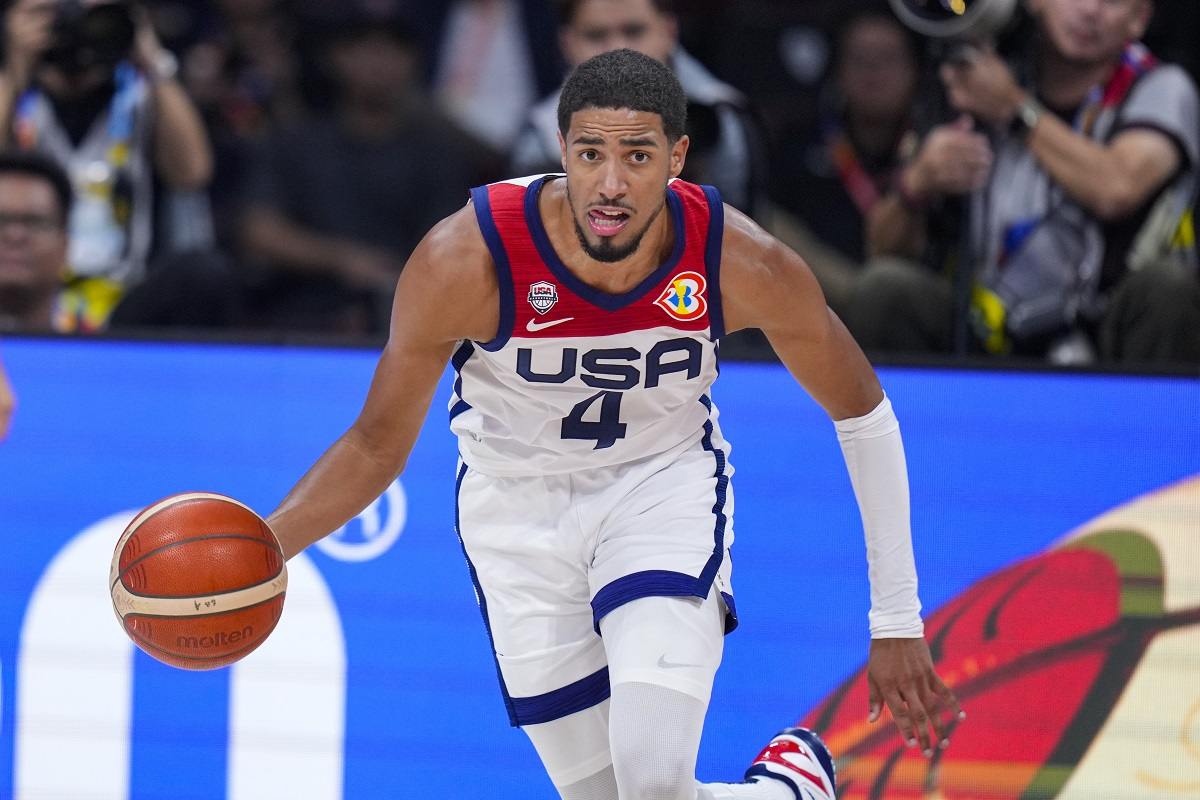 11:56 JST, August 27, 2023
The Basketball World Cup had eight games on the Saturday schedule and seven were one-sided. The U.S. opened its quest with a win over New Zealand, Luka Doncic had a huge game to lead Slovenia to a win, defending champion Spain rolled in its opener and Brazil and Serbia each won by more than 40 points.
The only close game: Puerto Rico, which got past South Sudan in overtime.
Things ramp up on Sunday, with some teams knowing they need wins to keep realistic hopes of the second round alive.
Teams play only three games in the opening group stage. Every team that finished 2-1 or better in the group stage four years ago at the World Cup in China reached the second round; every team that finished 1-2 or worse did not advance. So, on Sunday and Monday, the 16 teams that were 0-1 after Saturday's play will be feeling the pressure.
SCHEDULE
There are eight more games Sunday, including a possible must-win game for France. The U.S. doesn't play again until Monday.
The Sunday slate:
Group A (at Manila): Italy (1-0) vs. Dominican Republic (1-0); Philippines (0-1) vs. Angola (0-1)
Group D (at Manila): Montenegro (1-0) vs. Egypt (0-1); Lithuania (1-0) vs. Mexico (0-1)
Group E (at Okinawa): Australia (1-0) vs. Germany (1-0); Finland (0-1) vs. Japan (0-1)
Group H (at Jakarta): Lebanon (0-1) vs. Canada (1-0); France (0-1) vs. Latvia (1-0)
The Monday slate:
Group B (at Manila): China (0-1) vs. South Sudan (0-1), Puerto Rico (1-0) vs. Serbia (1-0)
Group C (at Manila): New Zealand (0-1) vs. Jordan (0-1), Greece (1-0) vs. U.S. (1-0)
Group F (at Okinawa): Venezuela (0-1) vs. Cape Verde (0-1), Georgia (1-0) vs. Slovenia (1-0)
Group G (at Jakarta): Ivory Coast (0-1) vs. Iran (0-1), Brazil (1-0) vs. Spain (1-0)
HOW TO WATCH THE BASKETBALL WORLD CUP
— In the U.S.: The next two U.S. games (Monday, Wednesday) will be on ESPN2. The Saturday and Monday games will begin at 8:40 a.m. EDT; the Wednesday game begins at 4:40 a.m. EDT.
— There are streaming options for other games.
BETTING GUIDE
The U.S. is the overwhelming favorite to win the World Cup, according to FanDuel Sportsbook, with the Americans' odds listed at minus-135 (meaning a $135 wager on the Americans would return $235, if they won). Canada's win over France on Friday vaulted it into the second spot on the odds sheet at plus-550 (meaning a $100 wager would return $550). Australia is the third choice at plus-700, followed by Serbia (plus-1,300), Spain (plus-1,400), France (plus-2,100) and Slovenia (plus-2,400).
WHAT TO KNOW
What you need to know about the Basketball World Cup, and the U.S. road to getting here:
— The World Cup attendance record fell on Day 1 in Manila.
— For Erik Spoelstra, this trip to Manila is very much like a homecoming
— The basketball-crazed Philippines is about to have a shining moment
— As World Cup nears, U.S. team says it'll embrace any doubters
— U.S. finishes exhibition season 5-0 after rallying to beat Germany
NAME GAME
Li Kaier was scoreless for China on Saturday in its 105-63 loss to Serbia, struggling through an 0-for-9 game from the floor.
Nobody by that name has ever scored in an NBA game. But Li has.
NBA fans know him as Kyle Anderson, who'll be entering his 10th season in the league this fall. He's going into Year 2 with Minnesota, after spending his first four seasons with San Antonio and his next four with Memphis.
He obtained his Chinese passport as a naturalized citizen last month, qualifying because he has ancestry there on his mother's side. Should China qualify for the Paris Olympics, Li plans on representing them there as well.
STAT OF THE DAY
France is going to have to make some serious history to win this World Cup.
One of the pre-tournament favorites, France lost its opener to Canada 95-65 — a 30-point margin that few saw coming. No team has ever won the World Cup after losing a game by double figures.
Brazil lost to the Soviet Union by nine in a game early in the 1959 tournament before going on to win the title. Yugoslavia lost to the USSR by 15 points in its final game of the 1970 tournament — but had already clinched the gold medal, so that outcome was meaningless.
The last team to lose any game in the World Cup and win the gold was the former Yugoslavia in 2002; that team went 7-2 in that tournament, then called the FIBA world championship. Both its losses that year were by exactly two points.
QUOTE OF THE DAY
"This is not the NBA. This is serious basketball." — Angola coach Pep Claros.
Now, that sounds like a knock on the best league in the world, but really, it wasn't. Points scored in the World Cup can figure into tiebreakers, and Claros was puzzled why his team didn't try to score in the final seconds of its loss Friday to Italy — just in case a basket might be needed to break a tie when group play ends.
He was referring to the NBA practice of, in the final seconds of a win, teams usually just stop playing and let the clock expire.
---
---
Add TheJapanNews to your Google News feed.