Basketball World Cup 2023: Canada Knocks Off France; Attendance Record Set on Day 1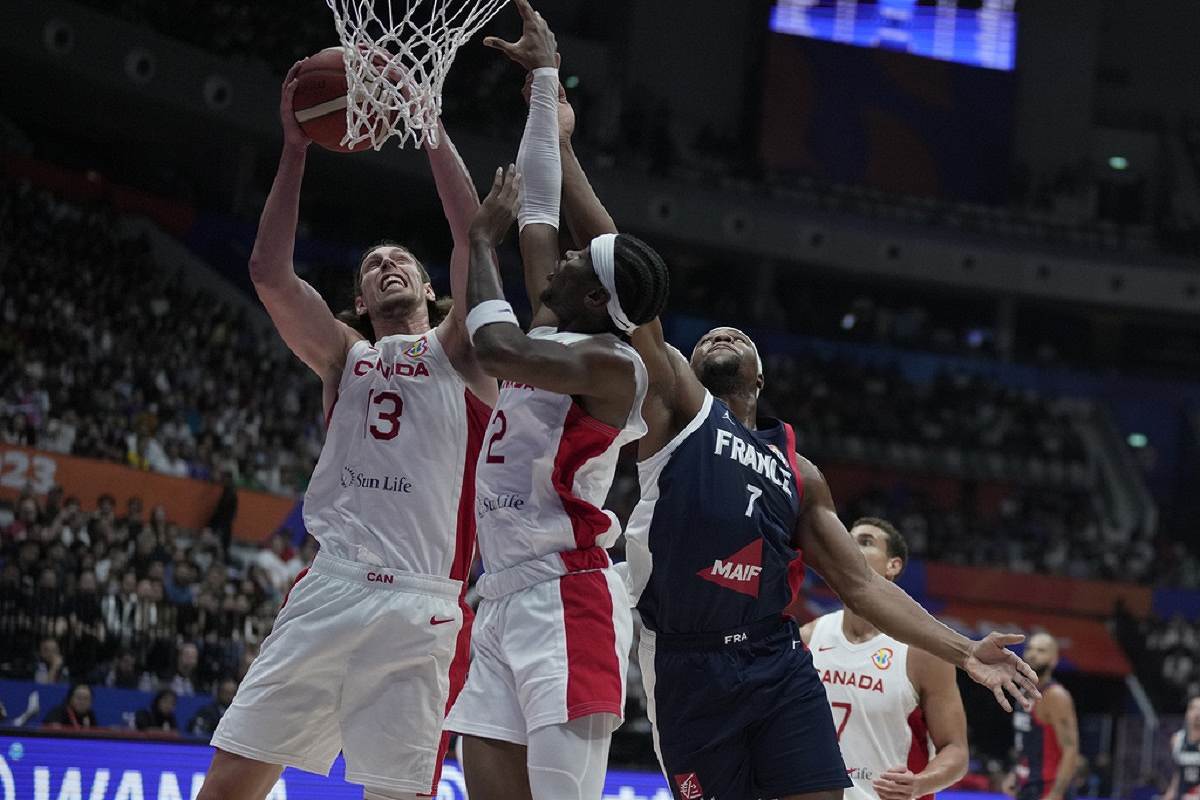 11:14 JST, August 26, 2023
Canada has never medaled at the Basketball World Cup. Shai Gilgeous-Alexander evidently has his sights on changing that, and his team sent a serious message on the opening night of the tournament.
Gilgeous-Alexander scored 27 points and Canada topped France 95-65 in a Group H game at Jakarta, Indonesia, on Friday night. It cap Day 1 of the World Cup that's also being held in the Philippines and Japan. Canada outscored France 25-8 in the third quarter, turning what was a three-point game at the half into a runaway.
I'm not surprised, Gilgeous-Alexander said. "We played really good basketball today. We did the right things on both ends of the court. … When we play to our identity and the things we've been preaching for the last month…we can beat and play with anyone in the world. We just have to continue to get better and the sky's the limit."
Gilgeous-Alexander scored 13 points in that third quarter, and also finished with 13 rebounds and six assists. Kelly Olynyk scored 18 points for Canada.
Evan Fournier scoring 19 of his 21 points in the first half for France, which had won all three of its previous World Cup contests against Canada.
They kind of forced us to do things we didn't want to do, Fournier said. "They kept applying pressure and it got the best of us."
GROUP D
MONTENEGRO 91, MEXICO 71
At Manila, Nikola Vucevic got Montenegro's World Cup trip off to a flying start.
Vucevic finished with 27 points and 10 rebounds in just 31 minutes, and Montenegro pulled away for a win over Mexico in Group D on the opening day of the Basketball World Cup that started Friday with games in the Philippines, Indonesia and Japan.
Vucevic was 11 for 15 from the field, including 3 for 3 on 3-pointers. Kendrick Perry scored 16 points and Nikola Ivanovic added 14 for Montenegro.
Pako Cruz scored 16 for Mexico, while Joshua Ibarra scored 13, Fabian James had 12 and Paul Stoll finished with 10 points and seven assists.
Montenegro plays Egypt on Sunday while Mexico takes on Lithuania.
LITHUANIA 93, EGYPT 67
At Manila, Margiris Normantas scored 18 points in 18 minutes and Lithuania easily won its opener.
Jonas Valanciunas had 15 points and 10 rebounds, while Elmantas Bendzius scored 10 for a Lithuania team that outrebounded Egypt 53-34.
Assem Marel scored 14 for Egypt, while Amr El Gendy had 13, Anas Mahmoud added 11 and Ehab Amin finished with 10.
GROUP A
DOMINICAN REPUBLIC 87, PHILIPPINES 81
At Manila, Karl-Anthony Towns had 26 points and 10 rebounds and the Dominican Republic prevailed on a night where fans in the Philippines set a World Cup attendance record.
A total of 38,115 fans came to the game, breaking the record of 32,616 set at the gold-medal game of the 1994 world championship in Toronto when the U.S. rolled past Russia for the title.
Victor Liz added 18 for the winners.
Jordan Clarkson led the Philippines with 28 points. June Mar Fajardo added 16.
ITALY 81, ANGOLA 67
At Manila, Simone Fontecchio scored 19 points and Italy pulled away in the final 12 minutes to hold off upstart Angola.
Stefano Tonut scored 18 points for Italy, Giampaolo Ricci scored 12 and Marco Spissu added seven assists.
Childe Dundao scored 19 points for Angola, which led by seven early and was still tied with Italy at 52-all late in the third.
Bruno Fernando scored 13 for Angola.
Both teams struggled from 3-point range. Angola was 4 for 30 from beyond the arc — Dundao was 4 for 8, his teammates combined to shoot 0 for 22 — while Italy was 5 for 31 on 3s.
Italy takes on the Dominican Republic on Sunday, while Angola plays the Philippines.
GROUP E
AUSTRALIA 98, FINLAND 72
At Okinawa, Patty Mills scored 25 points and Olympic bronze medalist Australia overwhelmed Finland over the final 23 minutes on Friday in the opening game for both teams.
Josh Giddey flirted with a triple-double — finishing with 14 points, nine rebounds and eight assists — for the winners, who got 13 from Joe Ingles and 10 from Dante Exum.
Finland led 38-30 with 3:33 left in the first half. Australia outscored Finland 68-34 the rest of the way.
Lauri Markkanen, the reigning NBA's Most Improved Player, led Finland with 19 points and eight rebounds. Markkanen had been fulfilling mandatory military service just prior the tournament opening.
Australia plays Germany on Sunday, while Finland plays Japan.
GERMANY 81, JAPAN 63
At Okinawa, Moritz Wagner scored 25 points and added nine rebounds as Germany pulled away from the start and was up 53-31 at the half in the first game in the tournament for both teams.
Dennis Schroder added 14 points and Daniel Theis had 13 for the winners. Moritz Wagner's brother, Franz Wagner, had 10 points.
Yuta Watanabe topped Japan with 20 points and Yudai Baba added 15 to give some joy to the home fans on Japan's southern island of Okinawa.
GROUP H
LATVIA 109, LEBANON 70
At Jakarta, Dairis Bertans scored 20 points, going 6 for 7 on 3-pointers, and Latvia turned its first World Cup game into an easy win over Lebanon.
Rolands Smits had 17 points for Latvia, which had a 10-point lead midway through the first quarter and kept pulling away.
Oklahoma City Thunder's Davis Bertans, the only current NBA player for either team, scored 10 points off the bench. Sergio El Darwich scored 19 points for Lebanon, while former NBA player Omari Spellman scored 18 points.
Latvia was 18 of 35 from 3-point range, while Lebanon was just 7 of 24 from distance.
Latvia plays France on Sunday, while Lebanon faces Canada.
---
---
Add TheJapanNews to your Google News feed.