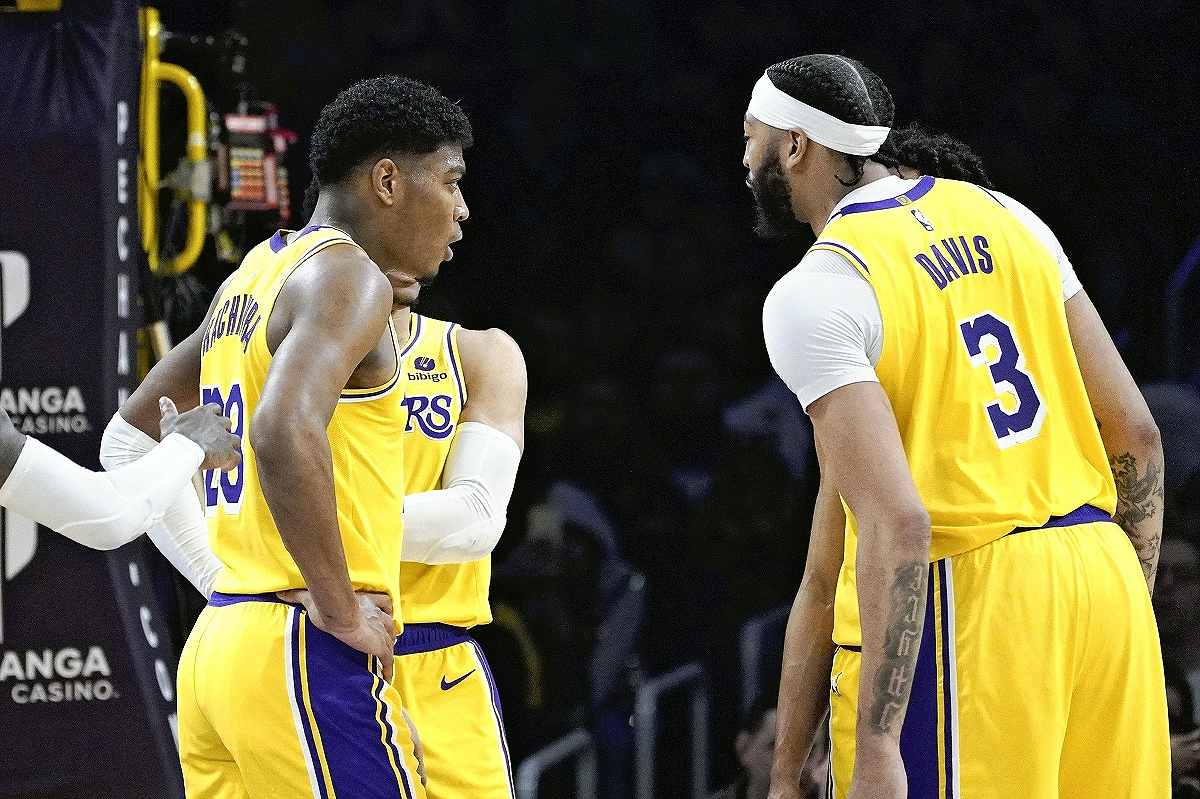 11:43 JST, January 27, 2023
LOS ANGELES (AP) — LeBron James and the Los Angeles Lakers are starting to get key pieces of their lineup back as he makes his push toward becoming the NBA's all-time leading scorer.
Anthony Davis scored 21 points in his return from a right foot injury and Rui Hachimura added 12 in his Lakers debut as they bounced back from a rough loss to beat the San Antonio Spurs 113-104 on Wednesday night.
Davis and Hachimura both came off the bench with 4:22 remaining in the first quarter.
"We were all figuring out ways we could mix and match. We just wanted to get guys in there," Lakers coach Darvin Ham said. "With AD coming back and Rui being new, we had to work through some kinks. When we got settled into the game, guys had different runs."
Davis, who missed 20 games due to a stress injury suffered during the first half of a Dec. 16 game at Denver, came in with 4:22 remaining in the first quarter. He was 7 of 15 from the field and also had 12 rebounds in 26 minutes for his 19th double-double in 26 games played this season.
"He makes the game look so easy and takes the pressure off us," Ham said of Davis. "He was really being aggressive. I thought he was phenomenal."
Davis was a little tentative his first couple minutes back on the floor. He missed his first two shots from the floor and had one point in the first quarter, but hit four of his next five and scored nine in the second quarter.
"I was testing the waters at first," Davis said. "Once I saw the ball go through on the second free-throw attempt [in the first quarter], I started playing and doing little things to start to get going."
Davis did give the fans at Crypto.com Arena a slight scare at the end of the third quarter when he went down while being fouled on a 3-point attempt near midcourt. While Ham said he nearly fainted when he saw the play, Davis quickly bounced up and said he felt fine.
Hachimura, acquired from Washington on Monday, said he looked over some plays and the defense Wednesday morning as well as getting plenty of feedback from coach and players during the game. It definitely helped as the forward had six points during a fourth-quarter run when the Lakers took control.
"This was only one game, but I think it is going to be great," Hachimura said.
James — who had 46 points in the Lakers' 133-115 loss to the Clippers on Tuesday night — had 20 points, tied a season high with 11 assists and fell one rebound shy of a triple-double.
James trails Kareem Abdul-Jabbar (38,387 points) by just 157 points. Los Angeles goes on a five-game road trip with their next game at home being Feb. 7 against Oklahoma City.
Patrick Beverley scored a season-high 18 as the Lakers improved to 8-5 in January.
Keldon Johnson had 25 points and Zach Collins scored 16 for San Antonio, which has won just five times in 22 road games.
Add TheJapanNews to your Google News feed.