Mets Owner Steve Cohen Apologizes to Marlins for Soggy Field That Forced Doubleheader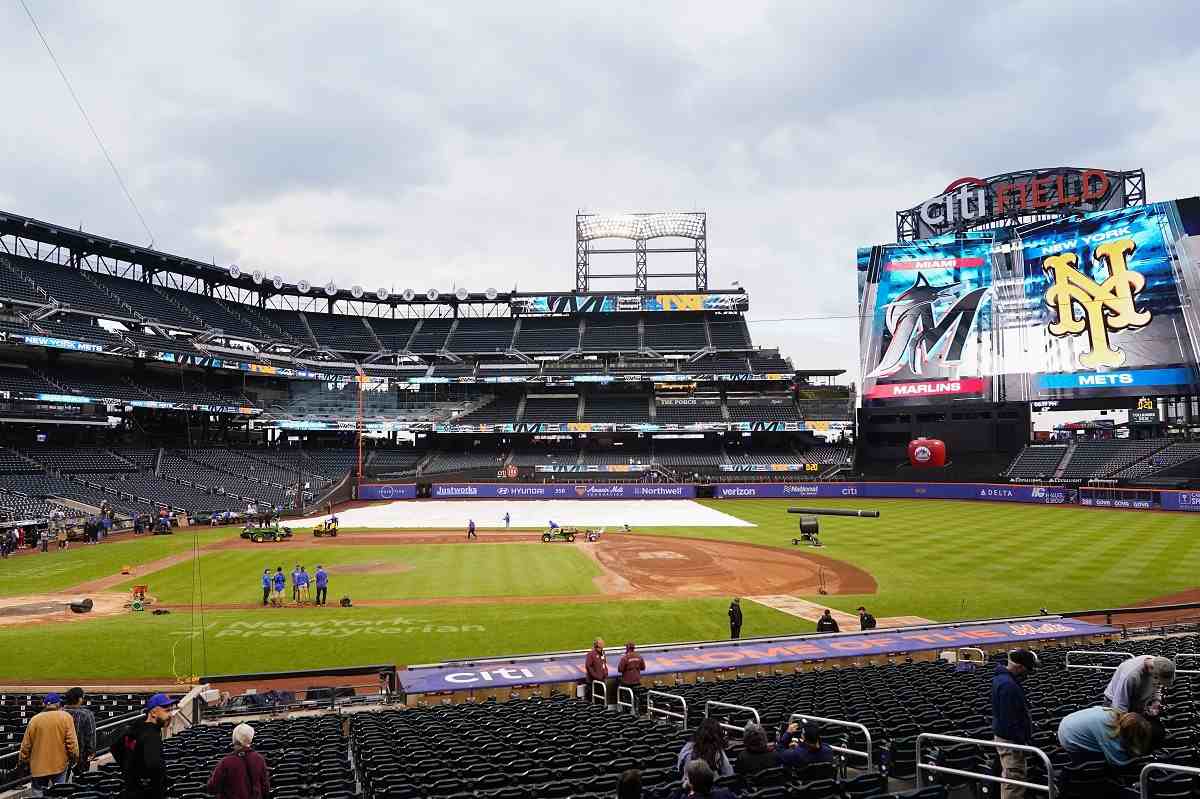 11:16 JST, September 28, 2023
NEW YORK (AP) — The sloppy field that caused a costly postponement for the Miami Marlins left the New York Mets all wet.
Mets owner Steven Cohen apologized to the Marlins on Wednesday for the circumstances that led to Tuesday night's series opener between the teams getting washed out. The game was rescheduled as part of a doubleheader Wednesday, affecting Miami's pitching plans in the final days of a heated playoff race and angering team officials, according to a report by The Athletic.
"Our sincere apologies to the Marlins and their fans for having to postpone last night's game," Cohen posted Wednesday on X, the social media site formerly known as Twitter. "We know how important this series is to the Marlins and every effort was made to get the field playable."
The infield at Citi Field wasn't covered with a tarp for at least some portion of last weekend, when rain from Tropical Storm Ophelia began pelting New York City for four straight days. The tarp was on the field Tuesday, but when showers finally subsided in the late afternoon and the tarp was removed, the field was soggy.
Members of the Mets' grounds crew worked for about three hours attempting to dry and smooth the infield and get the surface in playing shape, to no avail.
A message on the scoreboard long before the scheduled 7:10 p.m. start alerted fans the game would be delayed, and another message read: "Tropical Storm Ophelia brought heavy precipitation to the area. We are trying to make the field conditions playable."
Major League Baseball representatives huddled on the field with Marlins general manager Kim Ng, manager Skip Schumaker, Mets manager Buck Showalter and others at 6 p.m. and then again at 8 p.m. Approximately 20 minutes later, New York announced the game was postponed because of unplayable field conditions and rescheduled for Wednesday.
"Due to the significance of the game for the Marlins, every effort was made to make the field playable," the Mets said.
Miami entered Wednesday a half-game behind the Chicago Cubs for the final National League playoff berth. New York is eliminated from postseason contention.
Braxton Garrett (9-7), one of the top pitchers in a Marlins rotation depleted by injuries, was slated to start Tuesday night but instead was pushed back to Wednesday's opener. That means if Miami wants him on the mound again for the regular-season finale Sunday in Pittsburgh, it would need to be on short rest.
"It's tough for me to say — I've never been in this position before. But it's something we can talk about," Garrett said after throwing 77 pitches over four innings during an 11-2 loss Wednesday. "I'm sure they'd want to know how I feel going forward. But yeah, we'll talk about it for sure."
Schumaker called the entire ordeal "a giant mess up" but took the high road, saying he hoped perhaps his rested players might benefit from the unexpected night off.
"First of all, Major League Baseball did an outstanding job of trying to get the game in. They really did. They did everything they could to help get the game in — as well as Buck," Schumaker said. "Buck was great in trying to do whatever they could.
"The reality is, the tarp wasn't on over the weekend and this is what happens. And weather is — we couldn't play yesterday. That's just what it is. We tried, and the last thing you want to do is keep the guys here until midnight and then not play. So, I think they made the right decision of getting guys back home at a decent time and being ready to go today early."
The sun peeked out Wednesday and the first game of the single-admission doubleheader began on time at 4:10 p.m. under partly cloudy blue skies. Some spots on the infield still looked a little wetter than usual, but Schumaker said the field was definitely in much better condition.
"You try to take as much positive as you can out of it. We're lucky to be in this position. And hopefully the complaining and all that frustration is over with," he said.
Showalter defended the Mets' grounds crew, noting that if a tarp remains on a field too long it can prevent grass from growing.
"There's nothing you can do. When it rains, I mean, what are you gonna do?" Showalter said. "Nobody wants to play a doubleheader — including us.
"It's nothing on our part. I mean, everybody wanted to play. It just wasn't there. We tried to play it. We tried to wait as long as we could to try to make it playable. … You understand their frustration, but we'll be on to something else in 24 hours. But there's a lot more to it, before everybody started weighing in on it. But it's nothing cloak and dagger, it's just the way it is. When it rains for (four) straight days, things happen."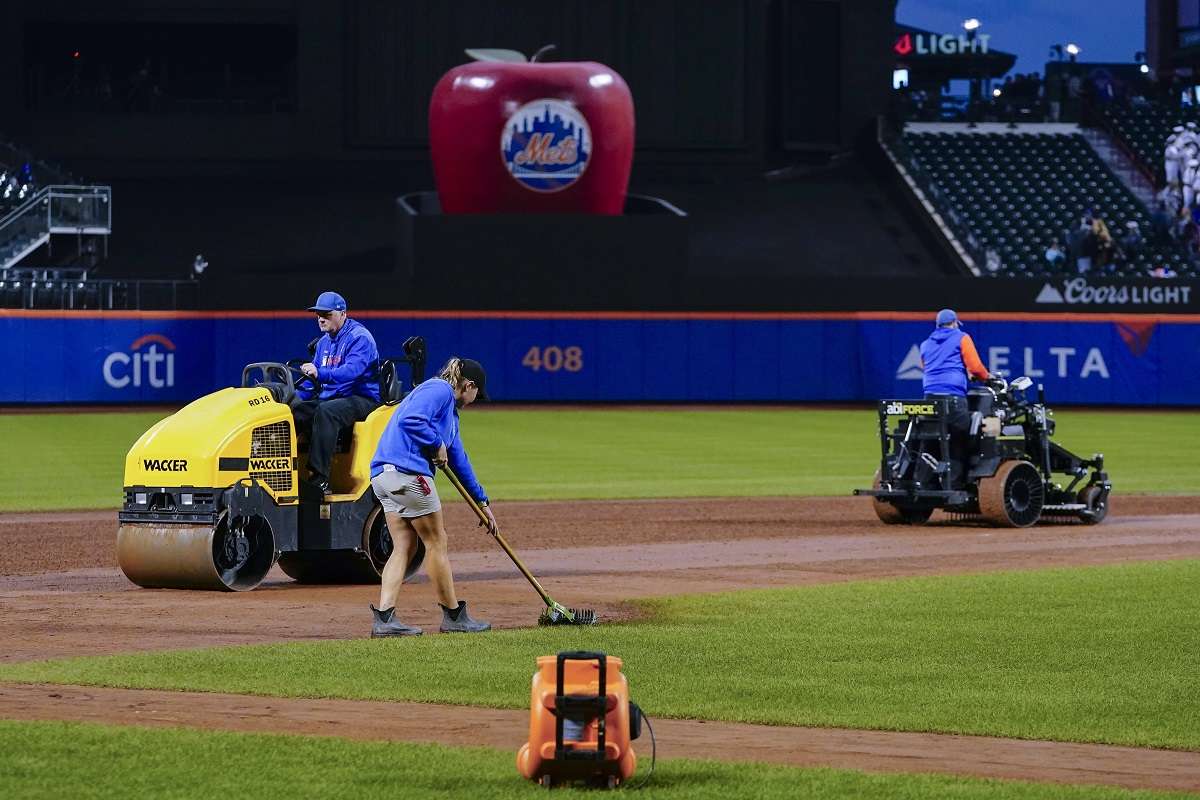 Add TheJapanNews to your Google News feed.