Japan's Hanshin Tigers Fans Savor Long-Desired 'You Know What' After 18 Years of Waiting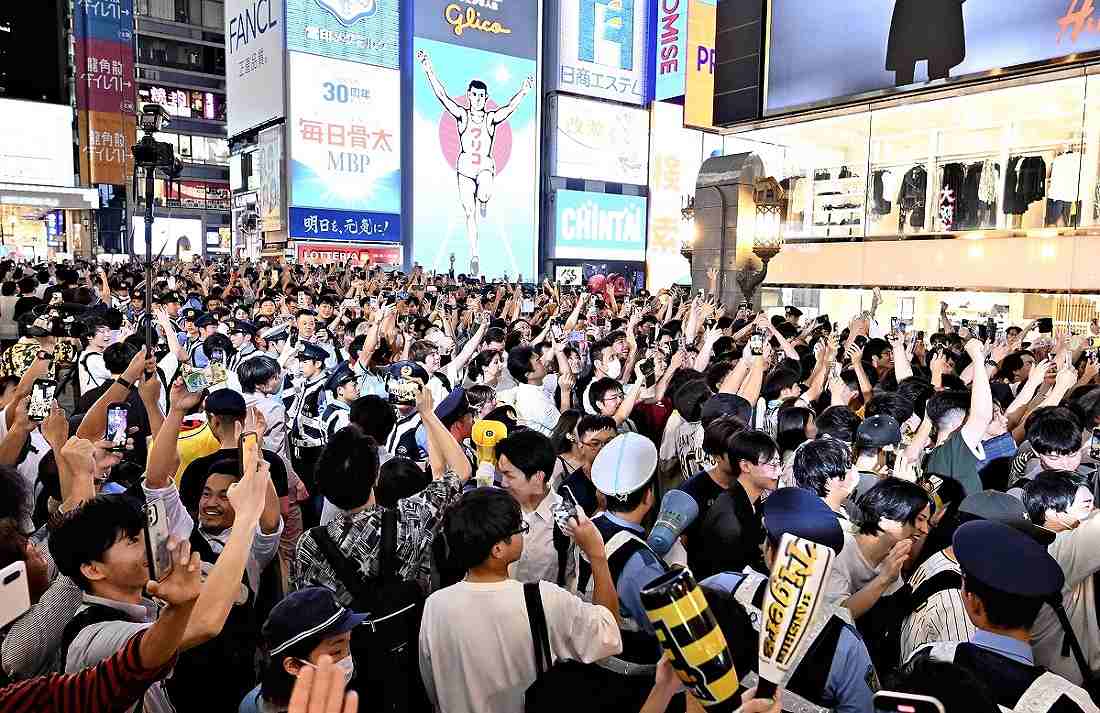 17:44 JST, September 15, 2023
The long-desired "you know what" has become reality for the Hanshin Tigers.
The long-suffering team clinched the Central League pennant for the first time in 18 years at their home ground of Koshien Stadium in Nishinomiya, Hyogo Prefecture, on Thursday, by defeating the Yomiuri Giants 4-3.
Tigers players poured out of the home dugout along the first base line and sprinted over to celebrate with relief pitcher Suguru Iwazaki on the mound. The players then tossed manager Akinobu Okada in the air six times, one more time than after Hanshin's last pennant in 2005.
Cheers from the vast majority of the 42,648 spectators reverberated around the stadium. Crowds in the Kansai region excited about the Tigers' title flocked to bustling shopping and entertainment districts, where the party atmosphere lasted long into the night.
Since being appointed last autumn for his second stint as Hanshin manager, Okada has refused to utter the word "yusho" (championship) and instead has referred to it as "are" (pronounced ah-ray, to refer to something without naming it). Okada, who previously managed the Tigers from 2004 to 2008, started doing this when he was at the helm of the Orix Buffaloes in 2010.
The Tigers employed "are" for its 2023 team slogan, "visualizing" the expression into A.R.E., for Aim! Respect! Empower!
In the right field stands, a 55-year-old man was in tears after the final out. Hailing from Amagasaki nearby in the prefecture, he said he was also in the stands when the Tigers won the league pennant in 1985, 2003 and 2005.
"Watching the manager get tossed in the air for the first time in 18 years feels even more special," he said. "This is the fourth celebratory toss I've seen, but this is the first time I've cried."
In Osaka's Minami district, a heavy police presence was visible to maintain security around the Ebisu Bridge over the Dotonbori River. The area is known as a place Tigers fans have flocked to after previous triumphs, with some people even having leaped into the river from the bridge in celebration.
Shouts of joy rang out from the crowd after Hanshin won and some people sang the Tigers' fight song "Rokko Oroshi." Others jumped up and down in delight. Osaka Prefectural Police had temporarily closed off the Ebisu Bridge, so 26 people jumped into the Dotonbori from the promenades near the bridge.
Add TheJapanNews to your Google News feed.