Orix's Yamamoto Fires NPB's 100th No-Hitter; 1st in Back-to-Back Years in 2-League Era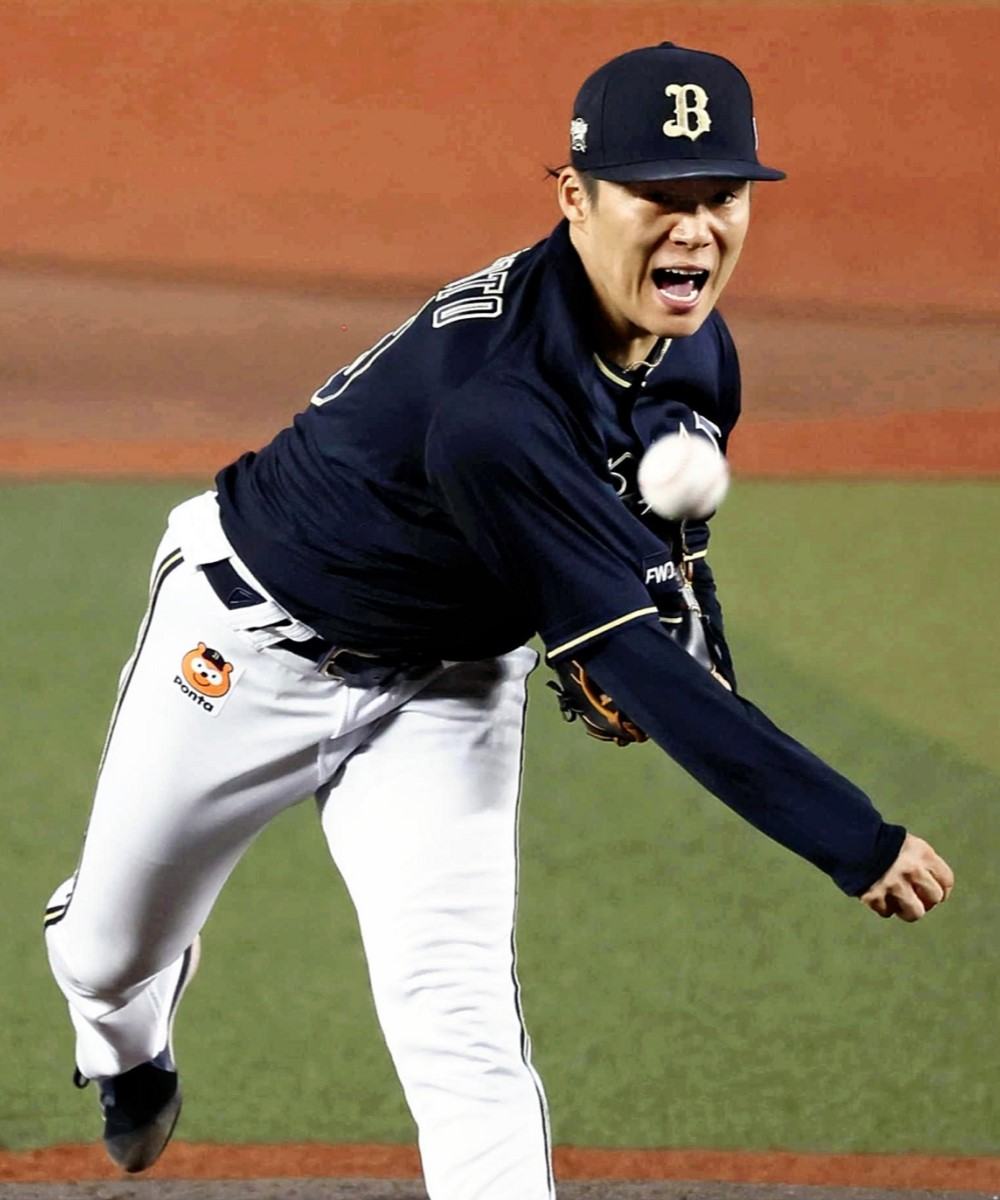 16:40 JST, September 10, 2023
Orix Buffaloes ace Yoshinobu Yamamoto fired a milestone no-hitter at Zozo Marine Stadium on Saturday, giving Nippon Professional Baseball its 100th regular-season no-no on a historic night.
Yamamoto (14-5), who tossed his first no-hitter against the Saitama Seibu Lions on June 18 last year, became the first pitcher in the two-league era to throw no-hitters in back-to-back seasons, beating the Chiba Lotte Marines 4-0.
Yamamoto joins the legendary Eiji Sawamura of the Yomiuri Giants, who did it in 1937, and the 1941 accomplishment of Tadashi Kameda of Kurowashi with no-nos in consecutive seasons.
Yamamoto, 25, faced 29 hitters, collecting 13 groundouts with six flyouts and eight strikeouts, while walking one and hitting a batter on 102 pitches.
The seventh-year hurler also became the frontrunner to win a second consecutive Sawamura Award.
Yamamoto, using a new pitching form in which his left foot appears to slip when he plants, didn't pay much attention to those questioning his change in form, and was confident about the direction of his pitching style.
The reason? "So I didn't waver and could keep my aim high," Yamamoto said.
He has come into his own with his new pitching form. He stayed in good rhythm, throwing a fastball in the high 150-kph range, a hard forkball featuring a huge drop and mixed in a big-breaking curve to set down Marines hitters.
The right-hander was perfect through five innings but walked Hisanori Yasuda on four pitches to open the sixth. The infielders gathered at the mound after that, drawing a laugh from Yamamoto.
The pitcher said Yutaro Sugimoto, who had opened the scoring with a three-run home run in the fourth inning, had told him, "Don't be out there thinking about a perfect game."
Joked Yamamoto: "That's what caused the walk."
But after the free pass, Yamamoto seemed to pitch even better. In the eighth inning, he got Koki Yamaguchi looking on a 156 kph fastball. Katsuya Kakunaka and Yasuda then both swung and missed forkballs.
When Yamamoto closed out the no-no in the final frame, he raised both arms high into the air.
"I had good tempo and command. It's just a result of doing my best to try and keep the lead. My heart was pounding until the final out. I can relax now, though."
Behind their ace, the Buffaloes are headed for a third consecutive Pacific League title.
Add TheJapanNews to your Google News feed.