Angels' Shohei Ohtani Batting as Designated Hitter vs Mets after Tearing Elbow Ligament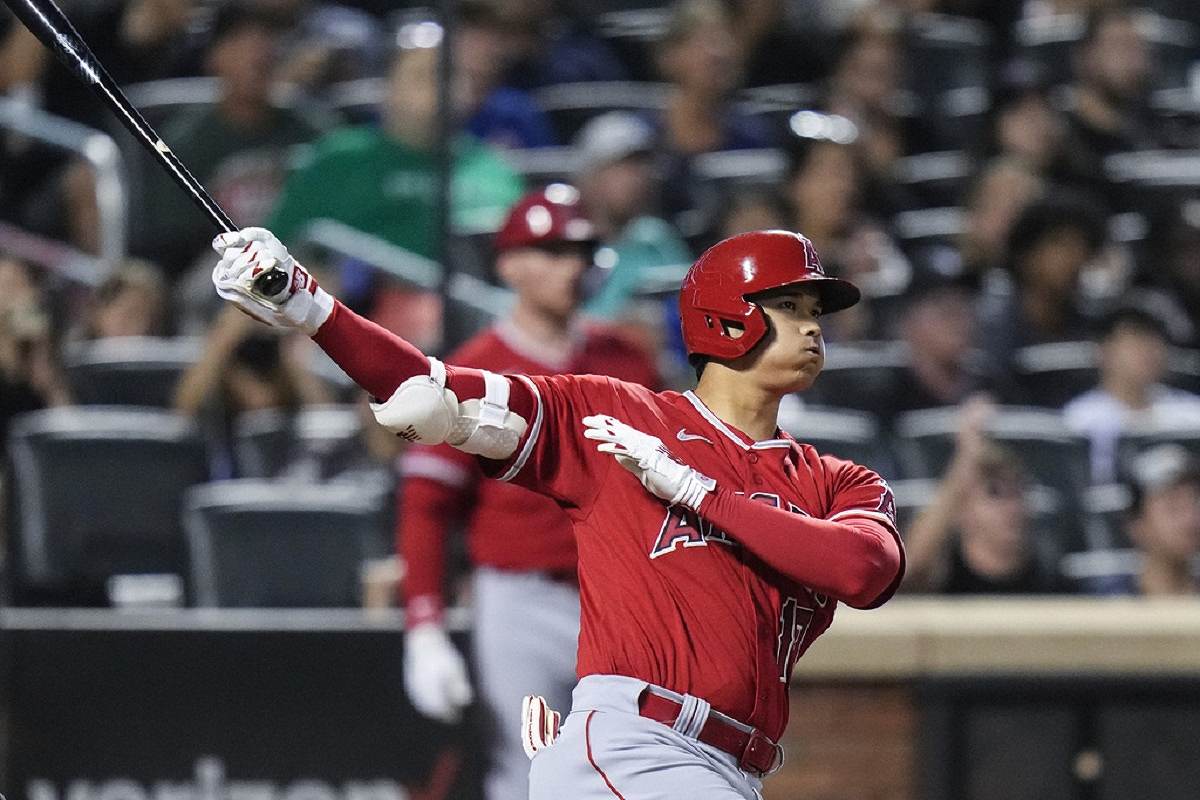 11:38 JST, August 26, 2023
NEW YORK (AP) — Shohei Ohtani's right elbow was fine until he tore his ulnar collateral ligament with a 94 mph fastball to Cincinnati's Christian Encarnacion-Strand on Wednesday, according to Los Angeles Angels manager Phil Nevin.
Baseball's two-way superstar was back in the Angels' lineup as a designated hitter Friday night against the New York Mets, two days after the injury ended his season as a pitcher and clouded his future months before he can become a free agent.
He hit a 115.4 mph double that one-hopped the right-field wall against countryman Kodai Senga, keying a two-run third inning. Ohtani also walked three times and grounded out in the Angels' 3-1 win.
He received huge cheers from the crowd on Japanese Heritage Night when he walked to the plate in the first inning and tipped his helmet twice in response.
Mets manager Buck Showalter was booed by fans for ordering an intentional walk to Ohtani with runners at the corners and two outs in the ninth.
Ohtani hasn't spoken with media since the injury, and it remains unclear whether he will have a second Tommy John surgery. The Angels have said he plans to seek a second opinion before deciding.
"Him and his representation are going to come up with a plan," general manager Perry Minasian said. "But as we sit here today, he's going to play until he tells us he's not."
Ohtani's fastball averaged 93.1 mph against the Reds, down from a season average of 96.8 mph, according to FanGraphs. His sweeper dropped 4 mph and his curveball 5.7 mph, an indication something was wrong. Ohtani had skipped his previous turn in the rotation, citing arm fatigue, and was pitching for the first time since Aug. 9.
"He threw a pitch and looked in the dugout, and it's his look that I haven't gotten before. So I grabbed the trainer and we went out to the mound," Nevin said. "He didn't say he had pain at the time, either, just knew that something wasn't right. And when we came in, he kind of let us know that he was feeling some issues in a certain spot, which he had never done before."
Ohtani was 10-5 with a 3.14 ERA in 23 starts and 162 strikeouts in 132 innings to go along with a .304 batting average, a major league-leading 44 home runs and 91 RBIs,
Ohtani was hurt on his 26th pitch of the outing, his 2,088th of the season, his 6,824th since Tommy John surgery and the 7,677th of his big league career.
"People want to speculate all they want," Nevin said. "He just felt what he called fatigue, a little tired. But when he got through a week after missing the start, he felt great all week. He threw great bullpens, and he just went amiss there in the second inning."
Now 29, Ohtani had Tommy John surgery on Oct. 1, 2018, performed by Los Angeles Dodgers head team physician Dr. Neal ElAttrache. Ohtani was voted AL Rookie of the Year after hitting .285 with 22 homers and 61 RBIs while going 4-2 with a 3.31 ERA in 10 starts. He pitched just once after June 6.
He was exclusively a hitter in 2019 while recuperating but returned to the mound for two starts in 2020 before straining his right forearm. He put it all together in 2021, winning AL MVP in a unanimous vote and finishing second to Aaron Judge last year while also placing fourth in AL Cy Young Award voting.
Ohtani insisted on playing the second game of Wednesday's doubleheader even though he had been told of the UCL tear.
"You wouldn't know. He's got a smile on his face. He's hanging out with his teammates," Nevin said. "He likes playing baseball. He wants to be out here with his teammates. He wants to be out here in front of the fans. And I think it's just a testament to him and who he is and what he's meant to not only our team in this clubhouse, to myself, to this game."
Ohtani is eligible for free agency after the season and was in line for a record contract, perhaps $500 million or more. Star teammate Mike Trout predicted Ohtani will remain a two-way player.
"There's no doubt in my mind," he said.
Trout, a three-time AL MVP, went back on the injured list because of his fractured left hamate bone in a move retroactive to Wednesday. He was 1 for 4 on Tuesday after missing 38 games.
"I wasn't right. I was in some pain, more than tolerable," he said. "I felt I could push it, just to get back out there and just came in the next day really, really sore."
Trout felt pain while batting.
"They weren't my A swings," he said. "Once I started fouling some pitches off, it wasn't really an at-bat for me. It was more of: Man, my hand really hurts. But I was just trying to get through it and probably shouldn't have."
Trout is convinced he will return before the end of the season.
"Just going to make sure it's completely healed before I go out there," he said.
Los Angeles placed catcher Matt Thaiss on the injured list retroactive to Thursday with right shoulder inflammation, selected the contract of catcher Chad Wallach from Triple-A Salt Lake, recalled outfielder Trey Cabbage from the Bees and activated right-hander Chris Devenski from the injured list and designated him for assignment.
Thaiss said he jammed the shoulder during last Saturday's doubleheader against Tampa Bay while sliding into third base.
"It's just not feeling right today," he said.
Add TheJapanNews to your Google News feed.