Shohei Ohtani, Choosing to Play on Even after Learning of His Torn Ligament between Games; Reds Beat Angels 7-3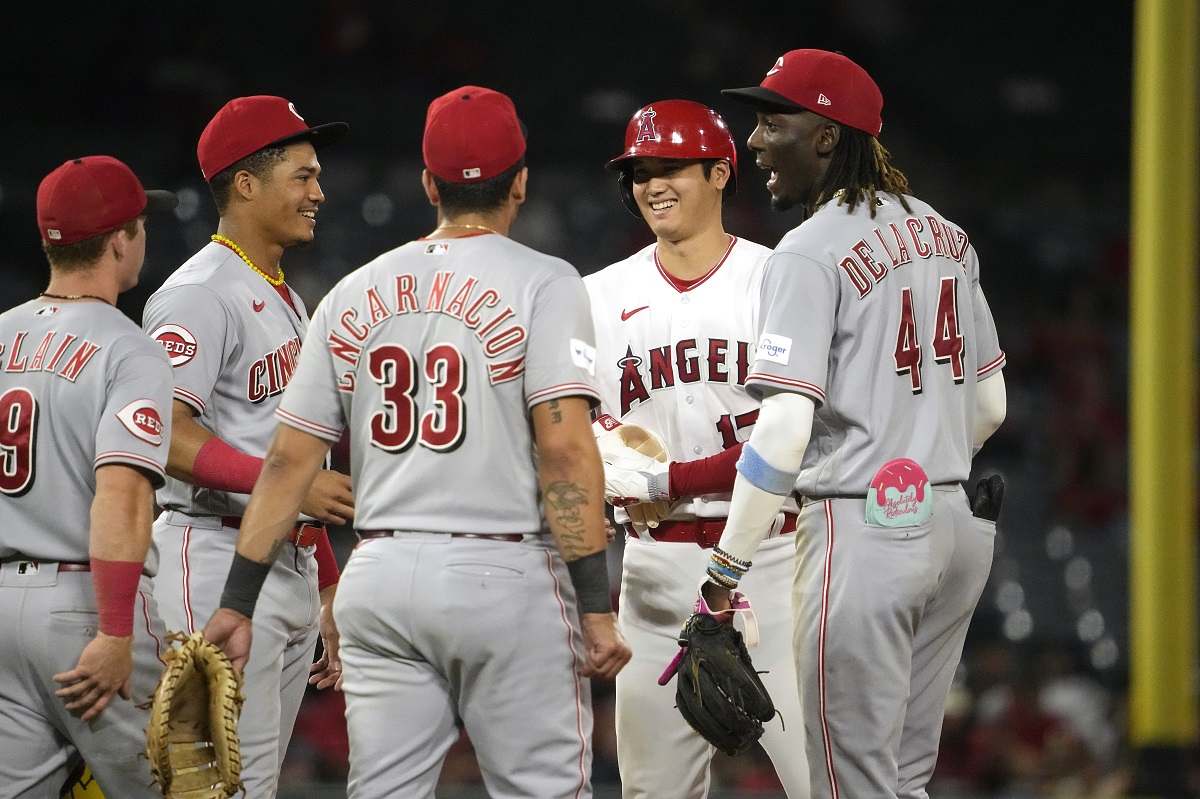 15:57 JST, August 24, 2023
ANAHEIM, Calif. (AP) — Shohei Ohtani abruptly left the mound in the second with a torn ligament after hitting his major league-leading 44th homer in the first inning during the Los Angeles Angels' 9-4 loss to the Cincinnati Reds on Wednesday in the first game of a doubleheader.
Ohtani won't pitch for the rest of the season because of the tear in his elbow ligament, Angels GM Perry Minasian announced after the second game. The team doesn't yet know whether he will need surgery.
The Angels got a double blow of terrible injury news: Three-time AL MVP Mike Trout is going back on the injured list for at least 10 days to aid his recovery from surgery on a broken bone in his hand, Minasian said. Trout returned to the Angels' lineup Tuesday after a seven-week absence, but he didn't play in the doubleheader after waking up sore.
Ohtani doubled and scored as Los Angeles' designated hitter in the nightcap, choosing to play on even after learning of his torn ligament between games. Ohtani had Tommy John surgery after his AL Rookie of the Year season in 2018.
Orange County native Matt McLain homered and drove in three runs as the Reds won the nightcap 7-3, sweeping a three-game series with the Angels for the first time.
Elly De La Cruz had a career-high six RBIs with a three-run homer and a three-run triple in the opener for Cincinnati. Tyler Stephenson hit a two-run homer in the second game.
In the opener, Ohtani faced six batters and threw 26 pitches before he departed with a 2-2 count on Christian Encarnacion-Strand. Ohtani skipped his previous turn in the Angels' rotation to rest his arm, and he has now left five starts early this summer with injuries including finger blisters, a cracked fingernail and hand cramping.
Before the tear was revealed, Angels manager Phil Nevin said Ohtani's pitching arm "just didn't feel right."
"He told me he didn't feel any pain," Nevin said. "It was just more of the same thing he's been feeling for the last couple of weeks."
The two-way superstar homered and pitched in the same game for the seventh time this season, with his two-run shot moving him past Atlanta's Matt Olson to reclaim the MLB lead.
Ohtani has missed only two games all season, none since May 2.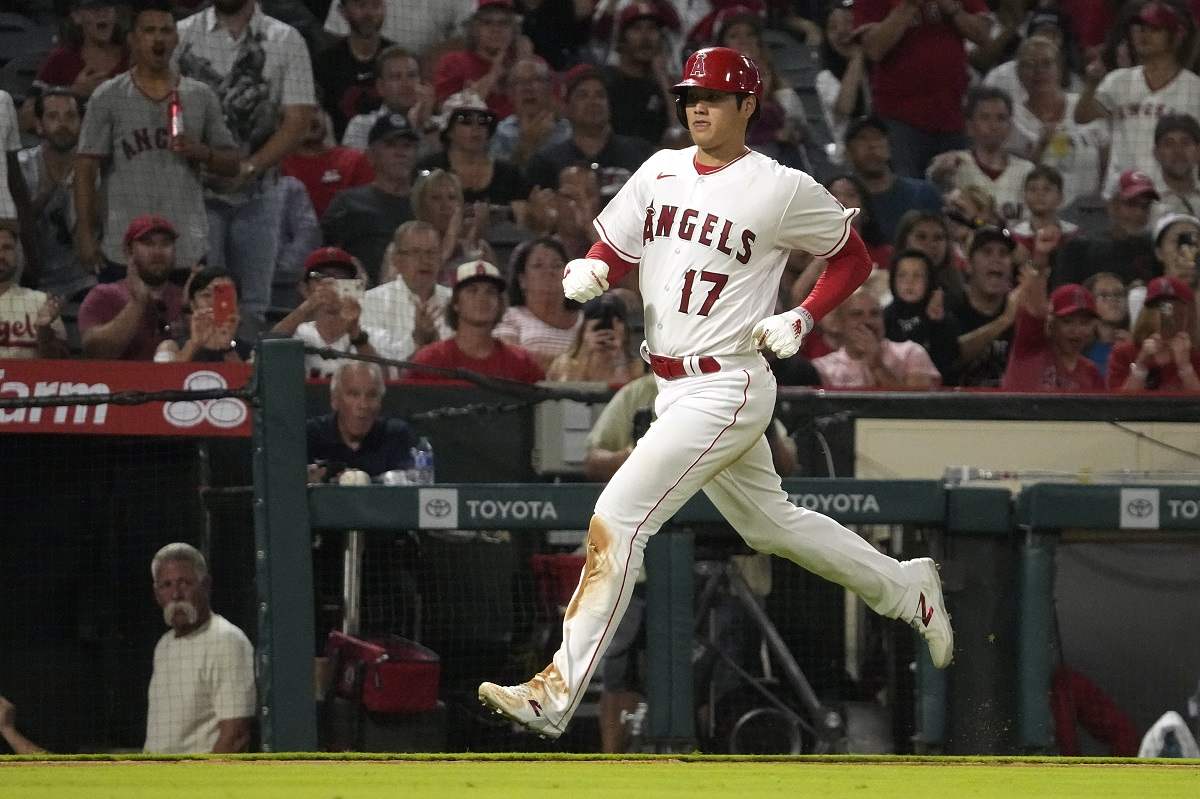 Rookie Nolan Schanuel, the first player from the 2023 draft class to reach the majors, reached base seven straight times and eight times in nine plate appearances in the doubleheader after pinch-hitting for Ohtani in the third inning of the opener.
Luis Rengifo had a two-run single in the second game for the Angels, whose dreams of ending their eight-year playoff drought are all but dead. Los Angeles has lost four straight and 16 of 21 since the trade deadline, when the Halos elected not to move Ohtani and made several acquisitions.
De La Cruz struck out three times in the opener, but the Reds' sensational 21-year-old rookie shortstop also came up with two huge hits.
De La Cruz hit his 11th homer in the fifth, connecting three pitches after Angels shortstop Andrew Velazquez got an error for short-hopping a throw to first on what should have been an inning-ending grounder. Los Angeles also lost Tuesday's game because Cincinnati scored three unearned runs after Schanuel botched De La Cruz's grounder that should've ended the inning.
"At any point, a game-changing play or an at-bat or a baserunning play, there's so many ways he's contributing and helping us win games," Reds manager David Bell said. "Today it was with the bat, for sure."
De La Cruz then cleared the bases in the seventh with a triple off Dominic Leone. After driving in only seven previous runs in all of August, De La Cruz became the first Reds batter with at least six RBIs in a game since Colin Moran did it in May 2022.
Buck Farmer (4-5) threw 1 2/3 innings of scoreless relief for Cincinnati in the opener. Tyler Anderson (5-5) relieved Ohtani and allowed just one earned run over 4 2/3 innings for the Angels.
Lyon Richardson pitched four-hit ball into the fifth inning of his second start for Cincinnati, improving markedly on an Aug. 6 debut in which the Nationals hit his first two major league pitches for homers. Lucas Sims (4-3) got the win.
Reid Detmers (3-10) yielded seven hits and four runs over five innings in the nightcap.
BROTHERLY LOVE
Long Beach native Spencer Steer had four hits and drove in three runs for Cincinnati in the doubleheader against his favorite childhood team. Steer also caught the ceremonial first pitch for the nightcap from his older brother, Connor, who works for the Angels.
ALWAYS ON BASE
Schanuel reached base four times in the opener and four more times in the nightcap, getting his first career RBI on a second-inning single before scoring in the fifth. He also has a hit in each of his first six major league games.
Add TheJapanNews to your Google News feed.