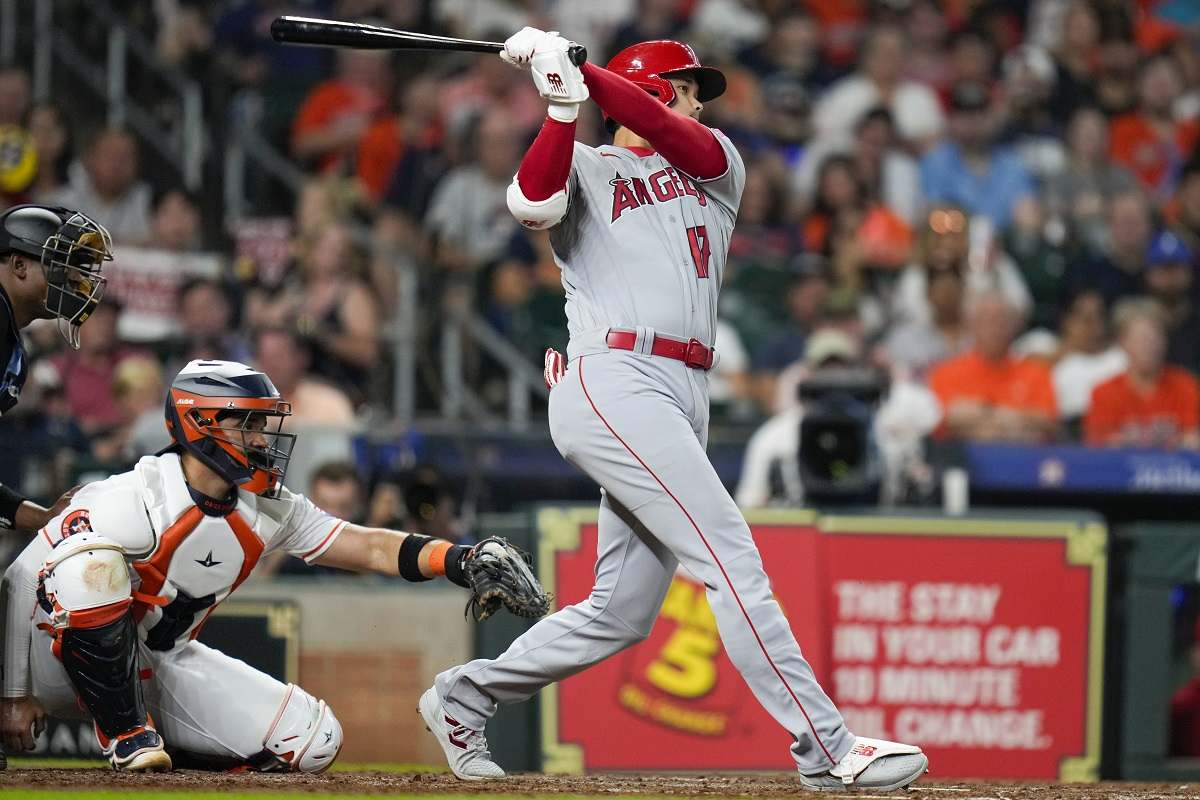 15:34 JST, August 13, 2023
HOUSTON (AP) — Kyle Tucker hit a three-run homer and RBI single to lead the Houston Astros to another 11-3 win over the Los Angeles Angels on Saturday night.
It's Houston's fifth win in six games and second straight rout of the Angels after an 11-3 victory in Friday's opener.
"The last couple of days our offense has really come alive, or really the last week," manager Dusty Baker said.
The Astros were up by one in the fourth when Tucker connected off Tyler Anderson (5-4) on a three-run shot that made it 4-0. It was his third home run in the last five games, with the first one in that stretch coming on a ninth-inning grand slam in a 7-6 win over Baltimore on Tuesday night.
Tucker, who has 22 home runs, added an RBI single in the fifth to give him 88 RBIs this season, which ranks second in the American League.
"We put a lot of good at-bats and we were able to capitalize on a lot of our opportunities and put up some runs the last couple of days," Tucker said. "Even in Baltimore, when we were down, we were able to come back and put together good at-bats and just kind of grind through it. So I think that's just the kind of team that we have and offense that we have, we just kind of grind through and always have an opportunity to win."
J.P. France (9-3) allowed four hits and two runs with five strikeouts in his return to the rotation after pitching in relief his last time out.
Anderson yielded six hits and seven runs while walking three in 4 2/3 innings.
"They're good," Angels manager Phil Nevin said. "They've certainly had our number. Absolutely. It's no fun coming into one place and getting beat, but we've got a big one tomorrow. The last time we were here (in June) we got it handed to us the first few days and came out and played a good ballgame and won 2-1 on Sunday."
Jose Altuve, who has a 14-game hitting streak, had three hits and drove in a run to pad the lead in a four-run eighth inning.
Altuve got things going with a leadoff single, but Houston didn't have another baserunner until he walked to start the fourth inning. Alex Bregman followed with a double before the Astros took a 1-0 lead on an RBI single by Yordan Alvarez.
Tucker then sent Anderson's next pitch deep into the seats in right field.
Altuve raved about Tucker's season.
"I know Shohei (Ohtani) is having a crazy season, MVP-type of season, but Tucker is having a great, great year and he should be in there with the MVP (conversation)," Altuve said. "It's amazing the way he plays."
The Angels had just one hit when Hunter Renfroe singled with one out in the fifth. There were two outs in the inning when Randal Grichuk singled on a ground ball to right field to score Renfroe and cut the lead to 4-1.
There were two outs in the bottom of the inning when Altuve doubled. Anderson then walked Bregman and Alvarez to load the bases.
Tucker singled on a line drive to left field to score Altuve and chase Anderson. Dominic Leone took over and he was greeted with a single by Yainer Diaz that sent two more home to push the lead to 7-1.
Ohtani doubled to start the sixth and moved to third on a groundout by Brandon Drury. The Angels got within 7-2 when Ohtani scored on a sacrifice fly by Mike Moustakas.
Left fielder Chas McCormick robbed Ohtani of extra bases with he made a leaping catch just in front of the wall for the third out in the eighth inning.
Andrew Velazquez hit a solo homer for Los Angeles in the ninth.
Add TheJapanNews to your Google News feed.