Shohei Ohtani Throws 1st MLB Shutout, Hits 2 HRs as Angels Sweep Tigers in DH Team Says He's Staying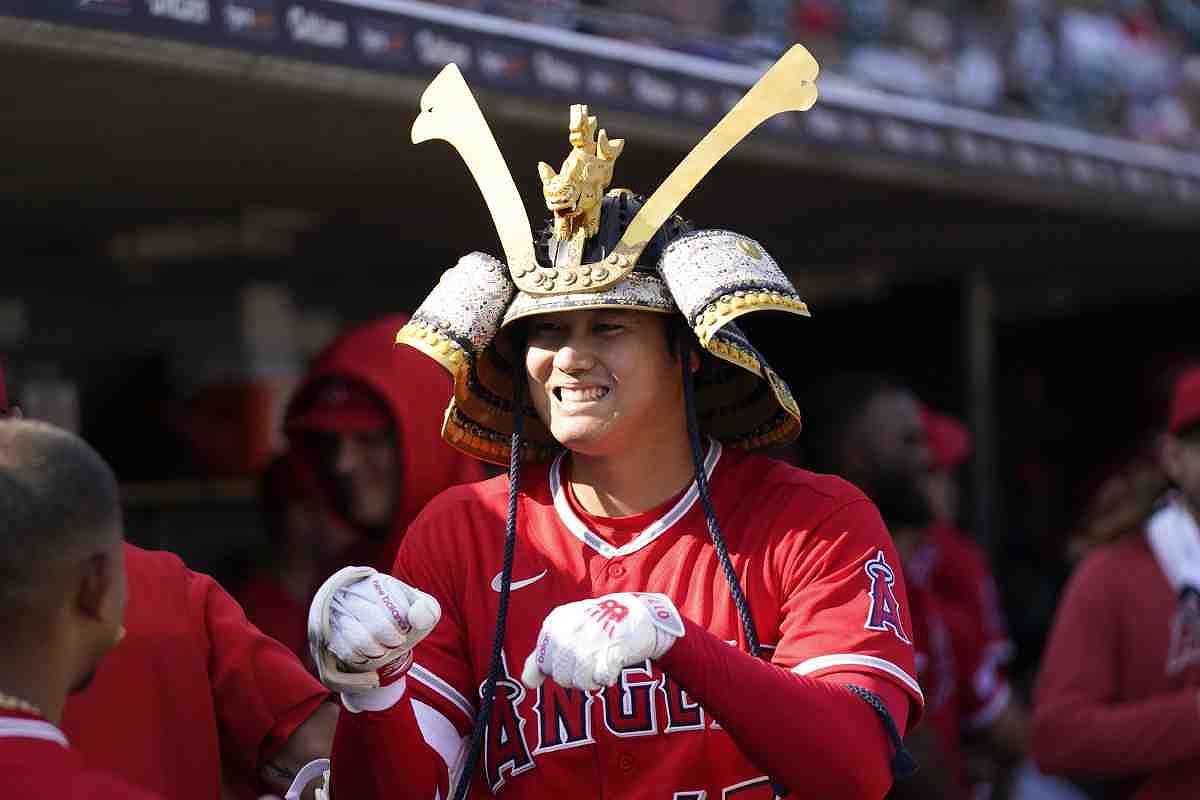 8:52 JST, July 28, 2023
DETROIT (AP) — Shohei Ohtani threw his first shutout in Major League Baseball in one game and hit two homers in the next, helping the Los Angeles Angels beat the Detroit Tigers twice on Thursday to sweep a three-game series.
Ohtani, though, gave the team a scare when he left the second game of the doubleheader due to cramps that led to him grimacing after hitting his 38th homer in the fourth inning.
He had a one-hitter and struck out eight as the Angels beat Detroit 6-0 in the first game and then cleared the fences twice in an 11-4 victory for the surging team's ninth win in 11 games.
Ohtani (9-5) did not allow a baserunner until the fifth inning of his start and walked three batters on the same day the Angels confirmed they're not trading him.
The two-way superstar, who will be a free agent after the season, didn't budge on his approach to avoid talking about next year despite the recent developments.
In season, I don't really like to think about the long-term stuff, just focus on the season and every game that's in front of me, Ohtani said through a translator after the first game. "Obviously, I've been with the Angels my whole career here, and I love the fans. I love the team, no complaints."
The hard-throwing righty with wicked off-speed pitches threw 111 pitches, 71 for strikes.
I got to save the bullpen, said Ohtani, who had previously finished eight innings five times.
Michael Lorenzen (5-7) gave up three runs on five hits while walking one and striking out seven over five innings in what might have been his final start with the franchise.
The 31-year-old Lorenzen signed a one-year deal with the rebuilding Tigers, who are likely hoping they can acquire assets for a pitcher with experience as a starter and reliever before the trade deadline Tuesday.
The Angels, aiming for their first playoff appearance since 2014, sent a message to their players and fans that they're in a win-now mode with a significant trade that essentially confirmed Ohtani is staying at least through the season.
The Ohtani-led pitching staff was bolstered Wednesday night when the Angels acquired right-handers Lucas Giolito and Reynaldo López from the Chicago White Sox.
This team deserves a chance to win, Angels general manager Perry Minasian said. "To acquire two pitchers, we think that really helps."
While Ohtani went 0 for 5 at the plate and struck out twice in the first game, his teammates provided plenty of offense. Trey Cabbage's sacrifice fly in the second inning was his first of three RBIs and Taylor Ward hit two homers.
Ohtani kept Detroit off balance, blowing fastballs that neared 100 mph past them and leaving them flailing at sliders and splitters.
In the second game, the right-handed hitter sent a two-run homer to left in a five-run second inning. Ohtani and Eduardo Escobar hit solo shots in the fourth. Hunter Renfroe added another homer in the sixth to help the Angels pull away.
Patrick Sandoval (6-7) gave up two runs in five innings for the win in the second game and Matt Manning (3-2) took the loss after allowing seven runs over five innings.
MOVING ON
The Angels designated 2021 All-Star slugger Jared Walsh for assignment. Walsh hit .119 with one homer and five RBIs in 28 games this season as he has struggled with headaches and insomnia, coming off an injury-stunted 2022.
SLUMPS & STREAKS
Angels catcher Chad Wallach ended an 0-for-38 drought with a single in the seventh.
In the dugout, it was a good eruption when he got that hit, manager Nevin said.
Mickey Moniak extended his career-best hitting streak to 16 games with a double in the first inning of the second game.
UP NEXT
Giolito (6-6, 3.79) is expected to make his Angels debut Friday night against Toronto, where the Blue Jays plan to start RHP Kevin Gausman (7-5, 3.18) in the first game of the series.
I'm ready to be a part of this pennant race in the AL West, Giolito said.
Detroit travels to Miami, where Tigers RHP Reese Olson (1-4, 4.53) and Marlins LHP Braxton Garrett (5-3, 4.32) are the probable pitchers on Friday night.
Add TheJapanNews to your Google News feed.