The Angels said they won't trade Shohei Ohtani, and he celebrated by throwing a 1-hitter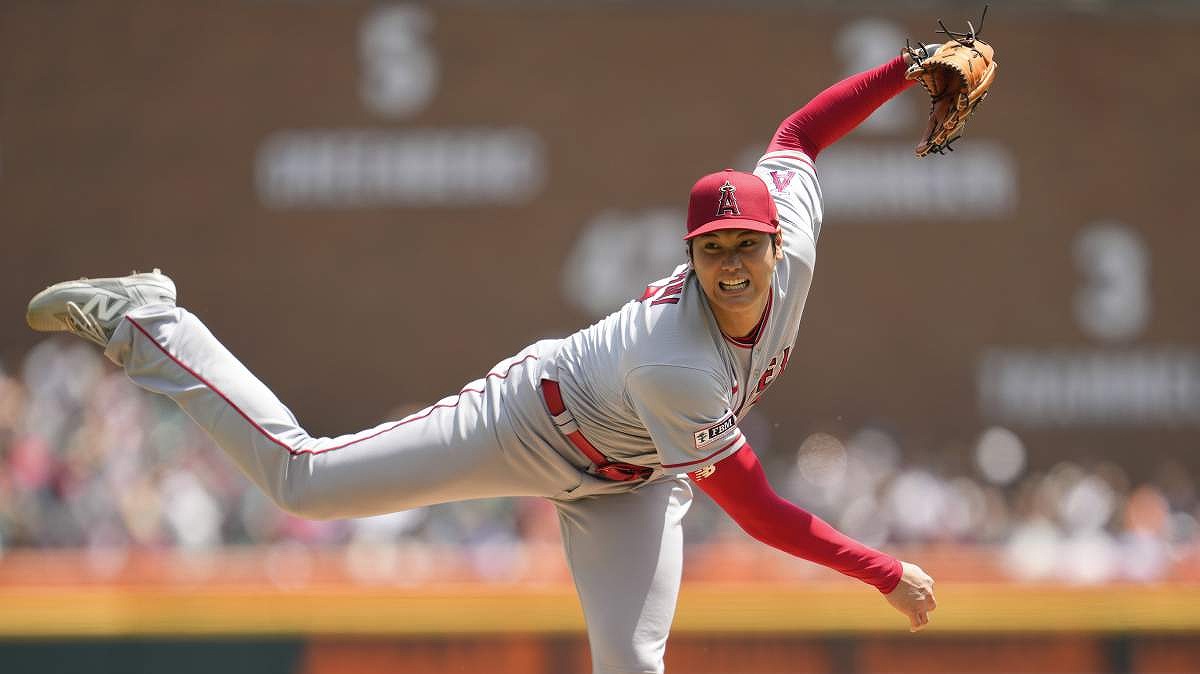 5:47 JST, July 28, 2023
DETROIT (AP) — Shohei Ohtani is staying with the Los Angeles Angels, at least for the rest of the season.
The Angels said they have decided not to deal the two-way superstar, a morning after making a significant move that signaled they're in win-now mode.
It was welcome news in the Angels' clubhouse, and Ohtani celebrated with a gem — he pitched the first complete game of his Major League Baseball career Thursday, spinning a one-hitter in a 6-0 victory over the Detroit Tigers.
"We're going to roll the dice and see what happens," Angels general manager Perry Minasian told reporters in Detroit before a doubleheader against the Tigers, just days before MLB's trade deadline.
Ohtani will be a free agent this winter. Even though the franchise risks losing the 29-year-old slugger and starting pitcher on the open market — there's speculation he could fetch $500-600 million — it is motivated to make its first playoff appearance in his six major league seasons.
"I love Shohei Ohtani," Minasian said. "He comes in, prepares, works, goes out and performs on a nightly basis. Obviously, does both (hitting and pitching). He's a great teammate. He takes this really seriously. He eats it. He sleeps it.
"He's somebody that we would love to have going forward."
The 2021 AL MVP leads the majors in homers and OPS at the plate and is among the leaders in opponent batting average and strikeouts on the mound.
"He's doing the impossible," Tigers manager A.J. Hinch said. "We're playing against a generational talent."
Aiming to bolster their chances of earninng a spot in the postseason for the first time since 2014, the Angels acquired right-handers Lucas Giolito and Reynaldo López from the Chicago White Sox on Wednesday night. Giolito is expected to make his Angels debut Friday night against Toronto.
The franchise is desperately hoping to get rid of its reputation for wasting the talents of MVPs Mike Trout and Ohtani. Owner Arte Moreno's club has the majors' longest streaks of consecutive losing seasons (seven) and consecutive non-playoff seasons (eight, tied with Detroit).
And as long as the Angels can keep Ohtani on the team, they plan to do just that.
"I never went up to Shohei and said, `Hey, we're not trading you,'" Minasian said. "Think I made it pretty clear the last time we talked, I think, that he wasn't going anywhere. I don't know if anybody believed me."
The Angels also made another decision, designating 2021 All-Star slugger Jared Walsh for assignment. Walsh hit .119 with one homer and five RBIs in 28 games this season, coming off an injury-stunted 2022. He's been struggling with headaches and insomnia this year.
"Gone through some hard times, and he's trying to find it back," manager Phil Nevin said. "I know he'll keep working. I hope he remains with us because I know when he gets on top of his game, we're a better team with him."
Add TheJapanNews to your Google News feed.