Masataka Yoshida Hit a Two-Run Homer and Red Sox Overcome Triple Play in 7-1 Victory over Major League-Leadin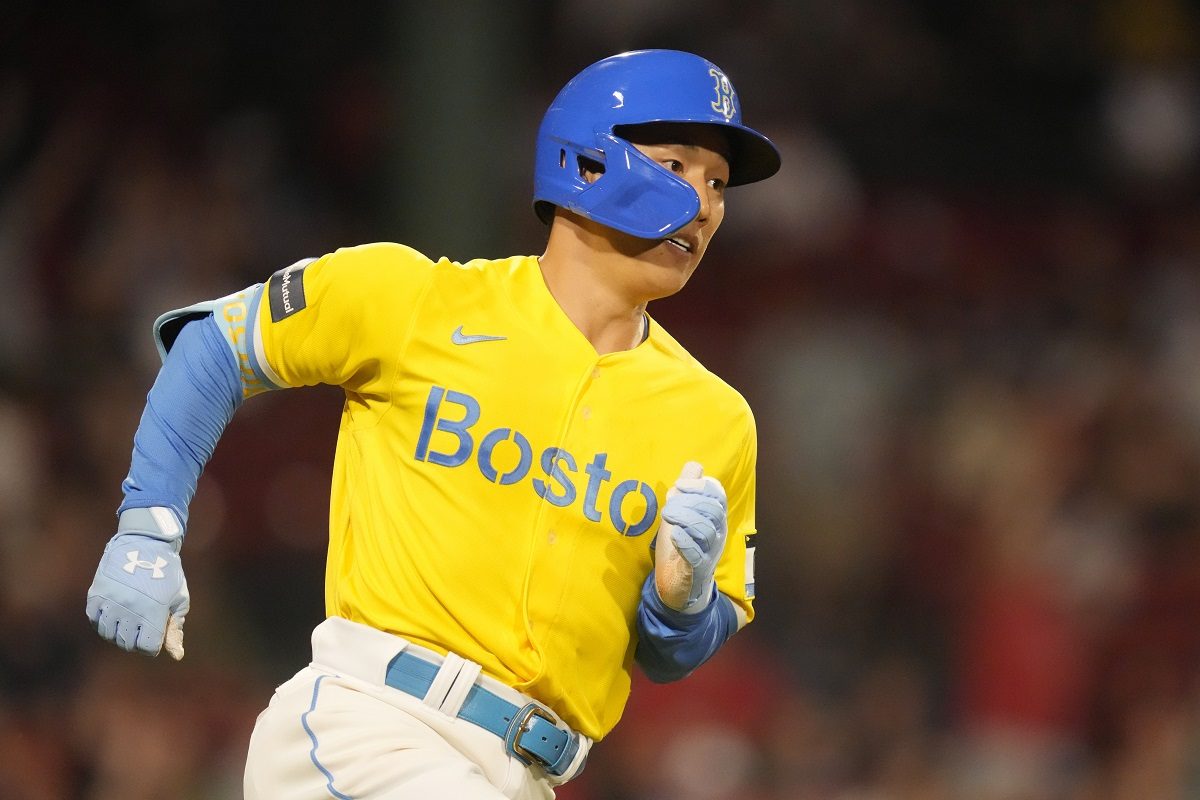 13:55 JST, July 26, 2023
BOSTON (AP) — Nick Pivetta pitched five scoreless innings of relief, Masataka Yoshida hit a two-run homer and the Boston Red Sox overcame a triple play to beat the Atlanta Braves 7-1 on Tuesday night in a game delayed 1 hour, 40 minutes by rain and lightning.
Yoshida's two-run shot to right in the eighth was his third hit of the night, and eight Boston hitters finished with at least a hit in the Red Sox's third straight win. Rafael Devers had a pair of singles and drove in his 75th run of the season for the Red Sox, who took a 2-1 lead in the bottom of the first and never trailed the major league-leading Braves the rest of the way.
Pivetta (7-5) took over for opener John Schreiber in the second and allowed only three hits in five innings, striking out five. Atlanta was 1 for 8 with runners in scoring position and left 10 on base.
Sean Murphy drove in Atlanta's only run with an RBI single in the first.
The 7:10 p.m. start time was pushed back to 8:50 p.m. because of heavy rain and some lightning in the area. After the delay, Atlanta's Charlie Morton struggled through an 80-pitch night that ended in the fourth inning, when Yu Chang reached on a two-out walk, stole second and advanced on a throwing error before scoring on Jaren Duran's RBI single to put Boston up 3-1.
Devers drove in another run on a single to left and that was it for Morton, who was replaced by Michael Tonkin. Morton (10-8) went 3 2/3 innings, allowing four runs on six hits and five walks. He struck out one. Morton's line could have been much worse without his defense coming through with a triple play in the previous inning.
Center fielder Michael Harris started it when he caught a shallow fly by Triston Casas and threw to first after Adam Duvall strayed too far. The throw easily got Duvall, then first baseman Matt Olson fired across the diamond in plenty of time to get Masataka Yoshida at third after he tagged up and attempted to advance on Duvall's running gaffe. The play ended an inning that started with promise for Boston with back-to-back singles by Yoshida and Duvall.
Schreiber got the start, hours after being reinstated from the injured list after missing more than two months because of a muscle strain in his right shoulder. Schreiber threw 24 pitches in the inning and was replaced in the second.
Add TheJapanNews to your Google News feed.