$500 Million? $600 Million? Shohei Ohtani's Free Agency the Buzz of the All-Star Game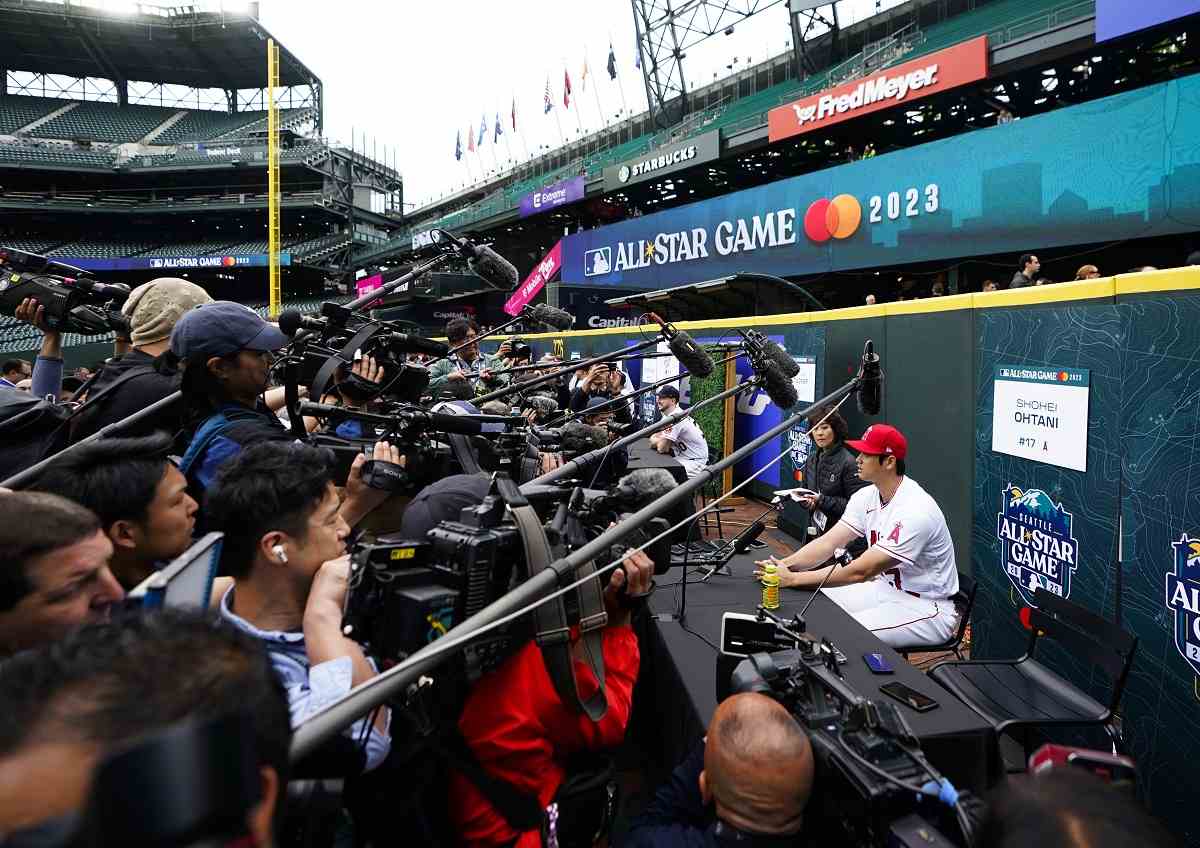 11:44 JST, July 11, 2023
SEATTLE (AP) — At some point, Shohei Ohtani will entertain the idea of talking about his pending free agency, and what it could mean to the finances of baseball.
But that didn't stop others from pondering what could happen this offseason when perhaps the most unique free agent in history hits the open market.
Kansas City's Salvador Perez and Toronto's Jordan Romano both tossed out $600 million as a suggested number. Baltimore's Austin Hays offered everything in his theoretical wallet.
Dodgers' star Freddie Freeman simply called him a unicorn with a price that can't be quantified.
"He's going to get a lot of money and he deserves it. There's no other player out there like him," Atlanta's Sean Murphy said Monday. "I don't know what I would do if I was in the position of having to sign him, but he's incredible."
The biggest attraction of Tuesday's All-Star Game is also the biggest prize this offseason. Ohtani's contract with the Los Angeles Angels ends after this season, making the two-way star the desire of everyone in baseball with a checkbook big enough.
But quantifying how much Ohtani deserves isn't simple or straightforward. How does one create a number that considers his value as a pitcher and a hitter?
"I think when he first came over to Major League Baseball, a lot of people were really saying, 'Hey, this guy's gonna have to do one or the other. It's really special the way you can do it right now, but how long can he do it?'" Philadelphia closer Craig Kimbrel said. "We're still sitting here talking about him being best on both sides. It's really fun to watch."
Ohtani's deal in free agency likely to exceed anything baseball has previously seen in contract value, either in total over the life of the deal or average per season.
Whichever route Ohtani and his reps at CAA choose, the winning suitor will be making a substantial financial commitment. The $426.5 million, 12-year deal signed by Mike Trout or the $360 million deal signed last offseason by Aaron Judge may look minor in comparison.
"As much money as I have. I'm giving him everything that I've got," said Hays, the starting center fielder in Tuesday's All-Star Game.
Ohtani was already going to get a staggering payday but his performance the first half of this season potentially added a little more paycheck. Ohtani hit the break with 32 homers and 71 RBIs offensively, a 3.32 ERA and 132 strikeouts in 100 1/3 innings, and a combined wins above replacement of 6.0 per Fangraphs, the highest in baseball.
"As a fan of baseball it's just amazing to watch what he's able to do," Freeman said. "I know what it takes to be a hitter and how much work and preparation and mindset you've got to do to do that every single day. And this man, every five days, is pitching too. I don't understand it. I don't even know how to put a number on that. We'll all find out together."
Ohtani was swarmed by media on Monday and didn't address any of the lingering unknowns of next season or the upcoming trade deadline, saying his focus is on helping the Angels win as much as possible.
Sandwiched in between the Ohtani circus and Seattle star Julio Rodríguez on the warning track of T-Mobile Park was Houston's Kyle Tucker, having a terrific season in his own right.
"They get pretty much all the media and I just hang out here, so that's kind of nice," Tucker said.
Tucker has seen his share of Ohtani up close with the Astros and Angels both in the AL West. Tucker described playing against Ohtani as "fun, but tough at the same time."
"Just that you're facing Shohei, which is kind of fun," Tucker said. "Whenever you have a very good pitcher out there on the mound that's very competitive it's a little more fun."
Fun is relative when its someone with the pitch arsenal of Ohtani. The same goes for any pitchers who have tried to find the gaps in Ohtani's swing and avoid becoming part of his home run highlight reel.
"Every time he's out there I'm trying to sneak a peek at him and watch him," Boston closer Kenley Jansen said.
Dodgers catcher Will Smith may have summed it up best, noting that at age 29, Ohtani seems to be hitting his prime.
"It's incredible what he's doing," Smith said. "He seems to keep getting better, which is more incredible, honestly."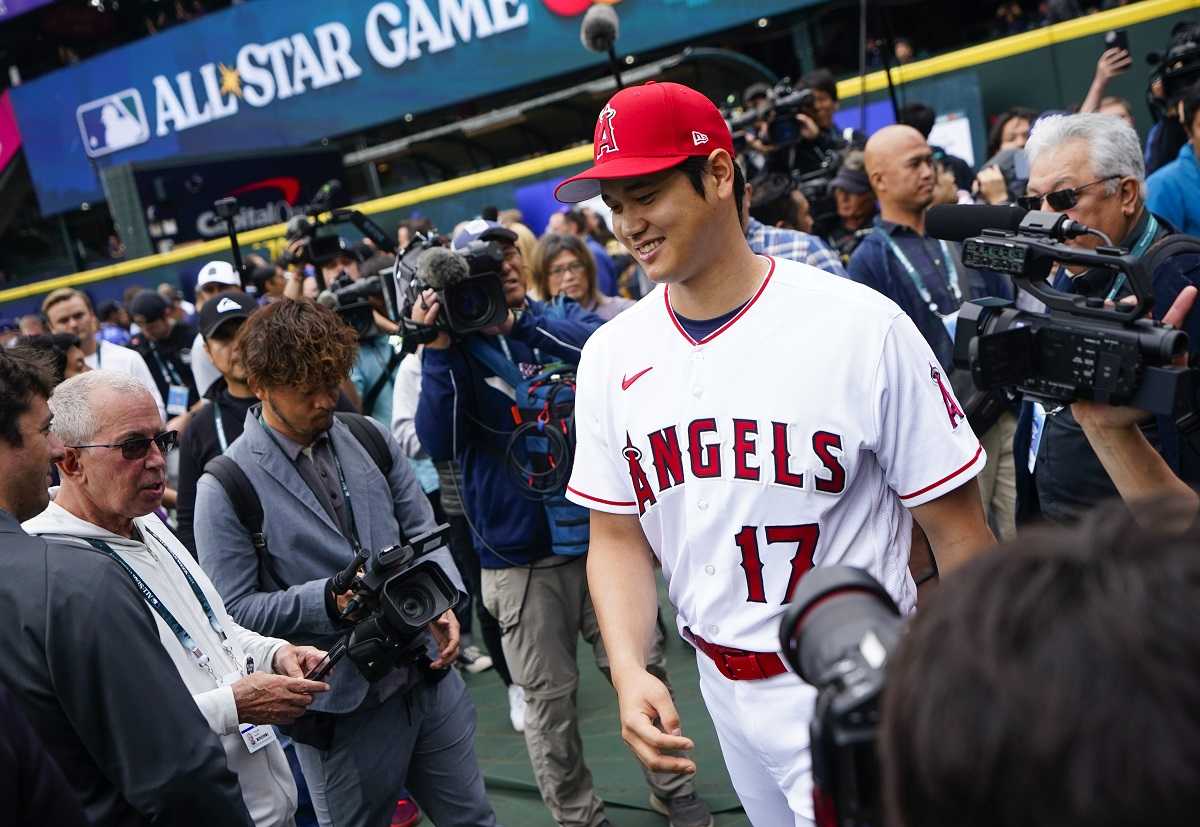 Add TheJapanNews to your Google News feed.